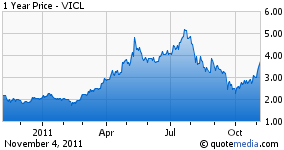 I last covered Vical, Inc. (NASDAQ:VICL) on the first of November in my article entitled Vical: All Systems Are Go. The article was positive, both from a fundamental as well as a technical standpoint. At the time the article was written, VICL was up in pre-market trading on the release of 3Q11 results. The stock's price had recently broken through the 50-day moving average (at $3.00) and was again marginable. The 200-day moving average, at $3.25, represented resistance. The Daily MACD line was positive, indicating money was flowing into the issue.
At the close on November 4, the stock closed at $3.72, up almost 8% from the previous day's close, and clearly in a new uptrend. Here are the latest graphics for both the Daily and Weekly technical data (courtesy StockCharts.com.):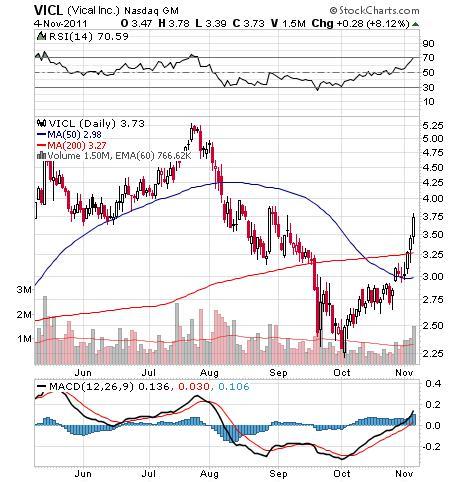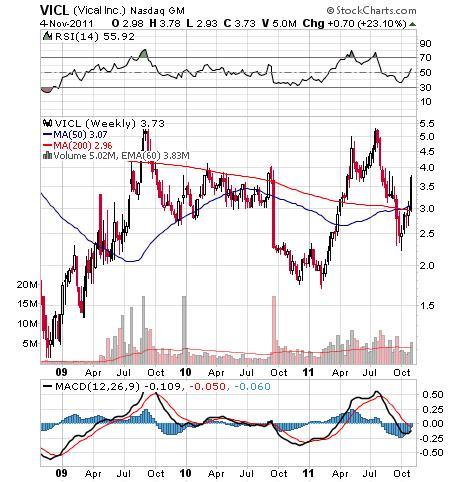 On the Daily chart, the stock is approaching overbought levels (where it could remain for quite some time) while the MACD line shows that the smart money is continuing to flow into the stock. The weekly chart looks strong as well, with the MACD line about to turn positive.
What happened?
Well, several things, not the least of which was the recent, very encouraging presentation by Vijay Samant, Vical's President and Chief Executive Officer. But beyond that, the company picked up a new recommendation from Credit Suisse, which started Vical at "outperform" with a $7 target. By the way, Vical will present at the Credit Suisse 2011 Healthcare Conference coming up next week (VICL, November 9 at 7:30 a.m. MT/9:30 a.m. ET). Vical had picked up another recommendation in April from Canaccord Genuity, which maintains a "Buy" on Vical and a price target of $8.00.
Anything else? Well, yes ... there's this. On November 3, The New England Journal of Medicine carried an article titled "Hemophilia A Induced by Ipilimumab." Ipilimumab is marketed under the brand name Yervoy by Bristol Myers Squibb (NYSE:BMS) for the treatment of metastatic melanoma,, the same indication for which VICL's Allovectin is being developed. Here's what the NEJM had to say:
"Ipilimumab, a monoclonal antibody against cytotoxic T-lymphocyte-associated antigen 4, has been reported to improve overall survival in patients with metastatic melanoma. Major side effects include immune-related adverse events. We report a rare and severe case of ipilimumab-induced hemophila A.

"A 42-year-old man received the diagnosis of metastatic melanoma in 2008. After the development of metastases in bone and lymph nodes, he received five successive courses of treatment with standard chemotherapy (fotemustine and cyclophosphamide), new drug protocols (GM307 and RAD001), and sorafenib. His disease progressed with metastases in liver, bone and intraabdominal lymph nodes in 2010. At this time, ipilimumab monotherapy was started at a dose of 3 mg per kilogram of body weight every 3 weeks. A few days before the fourth injection, he reported having macroscopic hematuria. The hemoglobin level was 7.6 g per deciliter. Endoscopic resection of bladder nodes showed metastases. Investigation of an isolated prolongation of activated partial-thromboplastin time (102 sec) revealed a factor VIII inhibitor (factor VIII level, <1%; inhibitor titer, 26 Bethesda units). Since the patient had reported no personal or family history of hemophilia A and no history of bleeding during previous surgeries, these findings strongly suggested the diagnosis of acquired hemophilia A, as revealed by hemorrhagic bladder metastases."
The article concluded: "... we strongly suggest that this case of acquired hemophilia was related to ipilimumab therapy. With the recent approval of ipilimumab for the treatment of metastatic melanoma and the increasing use of the drug, physicians should be aware of this reported side effect and test for it, along with other autoimmune diseases associated with this drug."
As the NEJM notes, cancer can cause acquired hemophilia A. However, the association with melanoma has not been previously reported. Thus, there may have been some interpretation on the Street that if and when Allovectin is approved by the FDA, this drug, with its well-defined, benign side-effect provide, could become the new Standard of Care for the treatment of metastatic melanoma. After all, side effects such as acquired hemophilia A are the last thing sufferers of metastatic melanoma need, a disease from which one person in the United States dies every hour.
Disclosure: I am long VICL.
Additional disclosure: I am long VICL and will not alter my position within 72 hours of the time of publication of this article.