You may not find anyone who's a bigger proponent of passive index investing than me. I'm a huge proponent of paying as little in fees as absolutely possible, which usually rules out most actively-managed mutual funds. That and the fact that many actively-managed funds are unable to beat their chosen index over time.
But Fidelity Magellan (MUTF:FMAGX) isn't your typical actively-managed mutual fund, and its history is about as storied as any you'll find in the industry, and if you haven't been paying attention, you might have missed the fact that Magellan is staging a bit of a renaissance. Jeff Feingold took over the reins of the fund in late 2011, and so far, the results have actually been pretty good.
Consider the performance of the past three years.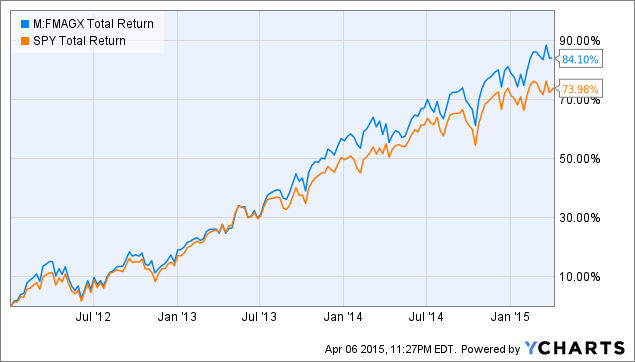 FMAGX Total Return Price data by YCharts
After trailing the S&P in 8 out of 12 years from the 1999-2011 time frame (and when total assets for the fund shrunk from over $100B down to its current $17B), Magellan has beaten the S&P 500 and the average for the Lipper Multi-Cap Growth category in each of the past three years. While Magellan is still just a 2-star Morningstar fund overall, it's rated 4 stars over the past three years and falls in the top 25% of its Lipper category.
Feingold has been able to do it with a mix of growth and value names alike while deviating from index industry weightings. In its heyday and with its bloated asset base, Magellan was accused of being a quasi-index fund, but Feingold has taken a few more liberties with the fund's asset allocation like his current overweight in financials and underweights in technology and cyclicals.
But the current bull market of the last few years has been the tide that has lifted all boats, and it's easier to do well when the wind is at your back. Feingold has shown himself to be a competent manager at the helm of Magellan, but we still need to see how he performs in a down-market. Feingold ran Fidelity Trend (MUTF:FTRNX) for a five-year period from 2007 to 2012, and that fund's performance could give us some hints.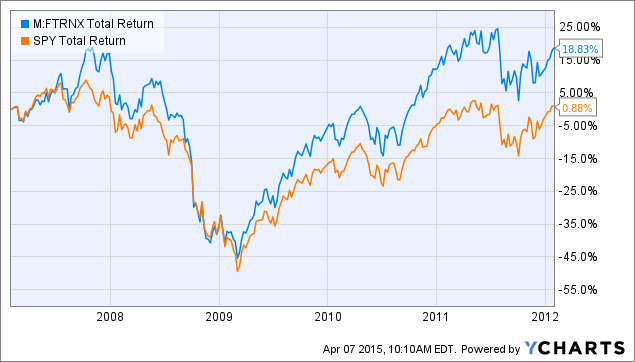 FTRNX Total Return Price data by YCharts
Trend is a smaller fund that employs more of a growth style, so it won't be an apples-to-apples comparison, but it does give us some clues. Trend performed very well in 2007, but underperformed the S&P 500 by about 7 percentage points in 2008 when the financial crisis was roiling the markets. In subsequent years, however, Trend did well again, outperforming the S&P 500 in three out of the four remaining years of Feingold's tenure (and only trailed the benchmark by about 2% in 2011 - a year in which the market was relatively flat).
Conclusion
Feingold is a talented manager who has demonstrated his ability as a stock picker. In bull markets, he has done very well, but hasn't had a lot of experience in down markets. His growth style trailed significantly in 2008, but that's been his only bear market experience thus far. It's something that investors will want to keep a close eye on going forward.
I'm not sure I'll ever fully endorse an actively-managed mutual fund, but Magellan only charges 50 basis points, so its expense ratio is reasonable. While asset flows haven't yet begun flowing into Magellan, if Feingold can keep stock picking as he's been able to in the past, then Fidelity Magellan may soon rise to prominence again.
Disclosure: The author has no positions in any stocks mentioned, and no plans to initiate any positions within the next 72 hours.
The author wrote this article themselves, and it expresses their own opinions. The author is not receiving compensation for it (other than from Seeking Alpha). The author has no business relationship with any company whose stock is mentioned in this article.