Medical Properties Trust Inc. (NYSE:MPW) is a US REIT. It acquires, develops, and invests in healthcare facilities in the US, the UK, and Germany. Its real estate holdings are heavily weighted to Texas (29%) and California (17%). It leases healthcare facilities to healthcare operating companies and healthcare providers. It provides mortgage loans to healthcare operators. It provides working capital and other term loans to its tenants/borrowers. It specializes in providing capital to acute care, community hospitals, and rehabilitation hospitals through long-term triple-net leases.
As of Q4E 2014 MPW had total investments of approximately $3.6B consisting of 132 properties in 27 states and in Germany and in the UK. The above properties are leased to or mortgaged by 27 hospital operating companies. Upon the completion of development commitments and the MEDIAN acquisitions, total real estate and related investments will be about $4.1B. These will bring the total to 172 healthcare properties. MPW helps healthcare operators to tap the value of their real estate. They can then redeploy those monies into facility improvements, technology upgrades, staff additions, and even new construction. It enables hospitals to increase their returns from what they know best - operations. MPW pays a 5.7% annual dividend.
The charts below show the breakout by the Property Type and the Operator Type.

The charts below show that MPW is in the most profitable part of the healthcare market.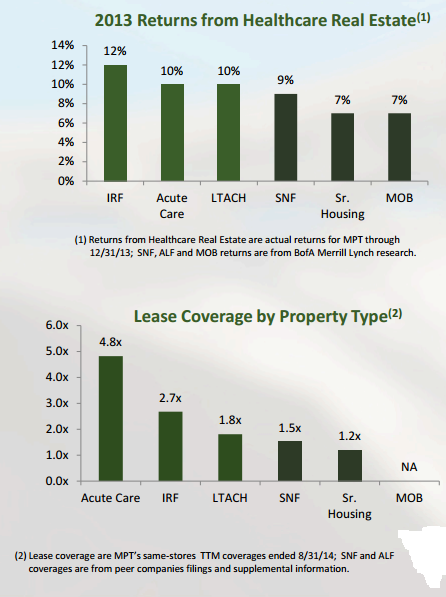 For those who don't speak "medicalese" the following are translations:
IRF - Inpatient Rehabilitation Facility.
LTACH - Long Term Acute Care Hospital.
SNF - Skilled Nursing Facility.
MOB - Medical Office Building.
The above are figures from 2013 and 2014; and the figures are great. However, the demographics for the industry are far better (see charts below).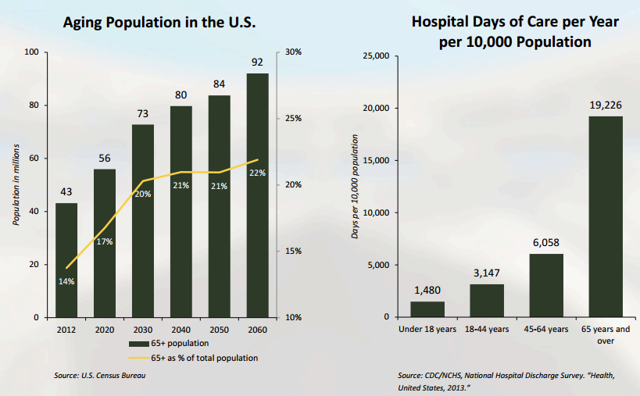 The above is without even adding in the extra 10-15% of newly covered (insured) US citizens due to the ACA (Obamacare). Translating the chart on the left a bit, it says that the US population over 65 will grow from 43 million in 2012 to 56 million in 2020 (or about +30%). By 2030 the part of the US population over 65 years of age will have grown by about +70% to 73 million people. These figures alone would be great growth for MPW. However, when the cost of healthcare is also one of the fastest-growing areas in the US economy, then the fundamental growth case for MPW and like companies has to be fantastic. The results from one government study show that the health care spending is expected to grow by 6.2% per year from 2015-2022. By itself this should be good growth. The cost of healthcare is expected to surpass $10,000 per person for the first time in 2015. This may be bad news for the US Federal Budget; but it is good news for MPW.
The above fundamentals are great. They indicate MPW should succeed. The Q4 2014 results and the FY2014 results indicate that MPW is succeeding. Normalized FFO per diluted share in Q4 2014 was $0.28. This was a +17% increase over Q4 2013. For FY2014 normalized FFO grew +10% year over year to $1.06 per diluted share. Acquisitions completed in FY2014 totaled approximately $1.4B compared to $700 million in FY2013.
MPW received a credit upgrade on its Senior Notes to BBB- (investment grade) from BB from Standard and Poor's Rating Services. It also received an upgrade to its corporate credit rating from BB to BB+ with a stable outlook. MPW also issued 34.5 million shares of stock at an offering price of $14.50 per share in January 2015 for net proceeds of about $480 million. Since the price is already back to $15.32 as of the close on April 6, 2015, MPW is performing strongly.
The two-year chart of MPW provides some technical direction for a trade/investment.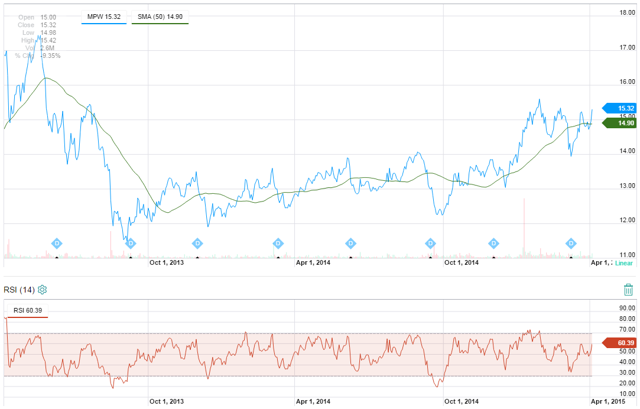 The chart shows an uptrend has been in place for the last 1.5 years. The good-to-great results from Q4 2014 earnings should help MPW's stock price keep going up. The increase in the quarterly dividend on February 23, 2015 to $0.22 per common share (+5%) should also help the stock price rise. Based solely on the completion of already existing deals such as the MEDIAN acquisitions in Germany, normalized FFO is expected to grow to $1.21-$1.27 per diluted share annually. This is a midpoint ($1.24 per share) gain of about +16% per share. MPW will assuredly do many more deals that will be accretive to normalized FFO in FY2015. This should translate into a normalized FFO gain on the year of over 20% (possibly over 30%). This kind of performance makes 5.7% dividend paying MPW a buy.
The worry with buying is that the overall market may retreat dramatically. This could happen. The February 2015 Durable Goods Orders of -1.4% and the March 2015 Non-Farm Payrolls number of only +126,000 jobs were both huge disappointments. There have been many other signs of US economic weakness. For those interested, many of these are detailed in the article, "12 Reasons U.S. Q1 GDP Growth May Be Much More Negative Than Some Are Thinking". All of the above could eventually hurt MPW in approximately the same way it was hurt in the Great Recession. However, another recession is hardly guaranteed at this time. Further, MPW has the fantastic healthcare and aging baby boomer generation demographics working in its favor (see above). The worrisome economy may mean MPW is a low buy; but it is still a buy, if you are in this market.
NOTE: Some of the fundamental fiscal data above is from Yahoo Finance.
Good Luck Trading/Investing.
Disclosure: The author has no positions in any stocks mentioned, but may initiate a long position in MPW over the next 72 hours.
The author wrote this article themselves, and it expresses their own opinions. The author is not receiving compensation for it (other than from Seeking Alpha). The author has no business relationship with any company whose stock is mentioned in this article.