Fed stimulus used to be an addiction reserved for the higher risk stock and commodities markets. But is now appears that a new QE junkie may have arrived on the scene. It is the investment grade corporate bond market, and this is a trend worth monitoring, particularly as the European debt crisis continues to escalate.
Back on July 19, I posted an article on SA declaring my exit from my position in investment grade corporate bond position via the iShares iBoxx $ Investment Grade Corporate Bond ETF (NYSEARCA:LQD). My reasons for the sale at the time was the idea that the European debt crisis was set to unravel, and the LQD has a heavy exposure to financials both in the United States and Europe. While my timing in this decision proved correct within three days, the performance of the LQD in the months since certainly does not reflect this fact, as it is over +5% higher from where I sold it in July. As a result, it's worthwhile to review why this disconnect occurred and what we might expect from the asset class going forward.
Investment grade corporate bond spreads began widening within days after liquidating my LQD position in mid July. Overall, the spread on BBB rated U.S. Corporate Bonds rose by over 120 basis points from 2% in mid July to over 3.2% by the beginning of October. And while part of this move can be attributed to the decline in U.S. Treasury yields, a majority of it was due to a rise in the yields on the corporate bonds themselves.
images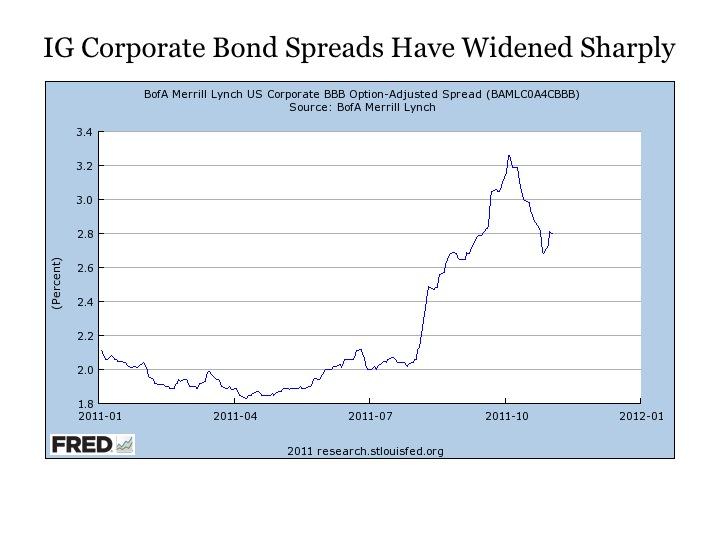 One of the primary challenges for the investment grade corporate bond market, including the LQD, is its heavy exposure to the financial sector, which has been most at risk from the triple threat of a weakening global economy, renewed signs of stress in the U.S. housing market and the unfolding crisis in Europe. Overall, 36% of the LQD is allocated to financials including 8% specifically to European financials. This exposure includes names such as BNP Paribas, UBS, Royal Bank of Scotland, Deutsche Bank and Credit Suisse among many others.
So what has enabled investment grade corporate bonds to perform so well given the pressures that underlie this area of the market? While investment grade corporate bonds had performed with consistency and general indifference to the shifts in Fed policy since early 2009, it appears that the influences of Fed stimulus have finally taken hold and reside at the root of the recent price performance.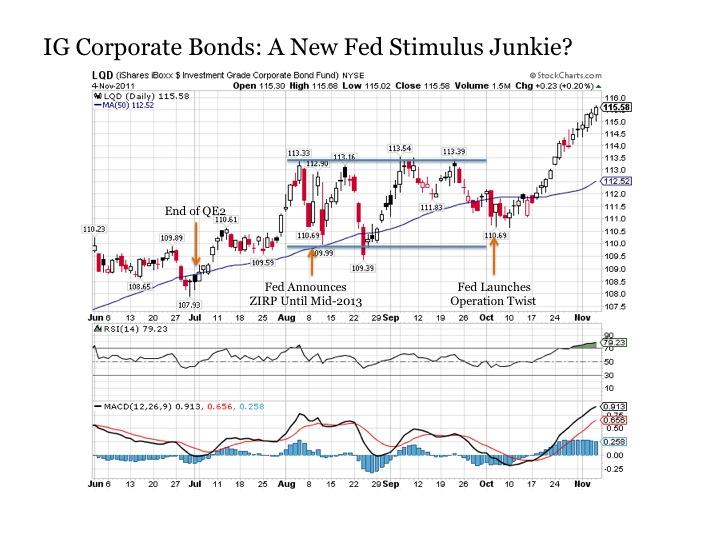 After initially rallying following the end of QE2 on June 30, investment grade corporate bonds continued to rise steadily until the European crisis began to unravel in late July. Although the LQD initially provided a safe haven for investors, by early August the tone changed dramatically once the realization set in that the solvency of financial institutions both in Europe and the United States was at increasing risk.
But investment grade corporate bonds quickly entered into a trading channel, as these solvency concerns were counterbalanced first by the Fed announcing zero interest rates through mid-2013 and then by hopes that the Fed would follow up soon with further stimulus. After thrashing back and forth into September, investment grade corporate bonds were once again breaking sharply lower until the Fed stepped in with Operation Twist at the beginning of October. And in the days since, the response from LQD has been nothing short of unwavering bliss.
In a market environment that remains plagued by the threat of a European debt meltdown, it is peculiar to watch an asset class like investment grade corporate bonds that is directly tied to such a potentially disasterous contagion outcome melt higher day after day with such uninterrupted resolve. And although spreads are still 80 basis points above levels last summer including yields that are still 30 basis points higher, we have seen the LQD drift to post crisis highs.
This is a troubling signal from an asset allocation perspective. Until July, I had held a major position in LQD since the early days following the outbreak of the financial crisis. One of the primary appeals to this allocation was the strong and consistent returns performance from the asset class coupled with the fact that it traded largely unaffected by the vagaries of Fed policy.
Thus, the correlations associated with investment grade corporate bonds were sufficiently low relative to equities and other more volatile risk assets. But now, it appears that investment grade corporate bonds have become transfixed by the Fed stimulus euphoria that have influenced both stocks and commodities since early 2009. Since early August, the correlation with stocks has risen dramatically, and a response to Fed stimulus signals have clearly taken hold in the asset class.
What does all of this mean for investment grade corporate bonds going forward? Investment grade corporate bonds appear likely to trade more like stocks from here with a high sensitivity to any Fed policy maneuvers. Thus, we could continue to see solid gains from the LQD in the coming months as Operation Twist continues and QE3 is likely to be rolled out sometime early next year. While the LQD is currently trading at overbought extremes, a pullback to the 100-day moving average at around $111.50 would present a more reasonable entry point for those seeking to purchase positions. But once Fed stimulus measures are withdrawn, we could be looking at the prospects of a sharp pullback in investment grade corporate bonds as well as stocks. Worse yet, if a contagion were to erupt in Europe including the potential failure of several major financial institutions, the pain realized in a position like LQD could be particularly acute.
So while LQD may offer short-term opportunity for investors, it no longer represents a position to achieve a premium yield with lower risk. The game has changed for the investment grade corporate bond market, and the risks associated with such positions are becoming elevated. As a result, it will be important for those invested to keep a sharp eye on positions such as LQD as events unfold, as the potential downside could be surprisingly severe and swift at points along the way.
Disclosure: I have no positions in any stocks mentioned, and no plans to initiate any positions within the next 72 hours.
This post is for information purposes only. There are risks involved with investing including loss of principal. Gerring Wealth Management (GWM) makes no explicit or implicit guarantee with respect to performance or the outcome of any investment or projections made by GWM. There is no guarantee that the goals of the strategies discussed by GWM will be met.