It appears that silver may soon receive another monetary jolt. During the press conference following the Fed's latest FOMC meeting, Chairman Bernanke all but confirmed the signals from Tarullo, Yellen and Dudley in the days leading up to the event – the Fed stands ready to launch another round of quantitative easing in the coming months. This is highly bullish for silver, which has performed exceptionally well during periods when the Fed is actively implementing QE. But this positive outlook for silver is not without potential challenges along the way. As a result, it is worthwhile to identify and monitor the critical checkpoints for silver as it works to climb higher in the coming months.
The fundamental thesis for owning silver remains very much intact. With the threat of crisis still present in Europe and global central banks continuing to apply aggressive monetary stimulus measures, many market participants are seeking hard asset protection against the associated pricing instability and fiat currency debasement. And silver represents a liquid and affordable hard asset alternative for investors that is currently trading at $33.20 on the iShares Silver Trust (NYSEARCA:SLV).
Given the potential for the price of silver to rise in the coming months, it is worthwhile to examine where it stands today and the potential resistance points it is likely to encounter in the months ahead. These are outlined below.
images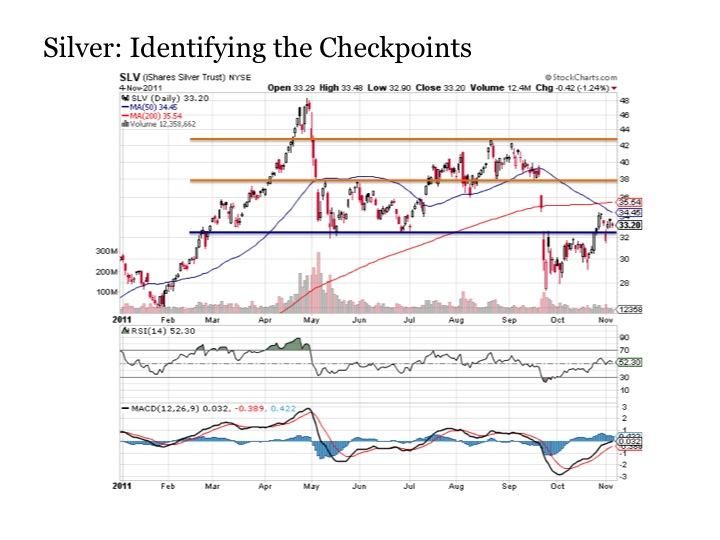 Current Support
Silver currently enjoys support at around $32.50. This level had recently been serving as a primary resistance level for silver until the parade of Fed Governors began speaking openly about the potential for QE3 starting on October 20. By the day after Dudley's speech on Monday, October 24, silver had blasted above this resistance and has held it as support in the days since. If silver were to break back below this $32.50 support, the next support levels reside around $30 and $28.
1st Resistance – 50-Day Moving Average
This resistance level now represents silver's first key test. Silver had been trapped below its 50-Day moving average (blue line on chart above) for virtually all of May and June after collapsing from near record highs at the end of April. But by early July, silver broke above this resistance and found support at its 50-day M.A. into mid September. But once the Fed announced Operation Twist following its September 21 FOMC meeting, it plunged back below this level, as Fed balance sheet expansion is a key support to the silver investment thesis. But following its recent rally, silver is working to break out above this level once again. Silver's downward sloping 50-day moving average currently rests at $34.45 on the SLV. Any sustained breakout above this resistance level in the coming days would be a particularly positive next step in silver's assent.
2nd Resistance – 200-Day Moving Average
The next key level for silver is its 200-Day Moving Average (red line in chart above), which is currently at $35.54 on the SLV. Until late September, silver had not traded below its 200-Day M.A. for a sustained period of time since before the post crisis stock market bottom in February 2009. And the 200-Day M.A. had provided a critical level of support for silver throughout much of 2010 before the launch of QE2 in August 2010. A breakout back above this longer term trend line would provide an important support level to build upon for advancing further to the upside.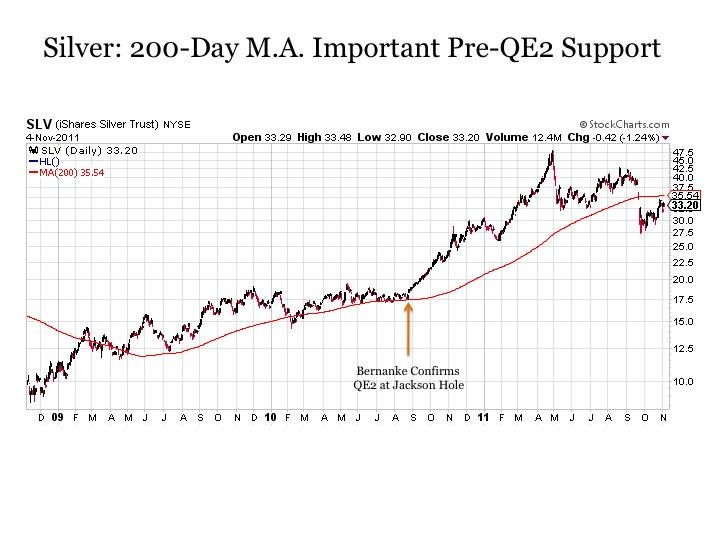 3rd Resistance – $38 On The SLV
Once above its major moving average lines, the next obstacle for silver is at $38 on the SLV. Once silver came crashing back to earth in early May 2011, this level represented a repeated inflection point for the white metal. During May, silver bounced twice into this $38 level only to fail and fall back lower in both attempts. And after final breaking out above this price level in July, it managed to effectively hold support at $38 twice in August. Finally, it was precisely from this $38 level that silver broke sharply lower following the Fed's Operation Twist announcement on September 21. A sustained surge above the $38 level would be particularly positive, as it would indicate that silver might then be poised to make another run at its all-time highs.
4th Resistance – $42.50 Range On The SLV
Before ultimately making a run at its historical peaks at around $50, silver must first break above its final remaining resistance level at $42.50 on the SLV. The white metal reached this range twice in late August and early September before failing and breaking back lower.
Bottom Line
The outlook for silver is increasingly positive given the instability facing the global economic backdrop and the potential for new aggressive monetary policy stimulus measures including QE3. But any ascent for silver in the coming months is not without obstacles, as various resistance levels lie in its path higher. And given the fact that silver is an extremely volatile investment that is prone to wild swings on a daily basis, it is important to identify various pricing points to help make sense of overall price behavior.
If silver is able to break decisively above these various resistance levels, they subsequently become critical support and provide important markers to determine whether any upward price trends remain in tact or if the timing instead warrants taking gains off the table along the way.
Disclosure: I am long SLV.
This post is for information purposes only. There are risks involved with investing including loss of principal. Gerring Wealth Management (GWM) makes no explicit or implicit guarantee with respect to performance or the outcome of any investment or projections made by GWM. There is no guarantee that the goals of the strategies discussed by GWM will be met.