After following China into recessionary growth levels in January 2015, at least as suggested by the exchange rate adjusted value of goods and services it trades with that nation, the U.S.' economic situation would at first glance have appeared to improve, while China's economic situation deteriorated.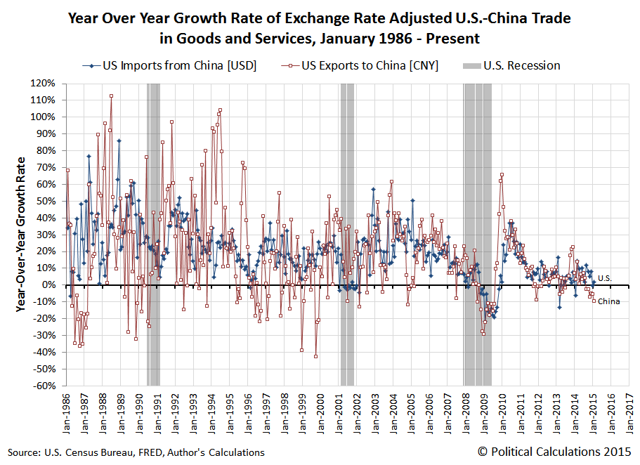 Dealing with China's situation first, it would seem to have reached the point where China's leaders have begun to acknowledge its rapid economic deceleration.
The Chinese government has admitted for the first time that things aren't going so well.

China's top banker, Zhou Xiaochuan, told a meeting of regional leaders that his country's growth rate had tumbled "a bit too much."
Moving on to what the trade data says of the U.S.' own economic situation, we suspect that the West Coast port labor slowdown action has a lot to do with the relatively favorable trade balance that was recorded for the month. Here, because of the large mismatch in the volume of goods between the two nations, where the volume of goods arriving from China is much greater than the volume of goods departing the United States, we think that while the U.S.' intake of goods from China may have been slowed as a result of the labor action, there was likely almost no impact on the outflow of U.S. goods.
That matters because the relative decrease in the nation's trade deficit with China that would result from that outcome would boost the U.S.' official GDP numbers.
The reality though is captured by the year-over-year growth rate of the U.S.' imports from China, which is really hovering around the zero mark, and which is consistent with a sluggish-to-no-growth scenario for the U.S. economy during the month of February 2015.
References
Board of Governors of the Federal Reserve System. China / U.S. Foreign Exchange Rate. G.5 Foreign Exchange Rates. Accessed 5 April 2015.
U.S. Census Bureau. Trade in Goods with China. Accessed 5 April 2015.