I had written an article on January 9, 2015, providing an outlook for oil prices for the first half of 2015. Based on the factors discussed in that article, I was of the opinion that oil prices will gradually trend higher in the second half of 2015.
However, considering some latest production and consumption trend data, I believe that oil prices are likely to stay low through 2015. Brent is currently trading at $58.25 per barrel and in line with my view. I believe that Brent might continue to trade in the range of $55 to $60 per barrel for the remainder of 2015. In addition, I will also discuss the outlook for natural gas based on the current inventory levels.
The reason for discussing the likely trend for oil and natural gas is to judge the right time for meaningful exposure to oil and gas stocks and related sectors. In the recent past, I have recommended gradual exposure to some energy stocks, but I believe that the sector is unlikely to move higher anytime soon. Therefore, a big exposure to the sector at this point of time can be avoided.
The outlook for oil remaining gloomy for 2015 also implies that offshore drillers will continue to struggle in challenging market conditions. I expect further rig cancellations and cold stacking of rigs in the coming quarters. Therefore, investors need to be cautious on exposure to offshore drilling companies even when they seem to be trading at very attractive valuations.
Coming to the reason for being bearish on oil for 2015, the chart below from the Federal Reserve Bank of Dallas puts things into perspective.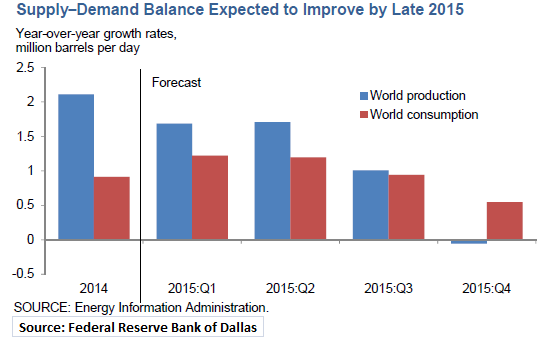 It is clear from the chart that global production will significantly exceed global consumption at least for the first half of 2015, with the supply-demand balance expected to improve towards the end of 2015.
I must mention here that according to the EIA -
EIA forecasts that Brent crude oil prices will average $59/bbl in 2015 and $75/bbl in 2016, both unchanged from last month's STEO. West Texas Intermediate prices in 2015 and 2016 are expected to average $7/bbl and $5/bbl below Brent, respectively.
Therefore, this forecast underscores my point that oil will remain at around current levels through 2015.
Coming to the outlook for natural gas, the chart below provides the natural gas inventory.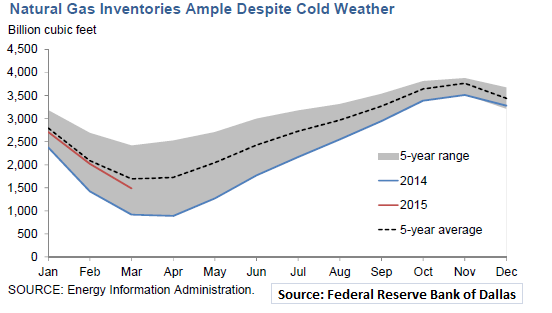 It is clear that even after harsh winters, natural gas inventory is at significantly higher levels as compared to 2014 and as compared to the 5-year average. Therefore, even natural gas prices are unlikely to move higher anytime soon.
An important point here is the impact of Iran's nuclear deal on oil prices in 2015 or 2016. According to the EIA -
Iran is believed to hold at least 30 million barrels in storage, and EIA believes Iran has the technical capability to ramp up crude oil production by at least 700,000 bbl/day (bbl/d) by the end of 2016. The pace and magnitude at which those volumes would reach the market would depend on the terms of a final agreement. If and when sanctions are lifted, the baseline forecast for world crude oil prices in 2016 could be reduced $5-$15/barrel from the level presented in this STEO.
Currently, EIA estimates that oil prices are likely to average $75 per barrel in 2016. Considering a scenario where the sanctions are lifted and the supplies are robust from Iran, the EIA is likely to revise the 2016 average oil price forecast in the range of $60 to $70 per barrel.
If oil indeed trades at an average price of $60 per barrel in 2016, offshore drillers (especially high leveraged companies) will be in significant trouble. I therefore emphasize again on the need to remain very cautious on exposure to offshore drilling companies.
In addition to the supply-demand factors, a weaker dollar is positive for oil, but the positive impact is likely to be more than offset by decline in demand if US GDP growth remains muted through 2015. At this point of time, I expect US GDP growth to remain fairly robust in 2015.
From an investment perspective, investors need to avoid oil and gas stocks and offshore drilling companies that have high leverage. Among oil and gas stocks, I like Cenovus Energy (NYSE:CVE) and Canadian Natural Resources (NYSE:CNQ). Investors can browse through my articles in the last few months for more names that have a strong credit profile and good assets to drive growth. However, for any oil and gas stock, I don't recommend big exposure at this point of time. Among offshore drillers, I like Atwood Oceanics (NYSE:ATW) and Ensco (NYSE:ESV), with these two companies having a better credit profile to navigate the crisis as compared to Seadrill (NYSE:SDRL) or Transocean (NYSE:RIG).
In conclusion, oil is not trending higher anytime soon and investors can remain underweight on the energy sector. For the next 6-12 months, the only factor that can take oil prices significantly higher is a significant increase in geo-political tensions in the Middle East.
Disclosure: The author has no positions in any stocks mentioned, and no plans to initiate any positions within the next 72 hours.
The author wrote this article themselves, and it expresses their own opinions. The author is not receiving compensation for it (other than from Seeking Alpha). The author has no business relationship with any company whose stock is mentioned in this article.