Background
Oil/petroleum is the single most traded commodity on our planet. As some derivative of oil can be found in nearly all products of daily life, it is hardly possible to exaggerate the importance of hydrocarbons for our civilization.
Not all enterprises that are called "oil companies" actually produce oil. The oil and gas industry is commonly divided into three parts: upstream, midstream and downstream. Only the upstream industry (also called E&P - exploration and production) produces oil. Midstream is active in transportation and downstream is involved in refining of crude oil. Sometimes, oil companies also provide oilfield services to its peers.
Companies active in upstream can be roughly divided into two groups: NOCs and IOCs. IOC is standing for International Oil Company. Here one can find well-known names like Exxon Mobil (NYSE:XOM), Shell (NYSE:RDS.A) (NYSE:RDS.B), or BP (NYSE:BP). As IOCs are listed on stock exchanges, they have to comply with accounting standards and to publish annual reports. For that reason, it is relatively easy to get production and cost data. But also most public companies that are only active in one country would be considered to be IOCs (e.g. tight oil producers). NOCs are National Oil Companies. Here governments have still an important influence on the company, although activities are generally not confined to the country of their origin. Among this group are giants like Saudi Aramco, Pemex or China National Petroleum Corporation. While some of these companies are listed on stock exchanges (especially Russian and Chinese ones), there are no publicly available data about most Middle East NOCs.
During the 1950s to 1970, the IOC part of the upstream industry was dominated by the so-called Seven Sisters, a group of seven influential companies. Prior to the oil crisis of 1973, its members controlled roughly 85% of the world's oil reserves. The rise of the OPEC and other state-controlled oil companies made an end to this dominance. Mature industries have a tendency to mergers and acquisitions and today only 4 of the Seven Sisters survive. Those 4 companies, however, are today the world's biggest oil majors: Exxon Mobil, Shell, BP, and Chevron (NYSE:CVX). In this article I investigate their production costs for 2014 and compare the results to 2013.
Methodology
The key point for me is to catch the real production costs of hydrocarbons as accurate as possible. For that reason I only consider costs that are directly related to oil and gas production. As the upstream business is a pure commodity business, many companies have bought derivatives to hedge their sales. As gains or losses from that instruments are not directly related to production, I do not consider them directly in my method. Nevertheless, as they might have impact on the future of the company, I mention them if they are significantly high. The same is true for impairments.
Oil is hardly ever produced as pure liquid. Normally it comes as a mixture with natural gas and gas condensate. Although I only consider companies here, that mainly lift oil, they also produce significant amounts of gas. Hence, it does not make much sense to apply costs to the production of oil alone. To deal with this issue the concept of barrel oil equivalent - boe - has been perceived. 6000 cubic feet of gas at standard conditions are about one boe. All costs mentioned below refer to one boe, meaning that are the costs related to the production of 1 bbl of oil, 6000 scf of natural gas or a combination of both. Let's say the price for 1 barrel of oil is around $60 and the price for 1000 scf of gas is about $3. This means, revenue from 1 boe of oil is higher than revenue for 1 boe of gas ($60 versus $18). As there are also fields that only produce gas, this article tends to underestimate the costs of oil production.
Commonly, costs are divided in costs that can directly be related to production (cost of sales) and costs that cannot directly be related to output (overhead). However, many oil companies are also active in downstream and midstream or other economic sectors (e.g. Exxon Mobil in chemical engineering). Hence, I have divided sales, general and administration expenses (SG&A) by total revenues and multiplied it with the revenue of the E&P division to get SG&A for E&P. I did the same for any similar type of cost (marketing expenses, R&D) and for financial expenses. Depreciation, Depletion and amortization, on the other hand, can be directly linked to oil production.
Costs of sales are divided into 3 sub-categories:
Exploration costs
Lifting costs
Non-income related taxes
Exploration costs are costs related to all attempts to find hydrocarbons. This category includes cost for geological surveys and scientific studies as well as drilling costs.
Lifting costs are the costs associated with the operation of oil and gas wells to bring hydrocarbons to the surface after wells (facilities necessary for the production of oil) have been drilled. This figure includes labor costs, electricity costs and maintenance costs.
Non-income related taxes: as production of hydrocarbons is such a lucrative business, governments also want to have their shares. There exists an abundance of different model how the state can profit from hydrocarbon production (profit sharing, royalties, etc.).
It might be, that different companies use different categories for the same type of expenses, but eventually the sum of all costs should be their total cost for producing 1 boe.
The following figure shows the pattern of the cost model: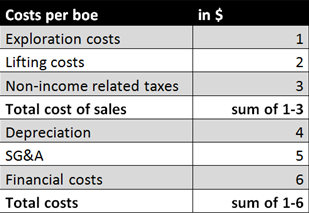 When preliminary results of the majors were published, I have written an article about their cash flow situation. Although the majors are much better off than most other upstream companies, the situation is also not very positive after considering dividends. In the meantime annual reports were published and better data are available. Therefore, I have updated my data.
Operating cash flow and capital expenditure both refer to the whole company. Capital expenditure is investment in assets as well as in subsidiaries if they are not consolidated. This number does not include any subtractions because of the selling of assets. I also add the cash flow companies generated through sale of assets.
Application on 4 Majors
As mentioned above, I have applied my methodology to the 4 world's most important IOCs. I did the same for the year 2013 and I am now able to compare numbers. However, some majors account for their joint ventures according to the equity method, i.e. the result is reported as single-line item. If so, I did not include this kind of production into my calculations as I lack data. The results for 2014 are shown in the table below: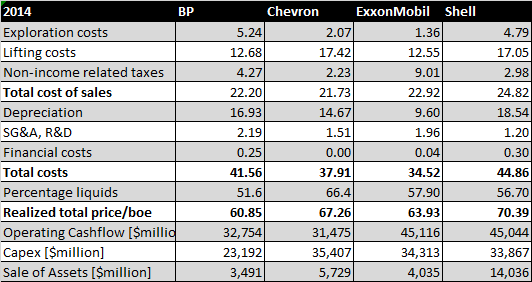 (sources: Annual Reports)
I have also used my method for the following articles:
Discussion
2014 was dominated by a mostly unexpected and massive fall in the oil price. Brent peaked in June with roughly $110 and lost nearly 50% till the end of the year. It is therefore not surprising, that all four companies could realize less revenue per boe than they did the year before.
In my previous articles I mentioned the dire cash flow situation for most upstream companies. For the majors the situation is much better than for most other producers (especially tiny shale producers). However, one should not forget that the companies still have to pay a dividend in the order of $10 billion and historically this was not always funded by operating cash flow. Additionally, it is remarkable that for all 4 companies production declined from 2013 to 2014.
Numbers for BP do not include any costs related to the disaster in the Gulf of Mexico. Generally, realized revenue per boe went down, but so did costs. While non-income related taxes went down, depreciation rose. Eventually, pre-income margin remained the same. An additional line of BP's income statement are impairments of $6.3 billion. The cash flow situation looks very good, but the cash generated from operations also includes a decrease in inventory of $10 billion.
Chevron was remarkable stable between 2013 and 2014. Total production and liquids produced went only down slightly. Due to the price fall, the company could realize roughly $1.5 less per boe. On the other hand, production costs went also down slightly. Below the line, Chevron managed to achieve a fantastic pre-income tax margin of more than 43%. Additionally, the company made $2 billion of other income (mostly related to exchange rate gains).
Exxon Mobil is the world's largest IOC with a daily production of 3,969 million barrel of oil equivalent in 2014. Over the last years, the company always reported reserve-replacement-rates of more than 100% (i.e. it found more oil than it produced). Nevertheless, production declined substantially since 2010, when Exxon Mobil produced 4,447 million boe a day. From a financial perspective the company is still highly profitable with a pre-income tax margin of 45% that did not change much from the year before.
Despite its relative small percentage of liquids produced, Shell could realize more than $70 per boe. But its costs were also relative high with more than $44 per boe. Shell is the only company in this article that increased its exploration expenses per boe. On the other hand, it has the smallest SG&A costs per boe in its peer group. With a pre-income tax margin of 36%, the company is less profitable than Chevron and Exxon Mobil, but still very lucrative.
Overall, the four majors were highly profitable in 2014. None of them had a pre-income tax margin of less than 30%. All of them profited from very low SG&A and interest expenses (together less than $2.5 boe). In comparison with the shale producers from my last articles one can here easily see the economics of scale and the advantages of a long company history.
Although the decline in price could be noticed in the balance sheets, profit margins remained very stable. At the price level of 2014, the majors are doing very well. However, 2014 as a whole was not a bad year (e.g. Shell realized more than $91 per barrel of oil). If things are not changing quickly, 2015 will be a bad year. The majors might still be profitable at prices around $60, but only slightly so. However, such a level can never be sustainable, as there wouldn't be any incentives for investments left. Something similar is true with the cash flow situation. At 2014's price level, at least the majors are doing acceptable. At a $60 per barrel price level, the upstream industry as a whole is a cash burning machine.
Disclosure: The author has no positions in any stocks mentioned, and no plans to initiate any positions within the next 72 hours.
The author wrote this article themselves, and it expresses their own opinions. The author is not receiving compensation for it (other than from Seeking Alpha). The author has no business relationship with any company whose stock is mentioned in this article.