The era of smartphones could lead to the age of smart clothing. Intel (NASDAQ:INTC) is still not on board the money train of smartphones. However, Intel is now one of the early birds trying to catch the first train toward the Internet of Things revolution.
The Intel Curie is a tiny x86 computer that is aimed for wearables and smart clothing. Curie's small size and decent compute performance compels me to believe that it could help the fashion industry come up with health-tracking, anti-theft protection-enabled t-shirts, jeans, jackets, jewelries and shoes.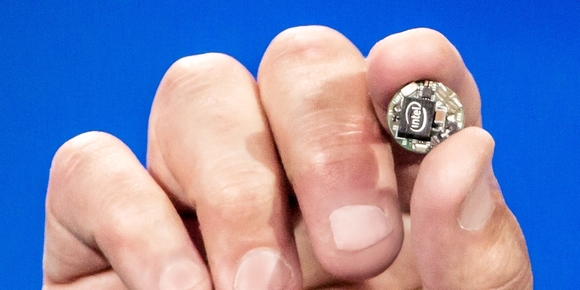 Source: Intel
Designer clothes that get sold for thousands of dollars each deserve an Intel Curie computer button. Ready-to-wear office attire clothes also are fit for the Curie. Running shoes, golf shoes, swimming trunks and other athletic gear could be more useful if they come with embedded Curie computers.
A Curie-powered wristband was even used to control robots.
Curie Is The Ticket To A Nascent Multi-Billion Industry
I strongly believe that Intel could sell 30 million smartphone application processors this year. I also believe that smartphones are still bigger chip clients than smart clothes. However, the main advantage of focusing on smart wearable application processors is that the competition is not yet crowded.
Curie won't have to compete with so many ARM-based SoC licensors. Smart wearables also are a nascent industry where Intel could beat ARM-based SoCs. Intel already owns Wind River Systems and its Real Time Operating Systems. The Curie is a great example where a low-power x86 Intel Quark computer could become a decent moneymaker using Wind River's software.
Curie could be a ticket to the multi-billion potential of selling smart clothing, smart bags, smart shoes and other things that men and women like to wear. People of today and tomorrow will increasingly use embedded computers not only on their watches but also on their work, leisure and exercise attire.
The Internet of Everything concept allows for current non-electronic gadgets like t-shirts and jackets to also serve as health fitness trackers and data storage systems.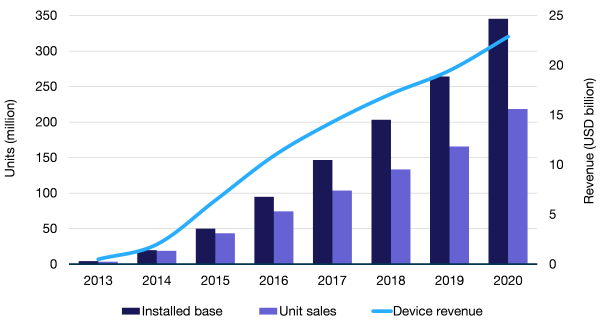 Source: Analysys Mason
The chart below from Analysys Mason shows that smart wearables will not be limited to watches and fitness wristbands.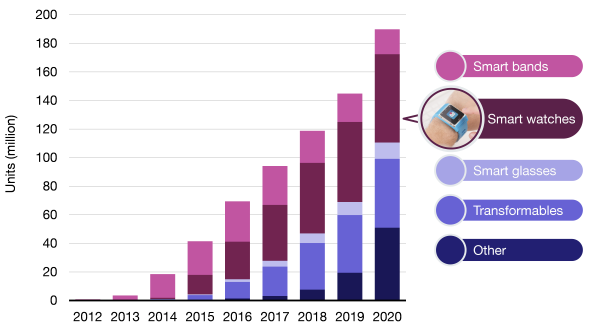 The other category definitely includes clothing. Intel already demonstrated last year that an SD-card size Quark-powered Edison computer could be used for baby monitor onesies. An Intel Edison computer also was used to create a 3-D printed smart dress.
Curie is smaller than the Intel Edison board. Dressmakers and factories could easily disguise the Curie as a button in a business jacket or evening gown. Like the Edison, Curie has sensors to monitor a person's heart rate and steps taken. Curie also supports Bluetooth LE for wireless transfer of data from smart clothes to computers/smartphones.
Curie's Bluetooth LE connectivity also could eventually allow autonomous machine-to-machine communication. Intel is giving away a software development kit so that manufacturers could create customized software for Quark SoC-powered smart devices.
While Intel already has multiple partnership deals with watchmakers and eyewear companies, I firmly believe that Curie is fit to be embedded inside t-shirts, jackets and dresses. If Louis Vuitton (OTCPK:LVMHF) group trusted Intel for its first Tag Heuer Android smart watch, I believe that luxury bags and designer clothes also deserve a Curie module inside them.
Curie is small enough to be inconspicuous so that finicky socialites won't notice it. Furthermore, Intel's advanced Internet of Things hardware solutions has made it possible for SMS Audio to create battery-less smart earbuds that could monitor heart beats.
Curie-powered clothing that runs on kinetic or solar power also could be possible in the future.
Conclusion
Yes, there are ARM-based solutions for Internet of Things devices. However, the expertise of Wind River Systems on embedded computers and operating systems allows Intel to offer an end-to-end Internet of Things ecosystem. Wind River and the newly acquired Lantiq assets are two significant factors that give Intel an edge when it comes to smart clothing.
While Wind River Systems is famous for embedded industrial and commercial applications, Lantiq, a fabless semiconductor company, is known for supplying hardware/software solutions to manage connected devices inside the digital home. Smart clothing's gathered data ought to also transmit itself automatically to smart thermostats and humidifiers. This is to make sure the inhabitants get maximum comfort.
The intelligent thrust of Intel's Internet of Things strategy is that every smart device ought to be online and be capable of securely communicating with each other.
The predictive algorithm of I Know First is strongly hinting that INTC is currently undervalued. Intel has positive 30-day and 90-day forecast scores. There is a good probability that investors who dare bet on INTC right now could win a decent reward in the future.

There are 11 other expert analysts also still endorsing a Buy for INTC. The long-term technical indicators are in line with my Buy rating for Intel.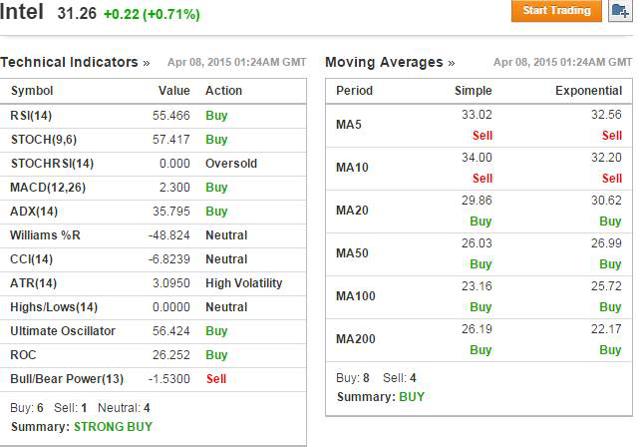 Source: Investing.com
Disclosure: The author is long INTC.
The author wrote this article themselves, and it expresses their own opinions. The author is not receiving compensation for it (other than from Seeking Alpha). The author has no business relationship with any company whose stock is mentioned in this article.