With LinkedIn's (LNKD) stock down nearly 6% Friday after reporting strong earnings, I'm led to the conclusion that short sellers have piled on now that the biggest obstacle is out of their way. Perhaps they are now eagerly awaiting the lockup expiration in two weeks. Perhaps they feel emboldened by the company's 1.25-million share offering. The problem is that 61 million LinkedIn shares will no longer be eligible for sale until 90 days after November 20. I believe that the company's shares will inevitably fall and that this lockup extension is just putting off the day of reckoning. But in the near term, the main catalyst cited in this write-up is off the table.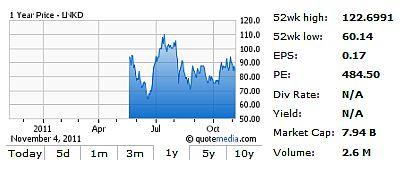 At the same time, dip buyers and technical traders are providing a floor for LinkedIn. They know nothing about the specifics of this company, but they believe in reversals like some kind of religion and the religion has enough followers to move prices higher.
Because of the lock-up extension and my read of the people trading LinkedIn, I took a long position in the stock by shorting near-month put options and I maintain my short call position. I believe near-month put buyers are naive. I still believe long-term call buyers are also naive.
It is better to sell volatility in LinkedIn than to take a directional position in the very near term. Option premiums are unusually high.