Apple (NASDAQ:AAPL) is in a remarkably enviable position. I could explore into great depth the many strengths of Apple, examine its past history of disruptive innovation, and discuss the depth of management that still exists. But countless authors of innumerable articles have already done that. Instead, I want to bring forward three long term weaknesses that are often overlooked and/or undervalued when analyzing this company.
Cult Following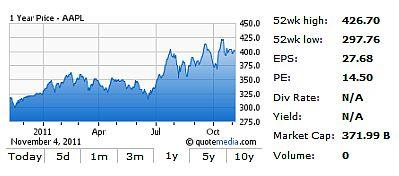 Apple doesn't just sell its hardware, it also sells a lifestyle. Watch the company's TV ads: Apple is selling the idea of being cool, fresh, and exciting (by buying a Mac) rather than just another drab, suit-wearing office-bee (by buying a PC). Watch the drama surrounding the unveiling of new products - millions of people watch these events, many of whom never have watched (nor ever will watch) similar events relating to other companies.
Compounding this is the all inclusiveness of the Apple Culture - just as you can by everything you need from cradle to grave from Wal-Mart (NYSE:WMT), Apple strives to provide a full technology package. Desktops, laptops, tablets, cellphones, television devices, music creation/sales/listening tools. And it all comes from the same company, ensuring that it works well together. And you can buy it all online or from a nearby Apple store, which is an experience in and of itself.
But what happens when the 'coolness' of Apple products begins to fade? The consumer backlash is strong when a product is seen as last year's hot item; see Research in Motion (RIMM), Nokia (NYSE:NOK), or Myspace. But the backlash from investors will be even more sudden and vehement because of previous high expectations; see Netflix (NASDAQ:NFLX) or Yahoo! (YHOO).
Consumers and investors both talk about being 'Apple Believers,' implicitly acknowledging a lack of fundamental logic in their regard for AAPL. This is great while the company is doing well, but when things stumble, it can backfire very painfully and very quickly.
And much of this cult is built around the persona of Steve Jobs, bringing me to my next topic.
Loss of Steve Jobs
The loss of Steve Jobs has been very well explored by others, however there are several things that I would like to highlight.
First, in August when Steve Jobs resigned as CEO, investors comforted themselves with the knowledge that the transition had been well planned in advance, he would maintain his involvement as chairman of the board, Apple's product line was well mapped out for the next few years, and the upper management had been hand picked and trained by Mr. Jobs himself. With his death in October, Apple lost the most valuable one of these three comforts - Jobs' continued oversight as chairman. Yet the stock price through these recent months has continued its upward trend as it reaches new heights, albeit with more fluctuations than usual. Steve Jobs' death, while planned for and unlikely to strongly affect the product line for a couple of years, is a large blow to the company and has been outright ignored by the share price.
Second, the cult of personality that surrounded Steve Jobs made him synonymous with Apple and Apple synonymous with Steve Jobs. Now, Apple has to forge a new identity that does not hinge on Jobs. This will be difficult to accomplish, but certainly not without precedent - see Disney (NYSE:DIS) or IBM (NYSE:IBM).
Third, Jobs had a remarkable prescience for predicting what consumers wanted in their products. His method of having design drive engineering will undoubtedly stick with the company, but can Apple continue to get the designs correct?
Technology Moat
The past decade of growth for Apple has been paved with its disruptive innovation, however Apple's products are beginning to lose some of their sheen:
These products will likely lead to overall growth as the markets for smartphones and tablets grows faster than Apple's market share in these fields decreases. However, the share price is valued for growth to continue as it has been in the past few years. In order to maintain the luster of the Apple product line, the company will need to unveil a brand new product that will disrupt the markets. The iCloud and Apple TV, while good, simply will not cut it.
Conclusion
Apple is facing strong headwinds in the future as its mass of followers fully process the loss of Steve Jobs and as its current products mature. These are all problems that can be overcome. However, in a climate where people are Apple Believers instead of neutral observers, we need to work extra hard to stay in touch with potential weaknesses.
Disclosure: I have no positions in any stocks mentioned, and no plans to initiate any positions within the next 72 hours.