Many if not most 'attendees' on Dendreon's (NASDAQ:DNDN) November 2, 2011 conference call were taken by surprise when Greg Schiffman, the company's chief financial officer, mentioned that "[F]or the quarter … the company booked approximately $3 million of royalty revenue … related to intellectual property, licensed to Merck (NYSE:MRK) and associated with its newly launched product Victrelis for the treatment of hepatitis C."
My immediate response to this comment was 'What is Victrelis, and what part will it play in Dendreon's future?' A little research revealed the following.
According to an FDA News Release on May 13, 2011,
[T]he U.S. Food and Drug Administration today approved Victrelis (boceprevir) to treat certain adults with chronic hepatitis C. Victrelis is used for patients who still have some liver function, and who either have not been previously treated with drug therapy for their hepatitis C or who have failed such treatment. Victrelis is approved for use in combination with peginterferon alfa and ribavirin.
The drug, which is marketed by Whitehouse Station, N.J.-based Merck & Co., is a pill that is taken three times a day with food. It's part of a class of drugs known as protease inhibitors, which work by binding to the virus and preventing it from multiplying. Merck is ramping up efforts to push its new hepatitis C treatment Victrelis to the fore, signing a global promotion deal with Roche (OTCQX:RHHBY) which includes Europe, Asia and Latin America. The drug already has received a positive opinion from the European CHMP for treatment of chronic HCV genotype 1 infection. Say what you will about Big Pharma, when it comes to launching a new drug worldwide, no one does it better!
The US Centers for Disease Control and Prevention finds that in 2007 (the latest year, surprisingly, that data are available on the agency's Web site), there were an estimated 17,000 new C virus infections in the US. Further, an estimated 3.2 million persons in this country are thought to have chronic hepatitis C virus infection. Unfortunately, most people are not even aware they are infected because they don't look or feel sick, and there is no vaccine for the disease.
In addition to treating hepatitis C, Merck also recently announced that early results from a clinical trial show that Victrelis is more effective than the standard drug cocktail at treating patients who also have HIV. Final results of the study, which is designed to last 48 weeks, should be announced in 2012.
On October 28, 2011, Merck reported $31 million in 3Q11 sales of their HCV drug, with total sales of $53 million since the drug was introduced. Based on the $3 million royalty reported by Schiffman on the Dendreon conference call, this would indicate that the royalty rate is in the single digit range, somewhere around 5% or slightly higher. The value of this royalty stream is difficult to pin down at this time, but Adam Feuerstein, in a column for The Street, shows estimates ranging from 64 cents to as much as $1.50 to $2.00 per share, on a discounted cash flow model.
One last note on Victrelis - Dendreon picked up the drug when it acquired Corvas in 2003. That company had an agreement with Schering-Plough (now Merck) to develop a hepatitis C drug, and so, Dendreon is on the core patent covering Victrelis.
From a technical standpoint, it is very difficult to make much real sense of the charts following what happened in the wake of the conference call. Nevertheless, for archival purposes, here are the current Daily and Weekly charts from Stockcharts.com.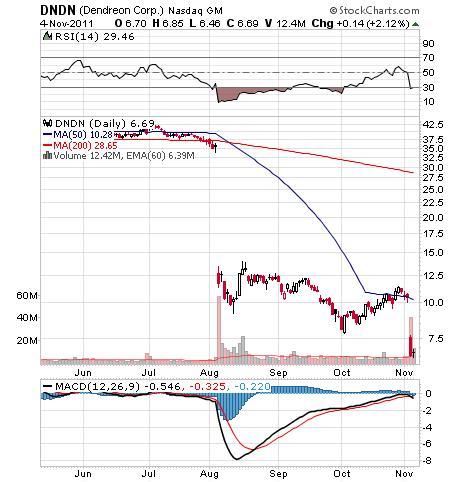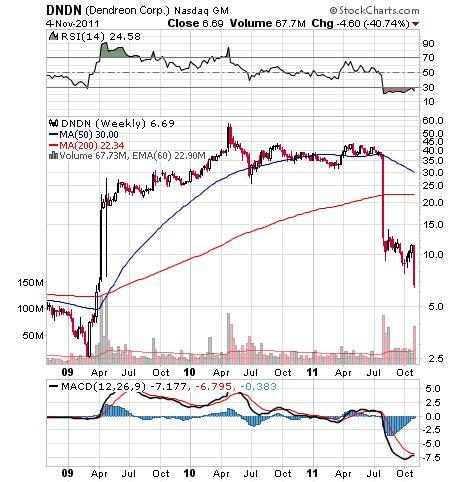 What's amazing is that the share price has fallen to pre-approval levels, something close to the company's cash value. That's pretty remarkable, when you think about it, and it makes you wonder why Big Pharma or a corporate raider has not made a play for the company.
On the Daily chart, the stock once again is headed into oversold territory, where on the Weekly chart it has languished since early August. As well, the Daily MACD line has turned negative as rampant selling occurred in the aftermath of the November 2, 2011 conference call. Whether or not the Weekly MACD line will continue up into positive territory is a good question. Institutions, especially hedge funds, are under the gun like never before to perform in a terrible market environment. The latest fund holdings for September (click on the 'Date' table heading to change from June to September) show that many funds sold out completely, though importantly, some initiated or even added to their positions. A mixed picture, to be sure. But given what has happened to Dendreon since the company pulled guidance on August 3, 2011, it is not surprising that the Street is in a 'show me the money' mode. And this situation is exacerbated by the need for money managers to perform now or risk losing clients at the end of the year. Under these conditions, only good news will move this stock significantly above its current price.
The above notwithstanding, know that in my opinion, the company 'made' its numbers for 3Q11. But the Street was disappointed in the high cost of goods sold, or COGS. The high COGS was a result of the under-utilization of Dendreon's three blood processing facilities in California, Georgia, and New Jersey that occurred in the wake of the company's restructuring. If the company produced widgets, it would be a no-brainer simply to shutter one plant. But given the time and cost involved in obtaining FDA approval for facilities such as those used to infuse blood with Provenge, to shutter and then reopen a plant would incur significant costs—and delays—that would be even more onerous. So, the company has decided to 'tough it out,' preferring to take a hit in the near term on the premise that sometime in 1H12, sales will ramp up sharply as Provenge uptake by community providers accelerates. Remember, the company should be close to cash-flow positive once Provenge revenues exceed (roughly) $40 million/month (annualized to $500 million/year). Gross product sales for October, as reported on November 2, 2011, were $26.4 million. Given that the provider base now is approaching 800 in the contiguous US, and that at 1,000 providers the company could serve 80% of US Provenge candidates, sales are expected to accelerate rapidly beginning late 1Q12, which means that there is potential for reaching the $40 million/month goal by 2Q12.
Finally, it may not be well known, but Dr. Gold, Dendreon's President and CEO, pointed out on the November 2, 2011 conference call that "…a recent analysis suggest that up to 74% of patients had no out of pocket costs for Provenge and of the remainder of those patients we are supporting other assistance programs to ensure all patients have access to Provenge." This puts to lie the criticism that Provenge is expensive to patients.
Disclosure: I am long DNDN and will not alter my position within 72 hours of the time of publication of this article.