Inhibitex (NASDAQ:INHX) is a biopharmaceutical company operating clinical trials dedicated to the prevention and treatment of serious infections. It just reported progress from clinical trials of its antiviral treatment, INX-189, in its third quarter report. Inhibitex stated that it lost $5.3 million or a loss of 7 cents per share in the third quarter. It also reported sales of $1.3 million thanks to a $1 million milestone payment from Pfizer (NYSE:PFE) for a staphylococcus vaccine.
The loss in earnings should be expected since Inhibitex does not yet have an FDA approved drug. Its stock rose 115% Friday on promising news for its INX-189 antiviral treatment. INX-189 is a treatment for chronic hepatitis C. Inhibitex reported that a 200 milligram dose of INX-189 did well in reducing the virus in patients. It also stated that the drug was well tolerated with no serious side effects, when given to patients with a certain form of chronic hepatitis who have not been treated.
The Hepatitis C Virus (HCV) is the primary cause of liver transplants in the U.S. It is estimated that about 3.2 million people are chronically infected with HCV in the United States.
Other Drugs In the Inhibitex Pipeline
Inhibitex has completed a Phase 2 trial for FV100 for the treatment of shingles. Inhibitex is in the process of considering a Phase 2b trial for FV100, where 600 shingles patients would be studied. The reduction of pain associated with shingles would be studied.
Inhibitex has completed a Phase 2a trial for Aurexis for patients with complicated S. aureus bacteremia (MRSA). Aurexis has the potential to reduce mortality and complications associated with S. aureus bacteremia. It can also help reduce the length of time in the ICU, which would reduce the overall costs associated with a hospital stay. Other benefits of Aurexis include reduction in the likelihood of the development of antibiotic resistance and reduction in the rates of relapse of infection.
Inhibitex has also partnered with Pfizer by licensing the use of its MSCRAMM protein platform for the development of human staphylococcal vaccines. Pfizer is responsible for all clinical development, manufacturing, and marketing of the vaccine. Inhibitex is eligible to receive regulatory milestones and royalties on future net sales.
It looks like Inhibitex has a promising future. However, after a 115% jump in its stock in one day, I would wait for a pullback before purchasing. Also keep in mind that biopharmaceutical companies are risky due to the uncertainty of FDA approvals. It would be wise to use a small portion of your portfolio to purchase a basket of your favorite biopharmaceutical companies.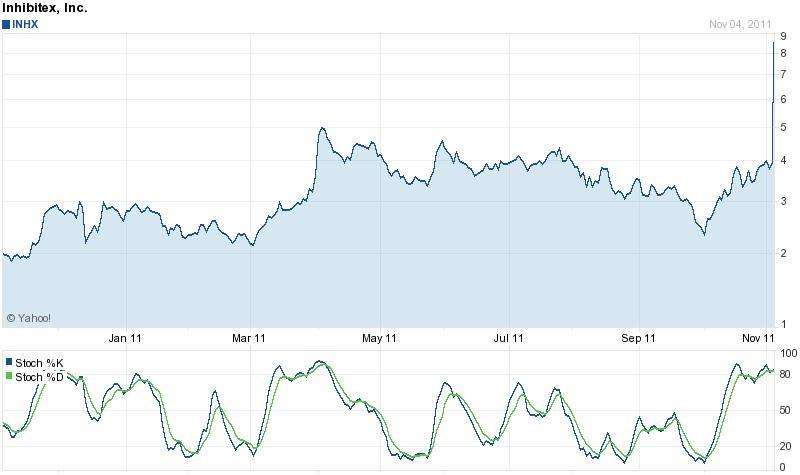 Disclosure: I have no positions in any stocks mentioned, and no plans to initiate any positions within the next 72 hours.