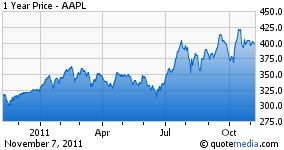 Since Tim Cook officially took over as Apple (NASDAQ:AAPL) CEO, he has made several moves that not only set him apart from Steve Jobs, but send a subtle message that, going forward, we do things differently here. Without the interim tag and Jobs in the background, Cook clearly enjoys the freedom to run Apple as he sees fit.
Consider the following snapshot of the things Cook has done since Jobs passed away:
Awarded all Apple employees extra paid time off at Thanksgiving. This extends all the way out to retail staff, who can work with their managers to select appropriate days off.
And, while it's ultimately a move that heavily involves the board and could have happened with or without Cook, with Jobs in the picture, Apple likely would not have awarded millions in stock options to several top executives. The intent, of course, is to keep these people happy during a time of transition so that they'll be less likely to jump ship.
I'm not sure Jobs was necessarily the type of CEO, particularly in his heyday, to consider, much less follow through with most of these moves. For instance, from all accounts, it seems accurate to say that Jobs might think, if I don't need three extra days off around Thanksgiving, then why do you?
It strikes me as interesting that Cook would move as fast as he has instituting and hinting at some very un-Steve Jobs-like moves. Intuitively, it seems like it makes perfect sense to waste no time setting yourself apart from a legend. That said, in many situations walking in and doing things so differently, so soon could upset the Apple cart.
Maybe the Apple cart, however, was already upset and a considerable number of employees welcome and appreciate his swift route toward change. With the company running on all cylinders and Jobs lauded by virtually everybody, including me, as the man who changed the world, you never heard much about discontent from the rank and file. And now Cook appears set to handle pretty much the only gripe from shareholders if indeed a dividend awaits.
That said, I find the other moves Cook made and the company-wide emails addressing employees collectively as "Team" more interesting. In the long run, these things might matter to investors as much as a dividend, even if they never realize it.
Like most things in life, you simply cannot run a company like Jobs did forever. What happens when the apparent genius runs out? No knock on Cook, but we're about to find out. Cook realizes that nothing fosters creativity and continued motivation, even in the absence of a genius, like a happy workforce with the CEO out in front making it happen.
We've spent so much time discussing whether or not Apple can succeed without Steve Jobs. But, assuming he was healthy and either ran out of great ideas or his subsequent "one more things" lacked the luster of iPod, iPhone and iPad, what would be left without the Steve Jobs we all became accustomed to leading Apple? Would we have seen more defections like Ron Johnson to J.C. Penney (NYSE:JCP)?
I fully expected Tim Cook to do a whole lot of nothing in his first few weeks as Apple CEO. What he has done, publicly, is nothing short of thoroughly impressive. And it has little to do with the company's next big invention. Instead, Cook appears at least partially focused on righting some apparent wrongs that rarely got talked about, but could have brought the empire down when the magic runs out.
Disclosure: I have no positions in any stocks mentioned, and no plans to initiate any positions within the next 72 hours.