Apple (NASDAQ:AAPL) was co-founded by the late visionary Steven Paul Jobs and has completely transformed every industry it operates in. The perpetual focus on innovation has made this one of the largest, fastest growing companies and Apple investors have been handsomely rewarded. I have recommended option strategies on Apple since 2010 with tremendous results. For reference, please view the first and other articles in the series to fully understand the strategy and its strong potential returns. As we enter the post-Jobs era, it is even more important to keep a close eye on your investment and execute care with your trades.
Click to enlarge

A brief recap of this week in Apple (Down $2.18 (-0.5%)):
Mona Simpson's Eulogy For Steve Jobs (October 30 New York Times)
5 Reasons Research in Motion Could Fail in 2012 (November 1 Seeking Alpha)
Jobs Book Huge Seller in First Week (November 2 TheBookSeller)
WSJ: Cook Is Making Apple His Own (November 2 Wall Street Journal)
Businessweek's Look at Apple's Supply Chain (November 3 BusinessWeek)
Tim Cook: Kindle Fire "Good News for Apple" (November 3 BGR)
Apple Only Large Smart phone Company To Grow Subs in Q3 (November 4 Apple Insider)
Apple Grants Stock Options To Various Executives (November 4 Wall Street Journal)
Despite 4% Mobile Market Share, Apple Earns 52% of Profits (November 4 BGR)
Apple dipped slightly last week but the stock showed great resilience in the face of the MF Global (OTC:MFGLQ) and Greece news. After falling precipitously with the overall market on Monday and Tuesday, the support around $396 held and it appears that we have some solid footing around the $400 price level. This still pales in comparison to where Apple was trading before earnings well in excess of $420 and I suspect that Apple will oscillate within a tight level for the remainder of the year. If Apple does stay range-bound there are a variety of option strategies available such as the covered call, long condor, or short straddle/strangle. In the absence of a significant catalyst in the near-term I do not see a tremendous risk of any "opportunity cost" lost profits from a huge week for Apple.
Tim Cook echoed what I said recently that Amazon's (NASDAQ:AMZN) Kindle Fire will actually benefit Apple. Exposing the market to a fragmented, inferior offering will show consumers what they are missing by not owning an iPad. This statement from Cook, as well as the WSJ article about his leadership style, indicates that Apple will continue to take verbal barbs at competitors when the opportunities present themselves. Steve was famous for his quotes about Microsoft (NASDAQ:MSFT) and Cook appears to utilize that style. For investors this means that we can expect to see a steady supply of informational tidbits coming out from 1 Infinite Loop.
The biggest piece of news this week was that Apple now commands over half of the mobile industry's profits despite "only" having a 5% market share by volume. This was essentially the strategy that Apple employed with Macs as Windows has always been the dominant market share leader. This time the game is very different. Apple has the best product and the ecosystem to support it so it is likely that the market share will surge. From anecdotal evidence in the Northeast, U.S. iPhone market share among those I come in contact with is in excess of 50%. With Apple firmly established in the high-end market, the iPhone 3G and 4 will be able to capture even more customers who are more price sensitive.
Let this settle in – Apple's earnings are driven by iPhone now and it has only captured 5% of the market. Is it too far fetched to start speculating if Apple can double its earnings in the intermediate future? The law of large numbers says no but I would never bet against Apple's magic. Remember that I am discussing any new products that Apple might release (iTV, iPadBook, etc.) and the prospects are still as bright as ever. With Apple trading like a value stock (15 PE before adjusting for cash) and having unprecedented growth future growth prospects I do not think you can afford to not have some Apple exposure in your portfolio.
Below I present three possible scenarios and the potential returns for the November 11 weekly options. The first scenario represents a negative outlook for Apple while the final two scenarios are more reasonable. These scenarios are just projections and there is no guarantee that they will come to fruition. As a general rule, selling calls with higher strike prices has greater potential return but additional risk of loss due to the lower (or lack of) downside protection. For more information on the fundamentals of covered calls, consult Investopedia.
Click to enlarge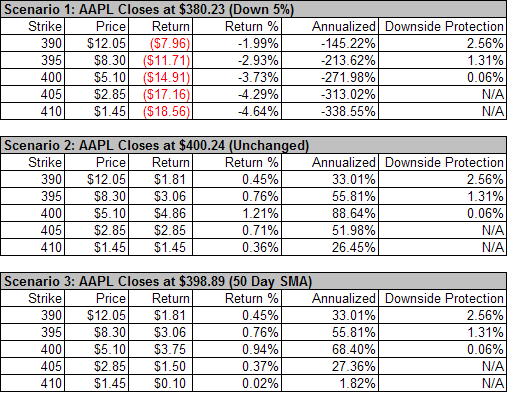 Additionally, if you would like even more information, I have prepared a sensitivity analysis for absolute return and percent returns, respectively. After studying the information above, these two charts make it easy to pick a strike price based on where you believe Apple will close on Friday.
Click to enlarge

With this information, executing a buy-write on AAPL November 11 (Weekly) 405s is the optimal risk-return strategy. If you are uncomfortable with this strategy I suggest a buy-write 400s. Even if you are extremely bullish you can still profitably sell covered calls; Apple is volatile enough that you will have opportunities to repurchase on dips. An alternative approach is to sell out-of-the-money 400 puts and collect the premium without having to purchase the stock outright. Note that if the stock declines to the strike price, you are obligated to buy the stock (or closeout the position). If you agree with me that Apple will remain in a tight range, executing a short straddle on the 400s can generate the highest returns but also is more risky than the other strategies discussed.
Disclosure: Author is long AAPL; short AAPL November 11 410 Calls.