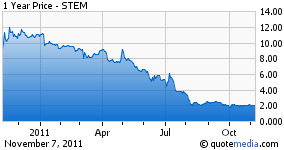 For Q3/11, StemCells (STEM) reported a net loss of $4.33M or $(0.31) per share, compared with a net loss of $5.55M, or $(0.44) per share for Q3/10 and $4M or ($0.29) per share in Q2/11.
Its Q3/11 Loss from operations was $6.163M which was 12% lower when compared to the $7M loss from operations in Q3/10. Total revenue was $224K, compared to $254K in Q3/10. Revenue from product sales was $182K, which was a 40% increase compared to Q3/10. Growth was driven by both increased unit volumes and new product launches in the SC Proven media and reagents business. Revenue from licensing agreements and grants was $41K, which was a 67% decrease compared to the previous year primarily due to the completion and termination of several projects funded by grants. Total operating expenses were $6.326M, compared to $7.218M in Q3/10. SG&A expenses totaled $1.733M, which was a 14% decrease compared to the same period of 2010, while research and development expenses totaled $4.524M, or 13% lower than Q3/10. The significant reduction in operating expenses quarter over quarter was primarily attributable to the reduction in force affected in 5/11. Other income in Q3/11 was $1.829M, compared to $1.449M in Q3/10. This increase was primarily due to a decrease in the estimated fair value of warrant liability.
For the 9 month period ended 9/30/11, net cash used in operating activities was $16.846M, which was 14% lower than the same period in 2010.
Cash, cash equivalents and marketable securities at 9/30/11 totaled $12.534M compared with $19.899M at 12/31/10.
Disclosure: I have no positions in any stocks mentioned, and no plans to initiate any positions within the next 72 hours.