The Euro has plummeted over the last months and now trades at $1.08. The sharp decrease is mainly due to divergent monetary policies between the Fed (potential tightening) and the ECB (low rates and quantitative easing). As the markets expect additional quantitative easings in Europe, the currency could be poised to weaken again.
According to Bank of America, the Euro could reach parity by the end of the year.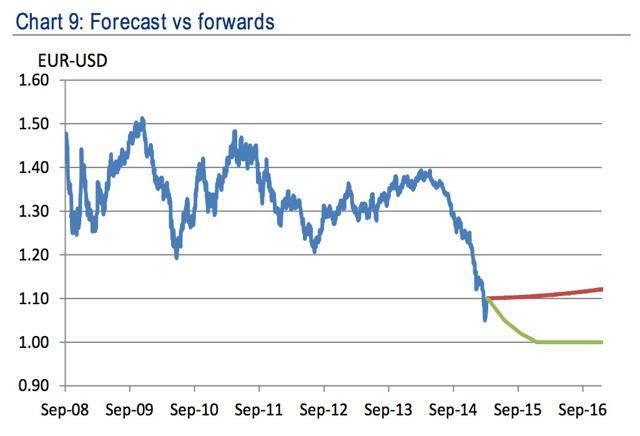 Sources: Business Insider; Bank of America.
Considering the recent positive European indicators and that the ECB raised its growth forecasts, the Euro could have been oversold and rally in the short-term. As a consequence, the current exchange rate could be pretty decent in order to acquire some European stocks.
Picking stocks for long-term investors
As a young investor reading B. Graham, W. Buffett or P. Fisher, I have learned to consider the stock market as a huge store where stocks have a value and a price. Both sides are fascinating as they involve business indicators, growth prospects, financial strength, research & development, corporate structure & governance but also more human related psychological factors that can drive the stock price well above or below its intrinsic value.
Sometimes, share prices go bananas but some other times, they are on sale and it's a great opportunity but also a great pleasure to buy at a discount.
The stock market can be seen as a wine store. I have the same pleasure when I manage to buy a 2009 Chateau Citran for €12 or to order a bottle of Le Serre Nuove dell'Ornellaia for 45€ at a restaurant. I know that the price I paid is almost the price that reflects the intrinsic value. In order to become a good investor, one must read a lot, analyze lots of companies (the good ones and the bad ones) and get an understanding of their real value, just like a sommelier. In fact, the first time I took a wine class, I was amazed to realize that first the sommelier assesses the value of the wine but then always compare it with its price.
Just as stocks, some wines can be sold at a premium because they come with a "quality insurance". For instance, if a Chateau d'Yquem is not good enough, it won't be commercialized. You can also be paying for the wine's ability to age and increase value and quality over time. The stocks I would like to discuss in this article are good wines that one can buy and hold for a long time:
The first two stocks are sold at a premium
The two other stocks are good opportunities considering their current price and long-term prospects
Four French stocks for long-term investors
The first two stocks I recommend to follow and analyze are industrial companies with strong business models, high entry barriers, interesting growth prospects, and outstanding track records. I simply buy these two stocks whenever there is a market correction or a pullback and plan to hold them for life. Right now they appear to be slightly expensive for European investors but they are very appealing for an American investor.
Air Liquide
Air Liquide (OTCPK:AIQUF, OTCPK:AIQUY) is one of the three leaders of the gas and air products industry with Air Product and Chemicals (NYSE:APD) and Linde (OTCPK:LNAGF, OTCPK:LNEGY). The French company was founded in 1902, operates worldwide and employs 50,000 collaborators. Air Liquide is to me the strongest French stock considering its track record and its prospects.
My investment thesis is based on the following topics:
Great track record. The revenues, cash flows, EPS and dividends have been pretty much increasing for the last 30 years;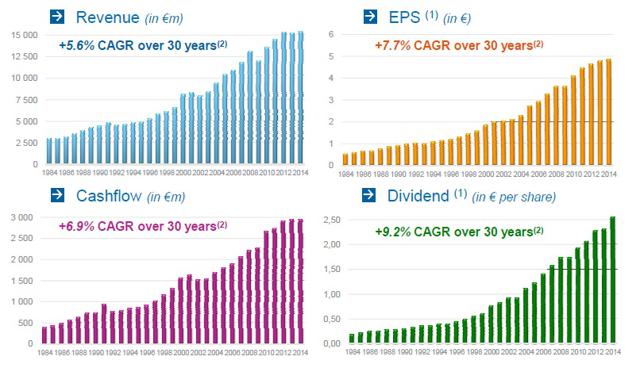 Source: YE presentation.
High entry barriers and long-term contracts between industrials and air product companies make the revenue flow safe and resilient;
Strong diversification in terms of product and geographical areas;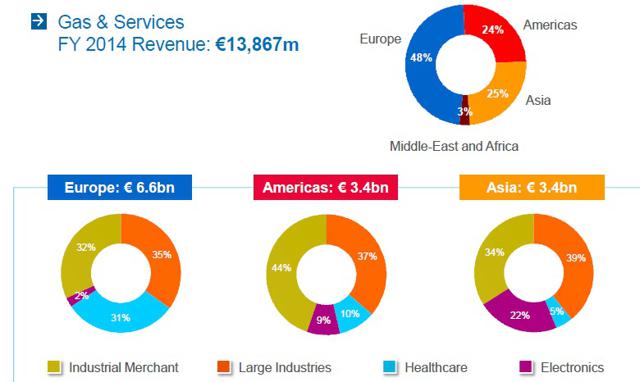 Source: YE presentation.
Strong prospects for the Electronics segment in Asia. Air Liquide supplies ultra pure gases to companies making semiconductors, flat panel displays, photovoltaic cells etc.;
Huge prospects for medical gases thanks to the ageing of the population. The segment already accounts for 18% of the overall revenues and for 31% of the revenues in Europe.
2014 revenues increased by 4.5% to €15.4b, the operating margin improved to 17.1% and the net profit increased by 3.8% to €1.7b. As a consequence, the dividend was raised by 10% to €2.55. However, the stock is very expensive (14.9 PE and 22.6 forward PE) right now.
Schneider Electric
Schneider Electric (OTCPK:SBGSF, OTCPK:SBGSY) is the leader of the energy management industry, operates worldwide and employs more than 160,000 collaborators. The company offers products and services to different clients including infrastructure companies, utilities, data centers, industrial companies etc. The French Group has a unique capacity to target big companies and public structures but also small and medium enterprises through an efficient distribution network.
My investment thesis is based on the following topics:
Schneider should benefit from strong growth drivers in mature markets (need for efficient and green energy management, energy-positive objects and buildings, automation, smart cities etc.) as well as in emerging markets (increasing urbanization and industrialization);
Schneider is very well diversified and can capture growth in all the major markets;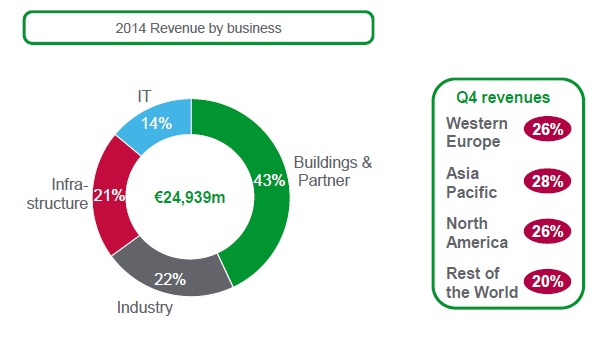 Source: YE presentation.
The French company has a strong exposure to dollars (only 26% of the sales are made in Europe) and should benefit from the weak euro/dollar exchange rate in the upcoming years. The Management already estimates a €1.5b positive FX impact on 2015 revenues;
The French company offers a very interesting Corporate Social Responsibility profile and is well ranked in the Global 100 Most Sustainable Corporation. A strong CSR profile, when entirely part of the company's strategy, is to me a great indicator for long-term investors.
2014 revenues increased by 1.4% to €24.9b, the operating gross margin slightly improved by 20bps to 37.7% and the net income jumped by 3% to €1.9b. The company increased the dividend by 3% to €1.92. I believe that Schneider will keep generating slightly increasing revenues, margins, dividends and will progressively create and distribute value to the shareholders.
In my last article, I valued the company at €75 (35% upside regarding the trading price). The stock now trades at €74, which consists in a 20.6 PE and 17.9 forward PE. As a European investor, I would wait for a correction in order to buy the share.
The two other stocks I would like to highlight are financial services companies including one bank and one insurance company. In my opinion they can be considered as conservative investments that should produce steadily increasing revenues and dividends in the long-term.
Crédit Agricole
Crédit Agricole (OTCPK:CRARF, OTCPK:CRARY) was founded in 1885 and is now the main French Retail Bank. The bank mainly operates through regional entities and is a historical player in rural areas.
The company got listed through its holding Crédit Agricole S.A. in 2001 and started expanding everywhere at all costs and operating on products that have never been part of its core business (investment banking). I particularly like Crédit Agricole because I believe that the Bank has learned the lesson. The weak businesses such as Emporiki in Greece or Bankinter in Spain have been sold and the Bank is adopting a more conservative approach. Moreover, the Bank is back to its fundamentals and historical businesses that are retail banking and financial services such as Insurance or consumer finance. I believe that the stock is becoming very interesting for long-term investors who want to hold a conservative financial institution.
In my opinion, the French banking industry should transition from various universal banks that compete with each other to more specialized actors who will focus on their historical strengths and optimize their capital allocation.
BNP (OTCQX:BNPQF, OTCPK:BNPZY) could remain a truly universal bank with worldwide operations in all the segments;
Société Générale (OTCPK:SCGLF, OTCPK:SCGLY) should strengthen its operations in Europe and provide very specialized global services to its corporate clients;
Crédit Agricole will remain a massive retail bank with simplified operations and good prospects in Europe.
As a consequence I expect an increasing profitability as well as a lower level of risk in the upcoming years. 2014 revenues already increased by 1.1% to €15.b and the gross operating income improved by 4.6% to €4.7b. The dividend is stable at €0.35. The current PE is about 15 and the forward PE is about 11.5, which makes the stock still quite cheap.
AXA
I got interested in the insurance industry and especially the property-casualty business thanks to W. Buffet's annual letter. Taking into account the business model of such companies, their financial strength and resilience, I needed one in my long-term portfolio.
AXA (OTCQX:AXAHF, OTCQX:AXAHY) is simply one of the leading global insurance companies. The Group was founded in 1817, operates worldwide and employs more than 100,000 collaborators. It mainly offer property-casualty (P&C), life & savings (L&S), asset management and international insurance services.
The Life-Insurance segment should be negatively impacted by the low/negative interest rate environment, the rise of alternative saving vehicles and by an increased competition with Banks. The Property-casualty segment should face lower premiums in mature markets due to fewer accidents and grow in line with the GDP. AXA operates in very mature markets that are poised to grow in line or slightly below the GDP in the upcoming years with more and more regulation. As a consequence, I believe that the key topics to address when analyzing a global insurance company are now:
Geographical diversification as it becomes entirely part of the business model
Ability to focus on profitable products and maintain high margins
Financial strength, especially in terms of solvency and debt management
Ability to control and optimize the costs
AXA has been able to operate a very strong geographical diversification over the years and tackle many emerging markets. For instance, new L&S business sales jumped by 14% to €1.1b in high growth markets.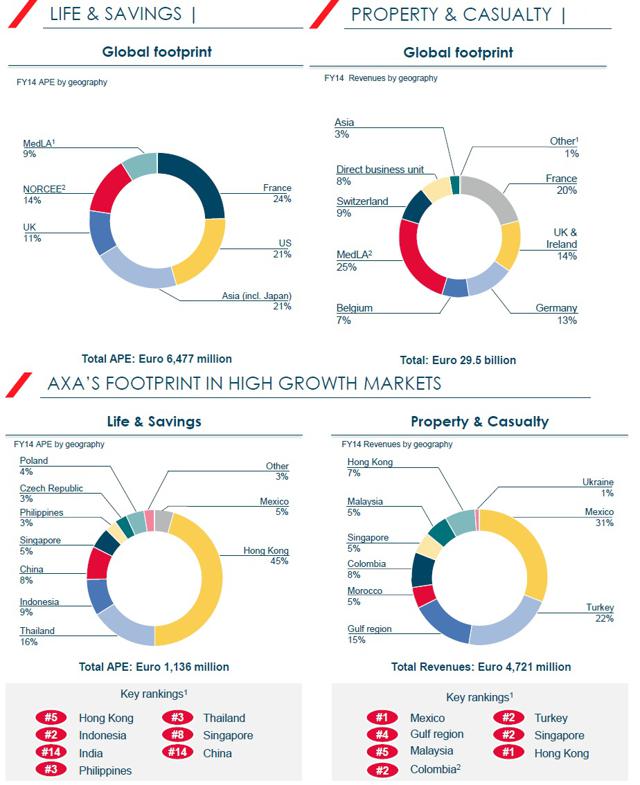 Source: YE presentation.
Moreover, AXA is also massively investing in Africa, which should drive the revenues in the long-term. The French Group recently acquired the number 4 insurer in Nigeria (+22% cagr 2011-2013!) and is planning to expand in other countries such as Kenya. According to the Management, AXA is investing for the next 20 years, which is very positive for long-term investors.
The Balance sheet remained strong in 2014 as the economic solvency ratio and debt gearing ratio are stable at 201% and 24%. Finally, AXA managed to reduce the costs by €1.6 between 2011 and 2014, in line with the €1.9b objective of the 2015 Ambition AXA plan.
As a consequence, the 2014 operating result jumped by 7% and exceeded €5b for the first time ever. Moreover, the Group decided to boost the dividend by 17% to €0.95. Finally, the stock is still very affordable as the share is trading at a 11.6 PE and 10.6 forward PE. Considering the company's financial strength, long-term prospects and current price, AXA is an interesting opportunity.
Documents for further analysis
Schneider Electric YE presentation
Crédit Agricole YE presentation
Disclosure: The author is long SBGSF, AXAHF, CRARF.
The author wrote this article themselves, and it expresses their own opinions. The author is not receiving compensation for it (other than from Seeking Alpha). The author has no business relationship with any company whose stock is mentioned in this article.
Editor's Note: This article discusses one or more securities that do not trade on a major U.S. exchange. Please be aware of the risks associated with these stocks.