Elevator Pitch
Engility Holdings (NYSE:EGL) was an unattractive company, given its significant exposure to the defense end-market, when it was first spun off from its parent company in 2012. It improved its cost efficiency significantly in the past two years, and also secured several award wins in the second half of 2015. Nevertheless, the company's revenue continued to decline, and its organic growth remained negative. In February 2015, Engility acquired another government services contractor, TASC, which is a game changer for the company. Engility will be a significant larger player in the government services space with a more diversified revenue mix. I arrive at a target price of $38.51 for the company by applying a 10.5 times forward EV/EBITDA to my estimated 2016 EBITDA of $250 million, and assuming $1.2 billion of debt and diluted shares outstanding of approximately 37 million. My target price implies a 20% upside from its share price of $31.84 as of April 7, 2015.
Unattractive Spin-Off
Engility, a leading U.S. government services contractor, was spun off from its parent company, L-3 Communications Holdings (NYSE:LLL), in July 2012. In a classic spin-off scenario, the "good" businesses were separated from the "bad" businesses, and Engility got the short end of the stick. L-3 retained the well-funded cyber-security and intelligence businesses; while Engility was left with the government consulting & services business with a significant exposure to the defense end-market. Furthermore, it was levered with debt (net debt of $316 million as of Q3 2012) to fund a $335 million cash dividend to L-3 following the spin-off.
Nevertheless, Engility has made significant progress in transforming the business following the spin-off. In early 2013, it initiated a program called "One Engility" to realign its organizational structure and streamline its business operations for greater cost and capital efficiencies. One Engility was a success, with the company reducing adjusted selling, general & administrative expenses by 37% year-on-year in 2013 and improving its adjusted operating margin from 7.8% in 2012 to 8.7% in 2013. In addition, the company more than tripled its operating cash flow and decreased days sales outstanding by 16 days over the same period. Engility's improved cost efficiency enabled it to be more price-competitive, and this was a key contributor to its significant awards wins in the second half of 2014. Notable contract wins included a $66 million contract with the Federal Aviation Administration to provide support for its Automatic Dependent Surveillance Broadcast program; a $61 million contract with the Naval Air Warfare Center, Weapons Division; and a $38 million contract with the Defense Threat Reduction Agency to support the cloud-based Constellation Combating Weapons of Mass Destruction Situational Awareness system.
However, while the recent contract win momentum is strong, Engility's revenue has declined since the spin-off. Its top line decreased from $1.65 billion in 2012 to $1.36 billion in 2014. The company's Q4 2014 organic growth, excluding the impact of the acquisition of Dynamics Research Corporation completed in January 2014, was negative 16%, according to CEO Tony Smeraglinolo's comments at the recent earnings call. The decline in revenue from the Department of Defense (DoD) with respect to a decline in its budget resulting from sequestration and the end of Afghanistan-related programs are the key reasons for the drop in Engility's top line. This highlighted the risks that the company bore as a result of its significant exposure to the defense end-market (64% of sales in 2014). With that in mind, Engility decided to acquire TASC, a provider of mission-critical systems and services that support key programs for the intelligence community, DoD, and U.S. civilian and government agency customers, to diversify its end-market exposure and customer profile. The acquisition was completed on February 26, 2015, and I will discuss its impact in greater detail below.
Government Service Contracting Is A Good Business With High Barriers To Entry And Attractive Financial Characteristics
Prior to assessing Engility's acquisition of TASC and the investment merits of the combined company, it is worthwhile to consider the competitive advantages of a government services contractor like Engility.
Engility boasts long and established relationships with its government customers, spanning more than a few decades. For example, it has worked with the U.S. Air Force, the U.S. Navy, the Department of Transportation for over 50 years, 40 years and 20 years, respectively. Building upon these long relationships, the company has accumulated significant knowledge about the inner workings of its government customers, giving it a huge edge over new entrants with respect to bidding for and winning new business. Another competitive advantage for Engility is its employees. In its 2014 10-K, the company writes that "the majority of our employees work side-by-side with their government counterparts at locations in the United States and around the world, thus developing those critical working relationships." Apart from the close working relationships that its employees develop by working with their clients, the security clearance for its employees is also a significant barrier to entry. As I could not find any information on the security clearance breakdown for Engility's employees, I used TASC, the government services contractor that Engility acquired, as a proxy. Approximately 80% and 58% of TASC's 4,000 employees hold security clearances and top-secret or sensitive compartmented information clearance. New entrants seeking to compete with Engility will have to go through the rigorous process of obtaining the relevant security clearances for their staff before they could even start work.
Engility is also attractive from a financial perspective. It operates on an asset-light business, evidenced by the fact that it delivered positive free cash flow in every year between 2010 and 2014. The company achieved free cash flow margins of 10.8% and 6.9% in 2013 and 2014 respectively, with capital expenditures typically below 1% of sales.
New Combined company Will Be Even Better
Moving on to Engility's acquisition of TASC. TASC, founded in 1966 and headquartered in Chantilly, is particularly strong in the intelligence end-market, where it generates approximately 62% of its revenues. Engility acquired TASC for approximately $1.3 billion; the consideration was paid entirely in shares. I am positive on this transaction for three main reasons.
Firstly, this acquisition will diversify Engility's end-market exposure and make it less reliant on the defense end-market. The combined company (Engility and TASC) will derive 48%, 28% and 24% (pro forma estimates) of its sales from the defense, intelligence and federal civil end-markets respectively. In contrast, the company currently generates approximately 64% of its revenues from the defense end-market on a standalone basis. Also, Engility used to generate only 1% of its sales from intelligence services, while the new combined company will derive 28% of its revenues from the intelligence end-market. This is significant, as intelligence is one of the key priority areas for the U.S. government, and is better funded as a result. According to research by Avascent, DoD's fiscal year 2015 budget request "protected $5.1 billion in cyber-related funding, despite cuts to many other programs." Customers belonging to the intelligence end-market accounted for approximately half of cyber spending across the U.S. government, based on Avascent's estimates.
Secondly, Engility can increase the switching cost associated with its current customers with the addition of TASC. The diagram below shows the company's core capabilities, and its new & enhanced capabilities resulting from the acquisition of TASC across the government services spectrum. With a broader set of service offerings, including cyber forensics and geospatial intelligence following the acquisition of TASC, the new Engility is well positioned to leverage upon its existing relationships with various government customers to "cross-sell" more services. In my opinion, the breadth of services that Engility provides to any single government customers is proportional to the strength of its customer relationships. Also, it has the potential to grab significant market share from competitors with a narrower range of services and a higher cost base resulting from the lack of scale.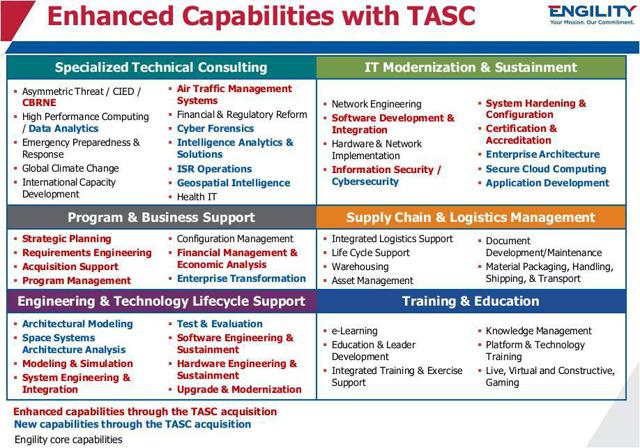 Thirdly, Engility is able to further reduce its average costs by spreading fixed infrastructure and back office expenses over a larger revenue base. The company expects to achieve 2015 revenues of between $2.2 billion and $2.5 billion, and deliver annual cost synergies of $35 million and $50 million by 2016 and 2018 respectively. As Engility realizes a lower cost structure in the next few years, it should increase its price-competitiveness, which should have a positive impact on its new bids and recomplete win rates. Furthermore, TASC has approximately $1.4 billion of tax attributes. Engility estimates that the present value of the tax attributes to be around $370 million, and that the company will realize tax savings through 2024.
Target Price
I arrive at a target price of $38.51 for Engility by applying a 10.5 times forward EV/EBITDA to my estimated 2016 EBITDA of $250 million, and assuming $1.2 billion of debt and diluted shares outstanding of approximately 37 million.
Engility's peers include Booz Allen Hamilton (NYSE:BAH), Science Applications International Corporation (NYSE:SAIC), CACI International Inc. (NYSE:CACI), ManTech International Corporation (NASDAQ:MANT), ICF International (NASDAQ:ICFI) and Navigant Consulting (NYSE:NCI). These trade between 6.4 and 10.8 times forward EV/EBITDA; while their EBITDA margins range from 6.5% to 9.7%. As I expect Engility to improve its EBITDA margin from 8.4% (on a pro forma basis) to 10.0% by 2016, it is reasonable to assume that the company's valuations will also be re-rated to trade at the higher end of the EV/EBITDA multiple trading range. I expect Engility to achieve revenue of $2.5 billion in 2016, compared with its 2015 revenue guidance of between $2.0 billion and $2.3 billion. Using my assumption of a 10% EBITDA margin, the company should deliver EBITDA of $250 million in 2016.
My target price implies a 20% upside from Engility's share price of $31.84 as of April 7, 2015.
Disclosure: The author has no positions in any stocks mentioned, and no plans to initiate any positions within the next 72 hours.
The author wrote this article themselves, and it expresses their own opinions. The author is not receiving compensation for it (other than from Seeking Alpha). The author has no business relationship with any company whose stock is mentioned in this article.