I recently suggested that Business Development Companies (BDCs) merit further investigation for income-oriented investors. Given the complexity of some of the management structures as well as the risky nature of the underlying investments made, investors interested in this niche should pay careful attention to the alignment of interests between management and shareholders. I had indicated that I would follow up with a review of this dynamic if readers were interested, and that was overwhelmingly the case. Therefore, I am reviewing each of the 14 dividend-paying BDCs I had highlighted in order to assess the amount of "skin-in-the-game".
I begin with Ares Capital (NASDAQ:ARCC), the largest of the group, with a market capitalization in excess of $3.1 billion. ARCC has traded publicly since late 2004: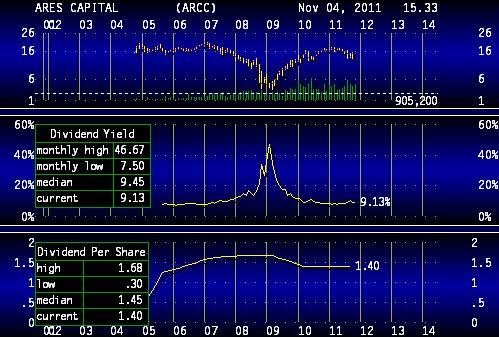 The company filed its annual proxy on April 28th. As is the case for many BDCs, management of the company is provided by an affiliated firm, in this case Ares Management. At the recent annual meeting, shareholders approved a proposal to reduce incentive fees paid to Ares Management to conform better to industry standards.
Total insider ownership is listed as just 1.4mm shares (0.7%), though this includes 650K shares held by Greek Associates (where Director Anthony Ressler is the general partner) and another 501K held in a family foundation where Ressler is a trustee. Not included are 2.86mm shares held by Ares Investment Holdings. Most optimistically, insiders own about 2% of the company ($60mm). With $129mm in base management and incentive management fees paid to Ares Management in 2010, the ownership position doesn't seem too impressive.
Due to the structure of outside management, investors are unable to clearly weigh the alignment of interests, as there is no disclosure regarding salary and incentive pay levels (or metrics) for the individuals involved in running the firm. Further, as the proxy describes in detail, there are many potential conflicts of interest, though the regulatory structure as well as other company policies minimize related-party transactions. Ares Capital Management has agreed to defer up to $15mm in annual base management fees if the Allied Capital acquistion doesn't meet certain earnings targets.
The key players are Michael Arougheti (38), who has served as President since 2004, and Bennett Rosenthal (47), who has served as Chairman of the Board since 2004. Both gentlemen have extensive M&A experience, and it is encouraging to see their long tenure. Additionally, in August, Arougheti purchased 100K shares near 14, and Rosenthal purchased 75K (previously owned no stock).
As this is the first in a series of alignment reviews, its hard to gauge the "skin-in-the-game" relative to peers. I have described a structure that generally isn't favorable to investors due to a lack of transparency with the outsourced management, and my impression is that the overall ownership level isn't enough to provide confidence ARCC stock is the most important thing financially to those running the company. Still, nothing in my review of the proxy was particularly alarming either. It is encouraging that the Board moved to lower incentive fees, which is certainly in the interests of shareholders.
Disclosure: I have no positions in any stocks mentioned, and no plans to initiate any positions within the next 72 hours.