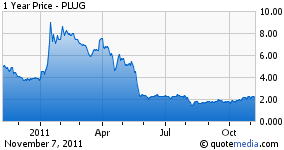 Plug Power (NASDAQ:PLUG), the manufacturer of fuel cells for fork lift trucks, has set some remarkable guidance for the current (December quarter):
"In the upcoming quarter, we expect to ship four times more than the company's best record quarter to date, realize our first gross margin positive quarter and maintain our continual sales traction."

"Year-to-date, Plug Power has received purchase orders for 1,460 GenDrive systems, and plans to receive orders for another 1,000 units by year's end."
To meet expectation of "four times more" they expect to ship about 1,000 of those units before December 31, 2011, (compared to 104 in December 2010). Also in this quarter, they are switching over to a lower cost fuel cell module which is expected to bring the company to positive gross margins for the first time.
Click to enlarge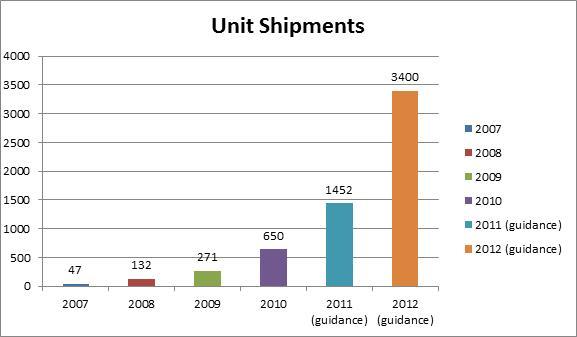 Customer Orders
The company said they expect orders for 2,200-2,600 fuel cell units during 2011. Plug's customer list includes some of the largest distribution center operators in the U.S. In the September quarter Procter & Gamble (NYSE:PG) joined Plug's list of customers. Orders in the third quarter included Wal-Mart (NYSE:WMT) Cornwall with 155 units, Coca Cola (NYSE:KO) San Leandro with 19 units, Procter & Gamble Alexandria with 45 units, Procter & Gamble Oxnard with 49 units, Procter & Gamble Greensboro with 129 units, and Wegmans with 75 units.
Sysco Foods (NYSE:SYY) already has Plug Power fleets in Houston, Philadelphia and Fort Royal Virginia and plans to install a new site in San Antonio in the fourth 4th quarter. In addition, Sysco (SYY) has placed orders expanding to additional distribution sites in Los Angeles, Riverside, Boston and Long Island. In total Sysco has a fleet of 12,000 lift trucks.
Shipments Expected to Double for the Year
Plug has been able to more than double its unit shipment every year since 2007. With the guidance given last Thursday, it expects to double sales again this year, as well as doubling next year (2012).
Third Quarter Results
Shipments to date this year have been ramping. Q1: 144 units, Q2: 73 units, Q3: 235 units. Since the start of shipments, the company has shipped approximately 1,500 fuel cells to 24 different sites. The additional 474 units added to the backlog in Q4 represented just over $11 million in future revenue. The company deferred revenue of $1.6 million in the quarter. Absent the $1.6 million deferral, year-over-year product revenue increase for the third quarter would have been 46%.
Fourth Quarter Guidance
The fourth quarter guidance is for shipments of 1,000 units, which is the majority of the 1,535 unit backlog. The backlog was sizable in Q3 but only a fraction was able to be shipped. These shipments are satisfying orders from 17 deals in the backlog, plus two new orders expected in the quarter. Plug's revenue guidance for the fourth quarter is $20-25 million, compared to $5.5 million in the third quarter. Product and Service gross margin guidance for the fourth quarter is expected to be in the range of plus 5% to 10%.
In the fourth quarter, the company expects to ship products to three additional Sysco sites, a WinCo site, a Coca Colas site, one new Wal-mart site, three Procter & Gamble Sites, a Newark Farm Markets site, a Wegmans site, a first site with Kroger (NYSE:KR), and a first site in Europe.
Guidance For 2012
The company expects to double shipments again in 2012. Their current target for the year is 3,400 to 4,400 units. From a market perspective this is a small fraction of the potential market. In North America there are more than 1 million existing electric lift trucks, and more than 100,000 new trucks are expected to be sold in the year.
Cost Reduction
Plug has gone through a transition from a broad line fuel cell company to a company with a narrow material handling focus. They've partnered with Ballard Power (NASDAQ:BLDP), relying on Ballard for the engineering and manufacturing of the fuel cell stack. Plug integrates Ballard's component into their finished system, and provides the targeted engineering, final assembly, marketing and sales effort. Plug doesn't make lift trucks, but are partnering with lift truck makers, and they make a component that can replace a swapped out battery pack. In the process they have reduced their operating expenses significantly.
In addition to shipping a lot more units in the fourth quarter, the company plans to start shipping new air-cooled units which use 30% fewer components and require one-third of the labor time to assemble, generating positive gross margins for the first time. The new units will help Plug to reduce its product costs by about 30%. The improvement in gross margin will also come from increased volume, allowing fixed overheads to be shared among more units. The company estimates that 47% of the units shipped in the fourth quarter will be based on the new cost reduced units.
Shipping the Backlog
As mentioned above, the company plans to ship 1,000 units from its 1,535 units in backlog to meet their 2011 shipment guidance. Typically there is a 3 to 9 month delay from the time a customer orders until they are ready to take the shipments. The company has stated that it can build units in 90 days. The major challenge for shipments is getting customers to accept units quickly enough. Many of the customers are installing fuel cell units for the first time, and have to implement a new process including installing on site fueling equipment. Plug's fuel cell stack supplier Ballard Power will also have to step up shipments rapidly. According to Ballard's recent earnings report, Ballard shipped 520 fuel cell models in the third quarter for the material handling sector (all we assume for Plug).
Future Challenges and Opportunities
We expect that the time from order to shipment will decrease over time as PLUG's customers gain experience. Some customers are expanding from their initial installations in multiple distribution centers. Plug's sales, and its fuel distribution partners are going through a learning curve. We expect that as customers and partners gain experience they will get faster at moving from order to installation.
Selling lift-truck power modules in Europe is the next obvious market. The business case for battery replacement could be even stronger in Europe. GenDrive units being developed for Winco's European-style moving mast lift trucks will offer Plug Power a segue into the European material handling industry..
The company has identified another potential application within the materials handling industry, that is to provide fuel cells for refrigerated trucks. The advantage for this application is that it would allow trucks to run refrigeration quietly and cleanly while parked near residential areas. Unloading of trucks in many locations is not possible during off hours due to the noise of motors running. The size of this market is comparable to the lift truck market.
Risk: Speculative Buy
Positives – Plug has a commanding lead in market share, and is focused on an ideal application for fuel cells, with excellent reference accounts, and sales that appear to be expanding in cookie-cutter fashion within large multi location customers. The available market just in the U.S. is 100 times bigger than PLUG's current shipment rate, and the growth opportunities appear very good for Europe, with the potential for expanding into new applications.
Negative – The company has to reduce the time from orders to shipments. Shipment rates for the next few quarters could be erratic.
Valuation
$ 6.00 per share
We estimate our valuations by predicting future revenues and net profits. We adjust future earnings based on a risk adjusted discount rate.
We are assuming that PLUG will ship most of its current backlog over the next six months, and continue to ramp orders as customers gain experience with the technology. In our projection we assume the company will ship at least 800 of the 1,000 units provided in company guidance, and then 3,400 units again in 2012, plus grow at least at 30% rate for the next few years, and will maintain long term net profits of at least 7% of sales. They have already brought down their OPEX burn rate, and are in a good position to have positive gross margins by Q4 2011, and to be EBITDA positive in 2012.
Our target price for the stock is $6.00. Short term (next six months) we may experience high price volatility up or down depending on market conditions and the company's ability to ship the backlog.
Disclosure: I am long PLUG.