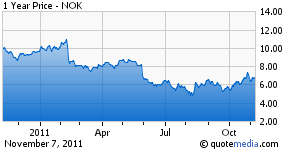 I recently closed out a position in Nokia Corporation (NYSE:NOK) after about a 30% gain. I had initially gone long on September 22, 2011, at 5.28 and just recently sold that position at 6.88 per share on October 31, 2011. From a tax perspective, this was obviously an inefficient trade. However, I wanted to share my thought process for entering and exiting the position.
The first question is whether or not a 30% gain was good over the given time frame. Overall, I think it was a pretty solid return despite the fact that had I exited the previous Friday, the return would have been slightly higher. The following table compares this performance to some other benchmarks:
| | | | | |
| --- | --- | --- | --- | --- |
| Tickers | Name | September 22 Close | October 31 close | Percent Change |
| NOK | Nokia Corporation | 5.28 | 6.88 | 30.3% |
| AAPL | Apple, Inc. | 401.82 | 404.78 | 0.7% |
| RIMM | Research in Motion Limited | 21.26 | 20.20 | -5.0% |
| MSFT | Microsoft Corporation | 25.06 | 26.63 | 6.3% |
| QCOM | QUALCOMM Incorporated | 50.03 | 51.60 | 3.1% |
| SPY | SPDR S&P 500 | 112.86 | 125.50 | 11.2% |
| QQQ | PowerShares QQQ Trust | 53.58 | 57.58 | 7.5% |
Source: Yahoo!Finance. NOK prices reflect my actual purchase and sales prices, not the closing prices of that day.
The above table shows that NOK has significantly outperformed other investment options. However, the direct comparison to the SPY 11.2% return is not entirely fair. Based on the capital asset pricing model, one should adjust that return up to reflect different levels of risk. According to Yahoo Finance, NOK had a beta of 1.76 so one would expect it to outperform the SPY. Multiplying 1.76 by 11.2% (19.7%) gives a more appropriate reference point. However, NOK still outperformed the adjusted target return of 19.7%.
My decision to go long NOK was based on the observation of several technology stocks that have been pretty beaten down but have reasonable downside protection in terms of balance sheet cash and investment. At the time of my investment, NOK had an equity market capitalization of around $19.6 billion and estimates of about $ billion in cash. NOK had an estimated dividend of $0.48 or 9.1% based on my transaction price. NOK had a disappointing second quarter and the stock slipped substantially over the summer, trading as low as $4.82. While many are focused on the smart phone segment, NOK makes several lower end phones that are more common in the developing markets which potentially represent significant growth (volume). The emergence of such services as Peek.ly that enables simple phones to have smart phone features should also help NOK.
My decision to exit my NOK position was largely due a very strong recent run. Furthermore, several positive announcements spurred NOK higher, including a surprisingly third quarter results with positive non-IFRS EPS, the announcement of 3,500 job cuts, and additional reorganization. Furthermore, one could argue that a key competitor AAPL was hurt by the loss of Steve Jobs which should help competitors. However, NOK's cash reserves have declined from the end of 2010 to just $7 billion at the end of the third quarter. While this provides a margin of safety, it is not that substantial.
NOK faces substantial risks after having dominated the mobile phone industry. It has struggled to compete against AAPL's iPhone and Google Inc.'s (NASDAQ:GOOG) Android phone system. NOK's Windows smart phone will face an uphill battle. NOK has faced declining revenue over the last several years and slipping market share. I would look for additional opportunities to go long NOK again. In a broader theme, I find technology stocks with solid market positions, strong cash support, and some growth to be interesting opportunities.
I have also looked at Cisco Systems, Inc. (NASDAQ:CSCO), Dell Inc. (NASDAQ:DELL) and Hewlett-Packard Company (NYSE:HPQ). CSCO currently has a equity market capitalization of $97.1 billion with an enterprise value of $69.3 billion. CSCO had operating cash flow of $10.1 billion over the last twelve months and has $48.1 billion of cash and short and long term investments.
Disclosure: I am long SPY.
Additional disclosure: Disclaimer: This article is for informational and educational purposes only and shall not be construed to constitute investment advice. Nothing contained herein shall constitute a solicitation, recommendation or endorsement to buy or sell any security. I may initiate a long position in NOK and CSCO over the next couple days.