While I traveling last week, I picked up a copy of the November edition of the Harvard Business Review and in that edition, I discovered an excellent article written by co-authors Chris Zook and James Allen. The exceptionally well written article (here) titled "The Great Repeatable Business Model" was a timely contribution to my final edition of the "The Intelligent 'Net Lease' Investor" series. In the Harvard Business Review article, the co-authors (Zook and Allen) provide valuable strategies for leveraging simple formulas that allow companies to create new and lasting differentiation methods:
"The power of a repeatable business model lies in the way it turns the sources of differentiation into routines, behaviors, and activity systems that everyone in the organization can understand and follow so that when a company sets out on a particular path, it knows how to maintain the differentiation that led to its initial success."
As I wrote in my first and second edition of "The Intelligent 'Net Lease' Investor," Real Estate Investment Trusts (REITs) are ideal fixed-income investments with quantifiable "margin of safety" fundamentals. Furthermore, net lease REITs are "differentiated" from the other asset sectors as these defensive, risk-managed investments are distinguishable by revenue models with long-term profitability fundamentals and strong financial models. And as Benjamin Graham, one of the greatest value investors and practical thinkers of all time wrote (in his 1934 textbook, Security Analysis):
"An investment operation is one which, upon thorough analysis, promises safety of principal and adequate return. Operations not meeting these requirements are speculative."
And in Graham's book, The Intelligent Investor (written in 1949), he set out to distinguish the "differentiators" of the so-called "investment operations" and the "speculative" ones. As a writer and investor, Graham was always searching for discrepancies ("differentiators") between the value of a business, and the price of the small pieces (of it). In essence, he was exploiting the distinguishable discrepancies based upon his thorough research methods. And as Graham's "principal preservation" strategies gain favor today, REITs have also become extremely popular "safe margin" alternatives with attractive flight to quality "differentiators." Within the FTSE NAREIT All Equity REIT Index (here) there are 123 REITs with a combined equity capitalization of around $ 430.427 billion. And based upon the extraordinarily high-quality operating fundamentals of the net lease REITs, I decided to write a series of "differentiation" articles on the "intelligently-aligned" product sector with a goal of providing fundamental "margin of safety" strengths of differentiation.
Dividend Durability – The Crown Jewel for REIT Investing
This third (and final) edition to "The Intelligent 'Net Lease' Investor" is aimed to provide what I consider to be the most important safe margin "differentiator" and that is sustainability. As Graham wrote in Chapter 11 (of The Intelligent Investor):
"One of the most persuasive tests of high quality is an uninterrupted record of dividend payments going back over many years."
Consistency of products creates consistency in profits and REITs are historically attractive long-lasting profit providers. By definition, a REIT pays out 90% of revenue and that consistency has been an attractive "differentiator" as compared with other dividend providers. Conversely that "differentiation" model can be best explained by Chris Zook and James Allen:
"Differentiation is the essence of strategy, the prime source of competitive advantage. You earn money not just by performing a valuable task but by being different from your competitors in a manner that lets you serve your core customers better and more profitably."
And in the case of net lease REITs, dividend performance is one of the most appealing attributes to a measurable "margin of safety" fixed-income strategy. As Zoom and Allen further describe product differentiation:
"The power of a repeatable model lies in the way it turns the sources (income) of differentiation into routines, behaviors, and activity systems that everyone in the organization can understand and follows so that when a company sets out on a particular path, it knows how to maintain differentiation that led to its initial success."
The co-authors further explain that "the strongest sources of differentiation in a company's business are its crown jewels." And in this final edition, I will provide details on 5 net lease REITs and the "crown jewel" dividend fundamentals associated with these "great repeatable" fixed income platforms.
As explained in a recent Seeking Alpha article, "Playing Dividends: Standard & Poors Dividend Aristocrats" (here), fellow Seeking Alpha author, Efficient Alpha, explains, "Dividends account for an overwhelming portion of an investor's return. While this return might not be statistically overwhelming, dividend yield averages around 2.2% and nominal returns to the market without dividend reinvesting are 4.9%. The fact that investors are notorious for churning their portfolios and mis-timing the market means that dividends play an even more important role in actual realized returns. This becomes even clearer when you compare the returns to a portfolio with or without dividends reinvested. The return to a market portfolio since 1900 without dividends reinvested is 4.9%, while that portfolio with dividends reinvested is 9.5% on an annualized basis."
Furthermore, dividend sustainability can be summed up with another Seeking Alpha author's approach to dividend investing strategies. Author Dividend Growth Investor wrote in a recent article (here) titled "Why Sustainable Dividends Matter": "My strategy entails purchasing dividend growth stocks which meet qualitative and quantitative entry criteria. The goal of my dividend growth portfolio is to purchase stocks that will raise dividends for years, without me having to reinvest anything back. The stream of dividend income will be used to fund my retirement, while the dividend growth will provide protection against inflation. I do not plan on selling, unless one of these three situations occur."
David Fish, another Seeking Alpha dividend writer, is also author of the U.S. Dividend Champions spreadsheet (here) where he lists and updates (monthly) companies that have increased their dividend payouts. This is an excellent dividend resource as it groups companies in categories defined as champions (25+ years of dividend sustainability), challengers (10-24 years of sustainability), and contenders (5-9 years of sustainability). I will refer to the list as I summarize the REITs below.
Realty Income
As announced last week, Realty Income (NYSE:O) reported another exceptional quarter of earnings and profitability. Net income available to common stockholders, for the quarter ended September 30, 2011, was $34.7 million (as compared to $25.6 million in the same quarter in 2010). As I wrote in my previous edition, Realty Income owns over 2,600 single tenant net-leased assets (38 operating industries) in 49 states. Also, as Realty Income's CEO Tom A. Lewis stated: "The past 17 years our portfolio has frown from $450 million to around $4.8 billion, we've increased the dividend 63 times, and the compounded annual return to shareholders has been 16.9%." Clearly this "crown jewel" REIT continues to outperform as the 495 dividends paid, 63 dividend increases, and 56 consecutive quarterly dividend increases have provided an attractively sustainable fixed-income platform (source: Realty Income website (here)). This reliably predictable dividend history can be best be explained by the following snapshot (data used from 1994 when O was listed on NYSE – 2011):
Click to enlarge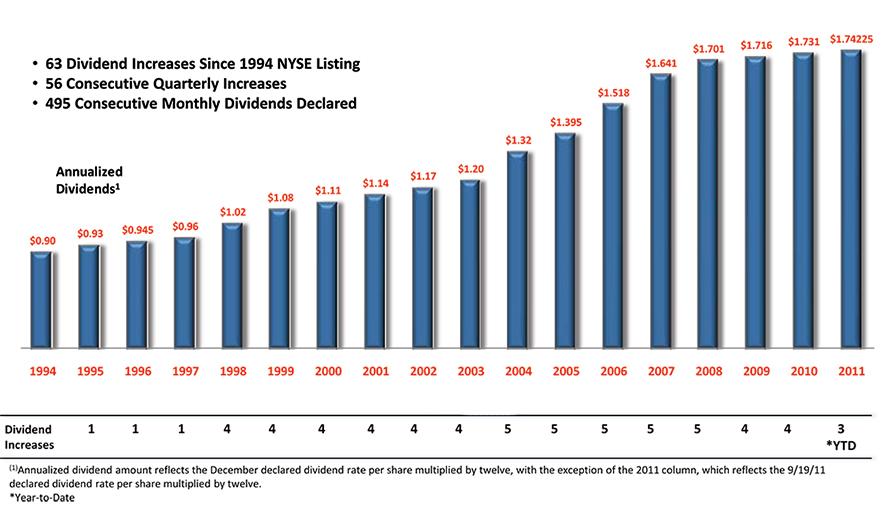 As David Fish wrote, "I own Realty Income personally, in part because it has earned its reputation as 'the Monthly Dividend Company' by increasing its payout in each of the last 17 years and offering a generous yield, with increases coming every quarter in recent years." And included in David's monthly U.S. Dividend Champions spreadsheet, Realty Income is grouped as dividend "contender" (the company has provided dividend increases of over 10 years). Furthermore, the net lease REIT is well on its way to reach over 25 years of durability with a goal of making David's list of dividend "champions." Furthermore, Realty Income's "differentiated" dividend strategy (O pays 5.4%) can be best understood by reviewing the following comparative investment graph:
Click to enlarge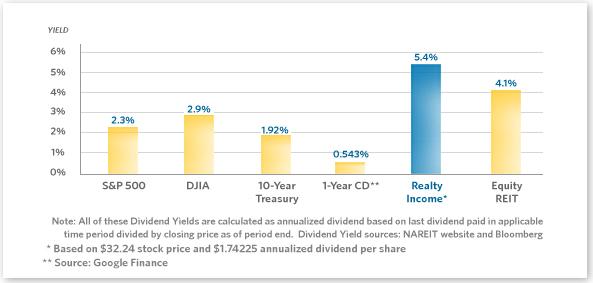 Realty Income is currently paying a 5.4% dividend and the great repeatable, crown jewel REIT can be best explained by the company's CEO, Tom A. Lewis:
"We are fortunate to have organized our operations around the simple and straightforward mission of providing dependable monthly dividends that increase over time to our shareholders. Underlying this mission is the sustainable cash flow that is required for us to be able to provide monthly dividends year in and year out as The Monthly Dividend Company. The need for sustainable cash flow that increases over time drives all of our real estate investment decisions, which are, in turn, based on the rigorous due diligence we undertake for each and every investment opportunity that comes our way. The beauty of this mission is that it has proven to be simple enough to be inspiring to our employees, yet demanding enough to dictate systems and procedures that have resulted in our ability to replicate our success from year to year. To me, this is what it means to have a "repeatable business model."
Caplease Inc.
Also announcing third quarter results last week (10-31-11) was CapLease Inc. (NYSE:LSE). Included in the Q3-11 results were revenues of $41.8 million, up 1.2 % from $41.3 million reported in the same period in 2010. In addition, comparable FFO was $10.3 million, or $.15 per share, compared to $9.3 million, or $.16 per share.
Other notable results included the announced funding of a 324,000 square foot Class A office building leased to Cimarex Energy Co. (NYSE:XEC). This $53 million (approximate) investment will further enhance the durable revenue platform and provide continued diversification and growth.
Paul McDowell, chairman and CEO, summarized the recent results as follows:
"We continued to make solid progress on our business plan of simplifying the CapLease story, growing our property portfolio, reducing debt with the profitable sale of our CDO, and exercising disciplined capital activity. We maintained our acquisition momentum with an approximately $30 million property purchase (leased to Lowe's (NYSE:LOW)) we expect to close later this month, which will increase our acquisition activity to about $120 million for 2011, and more than $150 million over the last 12 months." This combination of accretive acquisitions, reduced debt investment exposure, and continued organic (build-to-suit) property originations makes CapLease a compelling fixed-income alternative.
Although not yet a dividend contender, CapLease is now beginning to provide a reliable durable dividend model. As explained by CapLease's Paul McDowell, "After the market events of late 2008, we decided to shift our approach on our dividend to better meet the leverage targets that the public markets were demanding. We are committed to providing a safe, stable, and increasing dividend, while at the same time using the natural amortization of our portfolio to lower leverage. Not only does a current shareholder get an annual 26 cent cash dividend, but they also benefit from debt amortization of over 40 cents a year."
As I mentioned in my previous article (here), CapLease owns around 63 properties in 24 states and the $1.875 billion (6-30-11) high quality asset portfolio consists of a substantial (94%) of leased investment grade properties. The company's drastic reduction in mortgage-based assets and its focus on net leased equity-based assets has made CapLease a more compelling dividend strategy. Here is a historical snapshot of the company's recent dividend history (March 2009-current):
Click to enlarge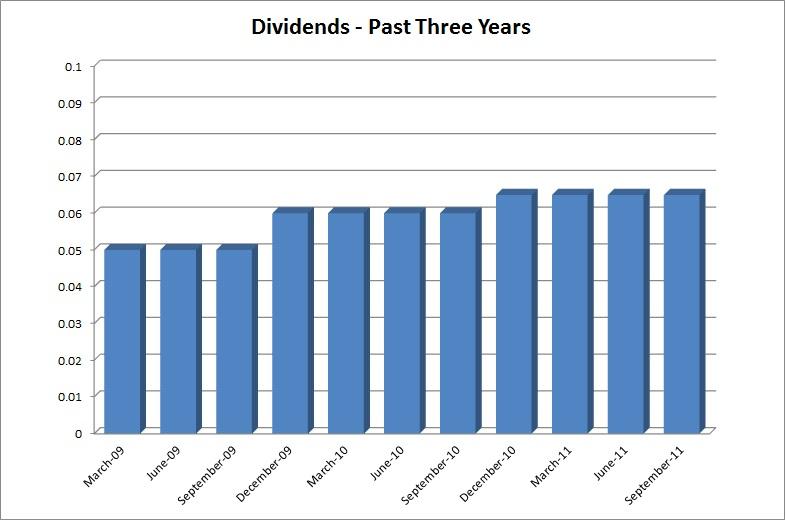 Although the "crown jewel" REIT cannot be characterized as "great repeatable" model, the 7.2% dividend is a compelling attraction to the high quality asset base. The "differentiation" of the large majority of investment grade assets is a compelling source of "differentiation." However, Graham would likely agree that principal preservation is an essential "margin of safety" attribute and an investor should also consider the "risk and return" characteristics of a smaller fund with fewer assets. However, I included CapLease in this edition as I consider the asset base to be second to none and the high-quality investment-grade differentiation is clearly a defining attribute for profitability.
W.P. Carey
Indeed W.P. Carey's almost 40 year-old "differentiation" model has yielded durable results and sustainable dividend performance. The company's simple sale-leaseback model has expanded into other integrated sectors allowing more-lasting product "differentiation" and diversification. One example is Carey Watermark Investors. This recently expanded income-producing fund commenced last year and the lodging model focuses on investments in quality densely-populated (high barrier to entry) hotel facilities. This well-thought-out category will further diversify the capitalization strategies with Carey's core sale-leaseback product mix. In addition, Carey's Corporate Property Associates (CPA series) fund has invested in around $130 million of self-storage properties (this year). This innovative investment strategy is what makes W.P. Carey a "crown jewel" advisor. Consequently, W.P. Carey has grown its investor base by replicating its strongest strategic competitive advantage – the durable time-tested dividend.
Like Realty Income, W.P Carey also has an extraordinary track record for dividend performance and the innovative modeled investment fund will announce its third quarter results later this week (November 8, 2011). As of Q2-11, W.P. Carey has increased its dividend 41 consecutive quarters and the current dividend is paying 6.0 %. Here is a snapshot of the company's historical dividend performance (from 1998-2011):
Click to enlarge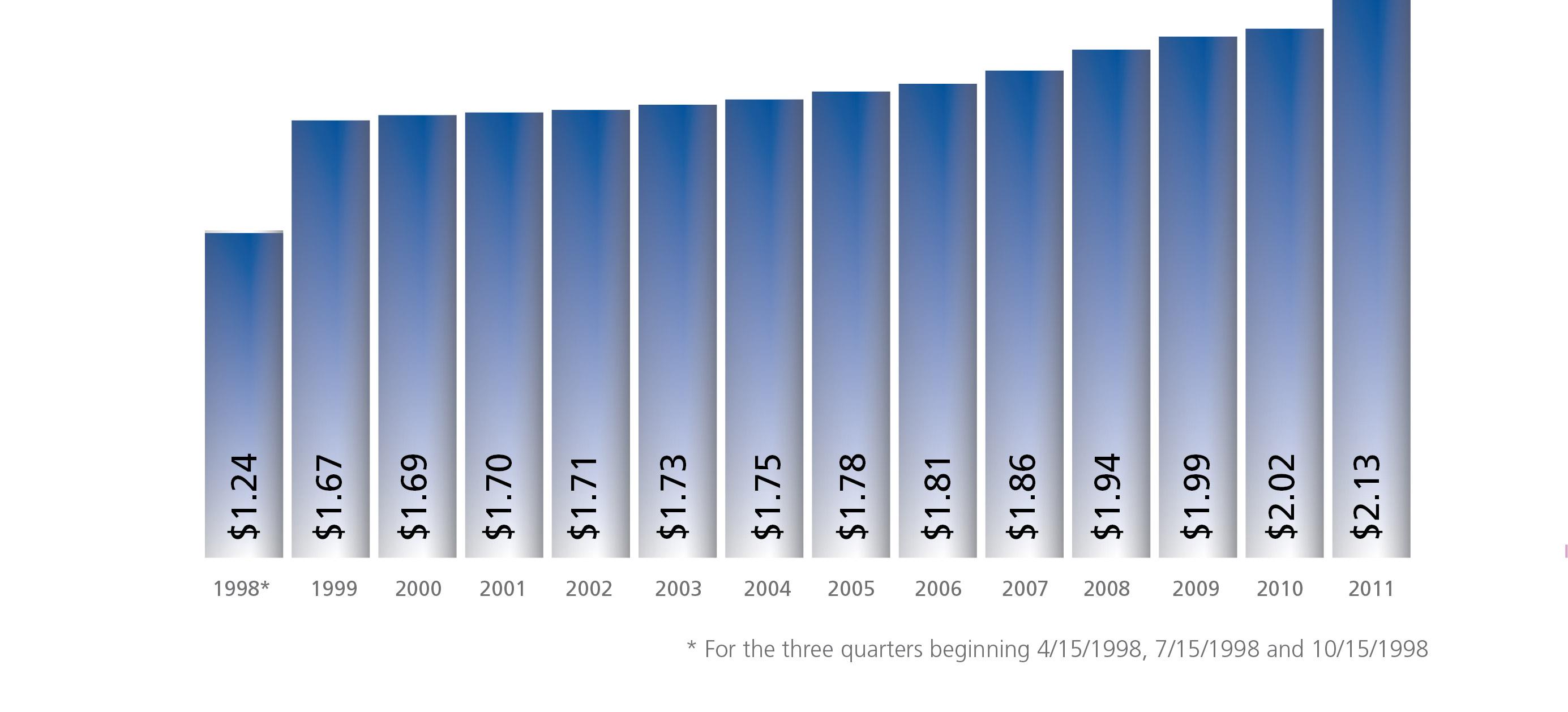 Fixed-income investors are always eager to find "differentiated" dividend performers and W.P. Carey's "great repeatable" revenue model is best explained by the company's founder and Chairman, W.P. Carey:
"These returns demonstrate our success in fulfilling our most important corporate mission: Investing for the long run. Our aim is to help our investors build and maintain lifestyles, and have the resources they need to meet their obligations and achieve their dreams, without constant worry about where the income to fund will come."
And Trevor Bond, the company's president, sums up the W.P. Carey "differentiation" formula:
"We believe it's our conservative risk management-oriented investment strategy that has set us apart and enabled us to provide steady and increasing income to our shareholders over time. We manage W. P. Carey today just as we have from the start, with a focus on the credit of our tenants and diversification that has served us well in good times and bad. And while past performance is of course not a guarantee of future results, we are very proud that we've been able to increase our dividend every year since going public in 1998 and in each of the past 42 consecutive quarters, including periods of extreme economic volatility when others have had to eliminate or cut their dividends."
National Retail Properties
National Retail Properties (NYSE:NNN) will announce third quarter results on November 7. As I wrote in my previous net lease edition, National Retail Properties qualifies as a "superstar" equity REIT and the "dividend contender" has over 22 years of sustainable dividend success. With a 6.1% dividend yield, the "crown jewel" REIT is three years away from graduating from David Fish's "contender" list to the highly sought after "champion" list. In that list (champion), National Retail could join other dividend REIT champions such as Federal Realty (NYSE:FRT), HCP Inc. (NYSE:HCP), and Washington REIT (NYSE:WRE). And like the other peer net lease REITs, National Retail has an exceptionally strong "margin of safety" platform with attractively well-balanced fixed-income fundamentals. And also like the others mentioned, the dividend "differentiators" (of the REITs) are the essence of the alternative investment strategy and the prime source of the durable competitive advantage. National Retail's "great repeatable business model" is best explained by Kevin Habicht, National Retail's Executive Vice President and Chief Financial Officer:
"If you have not been committed to exercising the discipline required to produce a sustainable dividend policy for many years, you will unlikely be sufficiently prepared to sustain it during difficult economic times. For more than two decades, our business model has produced stable operating income and incorporated a conservative posture to balance sheet leverage and a reasonable dividend payout ratio which has allowed us to easily weather the recent economic turmoil. The result of that long-term, disciplined approach has made us one of very few companies that have increased the annual dividend paid for 22 consecutive years. And that consistency of a safe and growing dividend has produced well-above-average total returns to shareholders over the long run."
Here is a snapshot of National Retail's historical dividend performance (1990-current):
Click to enlarge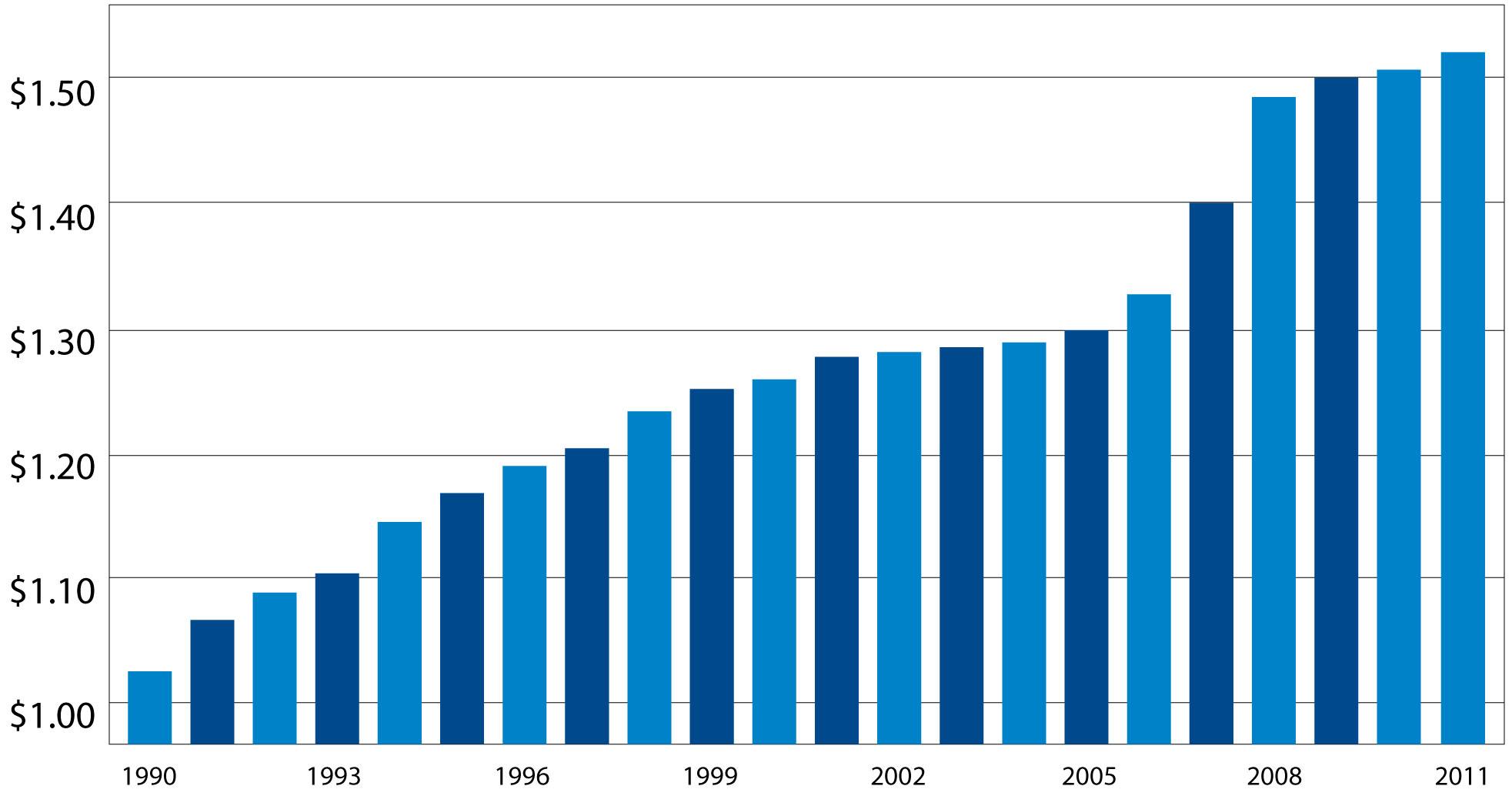 Cole Credit Property Trust III

Cole Real Estate Investments is the last of the "crown jewel" dividend "differentiators." As I referenced in the two previous editions, Cole operates a series of net leased funds and the publicly-registered non-traded REIT known as Cole Credit Property Trust III (CCPT III) is one of Cole Real Estate Investments' high-quality fixed-income funds. The durable non-traded REIT (CCPT III) owns around 620 properties and the $4.5 billion portfolio is spread over 44 states. The composition of the portfolio is around 54.5% investment grade rated (based on strength of tenant-based credit) and most (81.2%) of the assets are single tenant. The "great repeatable" fixed-income fund is currently paying a 6.5% dividend.
As noted, CCPT III is a non-traded REIT meaning that the alternative fixed-income platform is not as liquid as the publicly traded peers. However, last week Morningstar Inc. announced (here) that the company "is gauging interest of brokerage firms and advisers in research coverage of the non-traded real estate investment trust business. If it were to offer a research product, it would mark the first time that a national, high-profile financial services firm covered the $10 billion-a-year industry."
If Morningstar decides to initiate coverage (on non-traded REITs), the non-traded REIT industry will likely evolve into a more transparent sector and the investor-aligned "margin of safety" characteristics will be more closer to the publicly-traded peer group. Cole Real Estate Investments is a leader in the non-traded REIT sector and the risk-managed performance model has evolved into an innovatively engineered "bond replacement" option. As explained by Indraneel Karlekar, Cole's Executive Vice President and Chief Investment Strategist:
"The high credit quality and duration of leases embedded in CCPT III provide predictable and secure income streams for a retail investor. The average weighted lease length of the portfolio provides an enhanced level of income security for an individual investor."
The Greatest Repeatable Dividend REITs
As Harvard Business Review co-authors Zook and Allen wrote, "Replicating your greatest successes means deeply understanding their root causes, maintaining a 360-degree view of where they could be adapted, and ensuring that the entire organization internalizes the strategy and the differentiation on which they are built."
Ben Graham was the greatest investment advisor of the 20th century and his timeless sound investment principles are summarized in three simple words: Margin of Safety. His practical thinking skills became formidable building blocks for shaping castles and designing "wide moat" investment strategies. And as Graham taught us, the "margin of safety" concept may be used to advantage and distinguish the differences in an investment operation and a speculative one. In the series of Seeking Alpha articles (The Intelligent 'Net Lease' Investor) I promised to exploit the essential safe margin attributes of the net lease REIT sector and provide valuable insight into the 5 "crown jewel" REITs and the differentiated margin of safety attributes (diversification, durability of capital, and dividend consistency). All of these safe margin characteristics are important to defining a "great repeatable" dividend model. However, Graham also believed that the margin of safety is always dependent on the price paid. Consequently, there is no relevance to the "intelligent investor" theory if an investor is not willing to pay for the price of admission. In other words, a great company is not a great investment if you pay too much for the stock.
Realty Income, CapLease, National Retail Properties, W.P. Carey and Cole Credit Property Trust III are all "great repeatable" fixed-income funds made up of attractively diversified "crown jewel" dividend drivers. I am certain that Ben Graham would have agreed that these "bond replacement" alternatives would qualify as "sound investments" with quantifiable principal preservation fundamentals. Furthermore, I have summarized below these "great repeatable" dividend REITs including relevant price (admission) point data. Make sure you include net lease REITs in your fixed-income asset allocations and you are guaranteed success as you sleep well at night.
Click to enlarge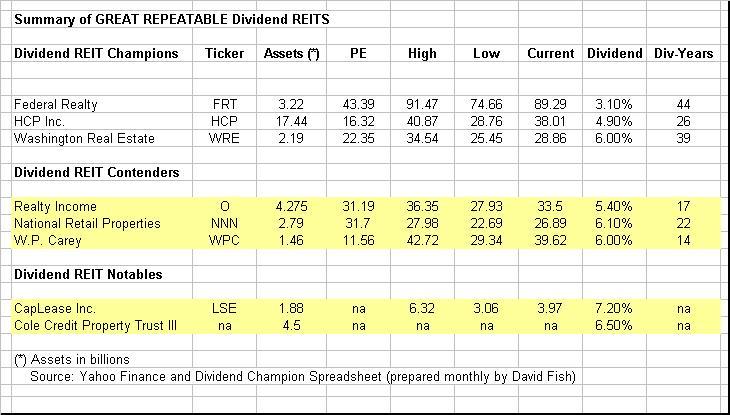 Disclosure: I have no positions in any stocks mentioned, and no plans to initiate any positions within the next 72 hours.