We appear to be in the upswing of activity for semiconductor companies, seen in both improving profit trends for the industry and, as collateral, an accelerating pace of semiconductor company acquisitions. In the last year, we saw Freescale (NYSE:FSL) in the process of being acquired by NXP (NASDAQ:NXPI), Vitesse (NASDAQ:VTSS) recently being acquired by Microsemi (NASDAQ:MSCC), and completed acquisitions of LSI Logic by Avago (NASDAQ:AVGO), International Rectifier (NYSE:IRF) by Infineon (OTCQX:IFNNY), TriQuint by RF Micro Devices to form Qorvo (NASDAQ:QRVO), and Spansion by Cypress Semiconductor (NASDAQ:CY).
It is reasonable to expect that the acquisition trend will continue. Acquiring companies have largely been second-tier, mid-market-cap semiconductor companies rather than big market-cap companies. So what might such an acquiring company be looking for?
Acquisition candidates tend to share some common characteristics, which I used as screens.
1. Smaller market caps. The bigger the market cap, the more complex and costly the acquisition is likely to be. Companies that can be acquired for cash on hand or for stock without significant equity dilution may be more attractive than those that are more expensive. I initially filtered for companies in the semiconductor business for smaller market caps (i.e. under $1B)
2. Compelling and proven technologies and intellectual property. Companies with a complementary and specialized expertise and technologies may be in demand to fill in the technical road maps of other companies. I filtered for companies that have been in business for at least a decade and therefore that have endured several business cycles as an indicator of proven products and technologies. As an indicator of specialized expertise, I looked at company patent portfolio size as a proxy for differentiating intellectual property.
3. Improving profitability. One of the hallmarks by the markets of a well-regarded acquisition is one that will add both revenue and profit to the acquirer in the current year or next year. Companies were filtered for improving profitability based on improvement in either earnings or reduction in losses per 2015 and 2016 estimated EPS.
4. A cash hoard. A lot of cash on tap is always good grease for an acquisition. Companies were filtered for positive cash based on differences between market cap and enterprise value.
With these metrics in mind, I compiled a short list of lower market-cap semiconductor companies I thought may be interesting as low hanging fruit as acquisition candidates. Companies coming out the screening are Alpha & Omega Semiconductor (NASDAQ:AOSL), Applied Micro Circuits Corp. (NASDAQ:AMCC), Audience (NASDAQ:ADNC), DSP Group (NASDAQ:DSPG), Entropic Communications (NASDAQ:ENTR), Exar Corp. (NASDAQ:EXAR), Inphi Corp. (NYSE:IPHI), IXYS Corp. (NASDAQ:IXYS), Lattice Semiconductor (NASDAQ:LSCC), MaxLinear (NYSE:MXL), Micrel (NASDAQ:MCRL), MoSys (NASDAQ:MOSY), NeoPhotonics Corp. (NYSE:NPTN), Pericom Semiconductor (NASDAQ:PSEM), QuickLogic Corp. (NASDAQ:QUIK), and Sigma Designs (NASDAQ:SIGM). Vitesse Semiconductor and Integrated Silicon Solution, Inc. (NASDAQ:ISSI), which are in the process of being acquired, are included as comparison points.
All are fabless semiconductor companies that rely on merchant foundries. I looked specifically at companies designing and selling semiconductor ICs (chips), so my filtering eliminated companies in the supporting companies in the semi fab and foundry space, design automation space, companies primarily integrating ICs in other products, etc. There are interesting companies in these areas, just not what I am looking for right now.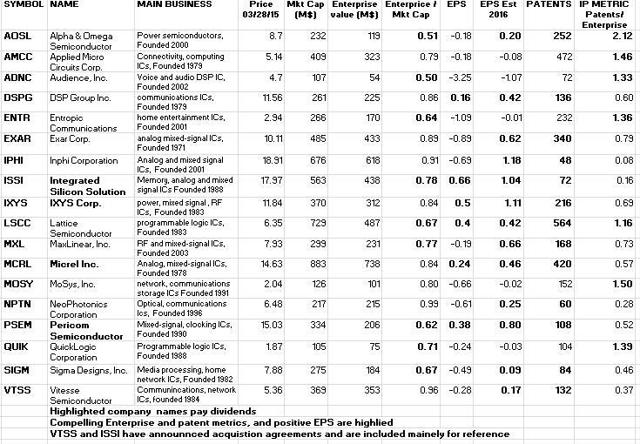 I found the results interesting. I hoped to find a few uncovered gems, but looking at this class of companies with regard to my "acquisition criteria," uncovered several companies that while having warts in some areas, nevertheless had compelling metrics in other areas.
My observations
With at least a decade of experience with a track record of earnings and assets, all the companies have shipped products over several cycles and one assumes have firmly established some niche in the semiconductor business. Their products vary over several areas, from mixed/signal analog (including RF and power devices) to memory and programmable logic.
If you believe the numbers, 2016 is shaping up to be a good year for these semiconductors. While over half of the companies on the list have negative EPS in 2015, the majority are projected to be profitable in 2016, and the remainder project significantly reduced losses. While most 2015 PEs look unimpressive to me, several of the 2016 PEs (IXYS, MXL in particular) look to be compelling at under 13x.
Enterprise value (market cap + profits - debt) is a sometimes under-discussed but important measure designed to determine acquisition value. One surprising observation has been the sometimes significant positive difference between enterprise and market cap values of these companies (column Enterprise/Mkt Cap in the table), indicating that they held significant amounts of cash. In some cases (AOSL, PSEM, ADNC, ENTR), a very compelling third to half of the company's market cap is sitting in cash, providing a significant discount to other valuations.
A technology company's acquisition value may be in large part determined by its Intellectual Property (IP). Determining the value of their compelling technologies is difficult, since this is largely a function of IP, which by its nature, is typically closely-held company information. For reasons too arcane for this article, most IP, including patents, do not show up at part of book value. As a proxy for IP, I have researched US patent portfolio size (the number of active US patents) as a blunt estimate of companies' quantitative IP. To normalize for company size, I use an IP metric of (# of patents/enterprise value (in $M)) as a relative measure of company IP investment. So, as an example, Texas Instruments (NYSE:TXN) has 22K active patents and an enterprise value of $62.5B, for an IP metric of .35. Intel (NASDAQ:INTC) is in the same range, at .31. The higher the number, the more patent-related IP investment is assumed for a company of its business size. The metric has limitations, and it does not include other IPs such as trade secrets, but it is measurable. Assuming important ideas would be patented, it statistically tracks the company's investment in IP (anyone who has a better IP metric, I would love to discuss it).
Surprisingly, even when factoring out the cash components of the enterprise value, most of these smaller companies appear to be making a relatively larger investment in IP than their larger counterparts. Over 1/3 of the companies (AOSL, AMCC, ADNC, ENTR, LSCC, MOSY, QUIK) had an IP metric of > 1, or over 3x the IP number of Intel or TI.
So what are the best acquisition candidates? Obviously, beauty is in the eye of the beholder. Few of the candidates ranked consistently high in all key metrics (growing EPS, strong IP, lots of cash). Recent acquisitions have been of companies ranging over the networking, analog power and RF, and memory space. Quantitatively, the top five companies appear to be AOSL, ADNC, ENTR, MXL and PSEM; however, this obviously does not guarantee acquisition interest.
Overall, the exercise has been more useful than expected. Recognizing that searching for the next acquisition candidate is more gambling than investment, I tried to focus on semiconductor companies with compelling metrics in some aspect of their business. Some of the companies pay out a dividend (IXYS, ISSI, MCRL, PSEM) and are being analyzed for my technology dividend portfolio discussed on SA here.
Small-cap tech is not a portfolio for the fainthearted. Even in a month between starting analysis and writing the article, 10% stock price changes were not uncommon. One company in the list, ISSI, announced midway into article development that it was being acquired. I decided to keep it on the list. I'm continuing to monitor and analyze the list for purchase in 2015 or beyond. As appropriate, I will plan a follow-up when the time is right. It will be interesting to see who is still on the list by then.
As always, caveat emptor. I make no recommendations. I speak only for myself in sharing analysis done for my own personal use. All the above is based on my interpretations of information that I reviewed from public sources. I may have gotten it wrong, errors may have crept in. In talking about the future, you are almost always likely to get the best parts wrong. That's what makes it interesting.
Disclosure: The author is long ISSI, IPHI.
The author wrote this article themselves, and it expresses their own opinions. The author is not receiving compensation for it (other than from Seeking Alpha). The author has no business relationship with any company whose stock is mentioned in this article.