Prostate cancer, the second most common cancer diagnosed in men, stole the drug headlines last week. Over two million men in the U.S. are currently living with prostate cancer. In 2011 there will be an estimated 240,000 new cases diagnosed and almost 34,000 people will die from it, according to the American Cancer Society. With this large a market it is no wonder that numerous companies are targeting the disease. There are currently about 30 prostate cancer drugs in clinical trials
Most prostate cancers, especially those that have not metastasized outside of the prostate, are treated through surgery. If prostate specific antigens (PSA) still exist in the blood stream after surgery it likely means that the cancerous prostate cells still exist. At this stage radiation and/or testosterone reducing hormone treatments are used. However, once the cancer has metastasized outside of the prostate area it becomes much harder to target and treat.
Click to enlarge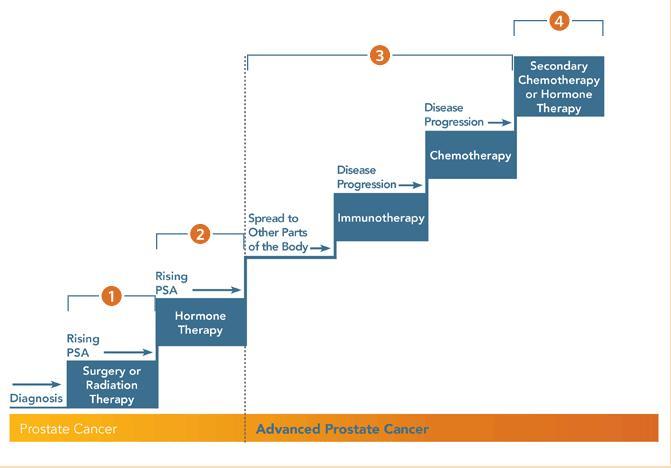 (Chart from Provenge.com)
Currently, the main treatment for metastatic prostate cancer which does not respond to hormone treatments is Docetaxel, a chemotherapy product that prevents cell division. Docetaxel is marketed as Taxotere by Sanofi-Aventis (NYSE:SNY), but lost patent protection in 2010. However, Docetaxel is nowhere near perfect. In the TAX-327 trial which led to the approval of Docetaxel for prostate cancer, the median survival rate in the most successful patient group was just 18.9 months. Because of this, companies are working hard to develop new ways to treat prostate cancer. Five drugs, and the companies that make them, are highlighted below.
Provenge - Dendreon (NASDAQ:DNDN)
Dendreon's drug Provenge had the first mover advantage in treating advanced cases of prostate cancer. It works by stimulating the immune system to attack the cancer cells. However, it must be customized to each individual. Treatment involves taking white blood cells from a patient, infusing them with a protein that identifies prostate cancer cells, and putting them back into the patient. Because of the customization required, treatment is incredibly expensive. The standard regimen, which involves three infusions over a month time frame, costs about $93,000. In the phase 3 trials which included 512 patients, survival was extended by average of 4.1 months.
Because of the high cost Dendreon has had difficulty convincing doctors to prescribe the drug. Prescriptions have not come close to meeting the company's original projections and the stock has plummeted. After reporting second quarter results in August the company lost over 2/3rds of its value, going from $35 to $11. Then, on November 3rd, the company lost another 30% after reporting results and projections that were again disappointing. Adding to the pain on the 3rd was the reporting of great phase 3 results from Medivation's (NASDAQ:MDVN) competing drug.
Dendreon's drug had the advantage, but the company has been unable to take advantage of it. The high cost, combined with a mismanagement of their marketing and doctor education, has cost the company greatly. Additionally, because adoption has been so low, Dendreon has not been able to meet its profitability targets. Their gross margin in the third quarter was just 10%. With so many prostate drugs chasing Provenge, and no other drugs in phase 3 trials, Dendreon is going to have a hard time making a profit any time soon. And with a cash burn rate of about $300 million/quarter as of Q3 the company is likely going to have to issue new debt and/or equity. I would avoid this stock, except on the possibility that another company decides to take them over in order to acquire their intellectual property and research expertise.
Zytiga - Johnson and Johnson (NYSE:JNJ)
The other metastatic prostate drug currently on the market is Zytiga from Johnson and Johnson. Approved in April, the drug works by inhibiting the enzyme CYP17 which facilitates the production of androgen hormones (mostly testosterone). It is these hormones which are known to stimulate tumor growth. However, the drug is only indicated for use in patients who have already had hormone reduction through castration and who have been on Docetaxel. Additionally, the drug has to be taken with prednisone, which can have major side effects. The drug costs about $5000/month and, in phase 3 trials, led to a life extension of 3.9 months.
It is taken as a pill which greatly reduces the hassle for patients compared to the infusions required for Provenge. Additionally, Zytiga has the marketing and distribution force of JNJ behind it. Zytiga has projected annual sales of between $800 million and $1 billion. This is enough to move the needle for JNJ, but is not going to provide the returns that a development stage biotech will. JNJ is a great company, and Zytiga is a positive for them, but not enough of a catalyst to drive the stock dramatically higher.
MVD 3100 - Medivation (MDVN)
The talk of the biotech industry last week, Medivation soared 150% on news the independent data monitoring committee (IDMC) had recommended ending the phase three trial early due to extremely positive efficacy, extending survival by 4.8 months. The drug works on the same principle as Zytiga, working to prevent androgen from stimulating tumor growth. However, instead of blocking the production of androgen, MDV 3100 blocks the cellular receptors of the hormone. By blocking receptors, the drug inhibits the cells from replicating.
One drawback to Medivation's clinical trials is that, like Zytiga, it is only being tested in patients who have already been treated with Docetaxel. Because of this it is likely that the company will originally only get an indication for those cases. However, Medivation CEO David Hung M.D. stated, "Because we continue to believe that MDV3100 may also benefit patients with earlier-stage disease, we plan to continue studying the compound in a broad array of earlier prostate cancer disease settings while we pursue initial regulatory approval in post-chemotherapy patients." Because the drug works by blocking hormone reception I would agree with Dr. Hung that it is likely to be effective in earlier stage cases. With a market cap of about $1.45 billion, the company is likely fairly valued if MVD 3100 is approved for a similar case as Zytiga. However, if Medivation can get approval for expanded indications, they are likely to still have room to run.
Adding another possible catalyst for the stock, Medivation currently has an Alzheimer's drug in phase 3 trials. An original phase 3 trial for the drug did not meet its primary endpoints, but a second trial is underway combining it with donepezil, the most commonly prescribed Alzheimer's drug.
Cabozantinib - Exelixis (NASDAQ:EXEL)
Excelixis was the other cancer drug making headlines last week. But, unlike Medivation, the news wasn't good. Cabozantinib is designed to prevent and shrink existing bone metastases by blocking the MET and VEGF signaling pathways. Bone metastases are very common in prostate cancer, occurring in 90% of patients with castration resistant prostate cancer. The metastases can be very painful and are difficult to target through traditional radiation and chemotherapy. Amgen's Xgeva (denosumab) has been on the market for about a year for the treatment of the bone pain caused by tumors, but has no known impact on the cancer itself.
Excelixis was pursuing a Special Protocol Assessment (SPA) but was denied by the FDA. Instead, the company plans to proceed with its "306" trial with bone pain as a primary endpoint. Additionally, they are planning on initiating a "307" trial with survival as a primary endpoint. Because Cabozantinib is just entering phase 3 trials and was denied its SPA, it is likely to be two to three years before any results are available. Unless Excelixis can report extraordinary results they are likely to be behind the prescribing eight-ball and a laggard in the prostate cancer market.
Curtirsen - OncoGeneX (OGXI) / Teva Pharmaceuticals (NYSE:TEVA)
Another interesting prostate drug currently in phase 3 trials is Curtirsen (OGX-011), a joint venture between OncoGeneX and Teva Pharmaceuticals. The drug, currently in two different phase 3 trials, works to block the production of the protein clusterin. Clusterin is a cell survival protein that is overproduced in many different tumors. The protein, especially in high quantities, reduces the efficacy of chemotherapy treatments. Of Curtirsen's trials, one is being conducted in patients responded to docetaxel but efficacy has dropped (SATURN trial). The second is being conducted in patients who are receiving docetaxel for the first time (SYNERGY trial). Phase 2 trial results showed an increased survival of 6.9 months for patients receiving OGX-011 in addition to docetaxel. The SATURN trial was started in March, 2010 with an expected completion date of June 2013 and the SYNERGY trial started October 2010 with an expected completion of December 2013. However, as with any drug study but especially prostate cancer, positive results often lead to early study completions as companies, doctors and patients are anxious to get the drugs available.
If the drug can show that it is effective in reducing docetaxel resistance, it may have a huge market. Additionally, clusterin is found in tumors from numerous other cancers including breast, ovarian, bladder and non-small cell lung, making for a potential market expanding way beyond prostate cancer. With a market cap of just $122 million, OncoGeneX is a risk, but has the potential for huge upside. If approved, OncoGeneX would have Teva's global reach behind them, providing an advantage for marketing and distribution.
Disclosure: I have no positions in any stocks mentioned, but may initiate a long position in OGXI, TEVA over the next 72 hours.