Alkane Resources Ltd. is an ASX (ALK.AX) and OTCQX (OTCQX:ANLKY) listed junior mining company which has a gold mine with low AISC and an advanced-stage zirconium/rare earth project. Both assets are located in the mining friendly NSW jurisdiction within a 500km radius of Sydney. In this article, I will highlight the disparity between Alkane's current market capitalisation and the value of the Dubbo Zirconia Project (DZP), a vast and strategic resource of zirconium and rare earths. All dollar values are in Australian dollars.
The Tomingley Gold Operations
First, some background on the Tomingley Gold Operations (TGO). The TGO reached design throughput last May and contains an 830,000 ounce resource. Ore reconciliations have been extremely positive with recovered ounces reporting 30% above the resource model. Gold production for the half-year to December 2014 was 41,537 ounces poured. This keeps the operation well on track to meet guidance of 65,000 to 75,000 ounces. This should comfortably be met, considering the positive resource model reconciliations to date.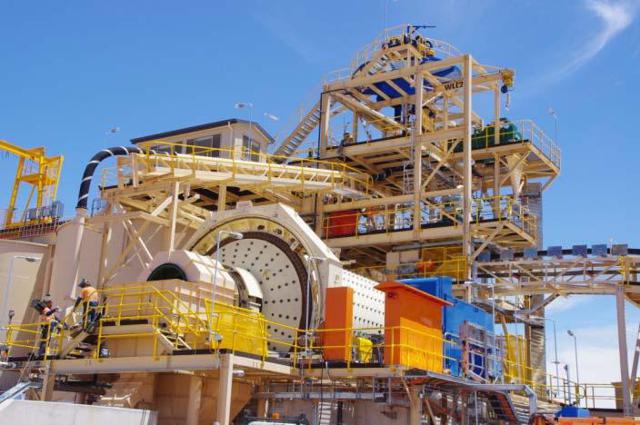 For the half-year to December 2014, the TGO reported:
41,537 ounces of gold poured.
AISC of A$991/oz.
Free cashflow of A$21.9M.
Average gold price received of A$1415.
For valuation of the TGO it is reasonable to make the following assumptions:
70 kozpa production (likely 80 kozpa, + model reconciliation).
$1550 received gold price (likely >$1600 due to weak AUD).
AISC of $1050 (A$500 cash margin per ounce).
These parameters give TGO positive cash flow of A$35M per annum. AISC is low and mine life is stated by the company to be 7.5 years, with mine life targeting 10+ years. If the TGO were a single project junior gold miner it could probably justify a similar market capitalisation to Alkane today. This shows how the market is discounting the DZP to almost zero despite the DFS showing an NPV of A$1.2B.
The Dubbo Zirconia Project
The main value of the company is to be found in the Dubbo Zirconia Project.
Location, Location, Location
The DZP is located 20 km south of Dubbo in Central Western NSW and is a 5 hour drive from Sydney. Dubbo has a catchment population of 130,000 and it is the regional centre of industry and commerce. Therefore the DZP has access to a large, local skilled workforce and will not incur the inflated costs of labour commonly incurred by projects in isolated regions of Australia.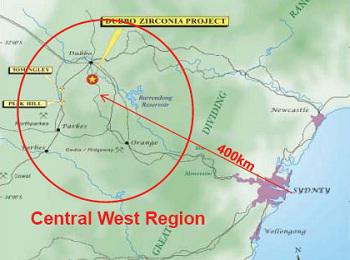 Easy Mining
The DZP ore deposit is a massive uniform igneous trachyte intrusion. It outcrops at surface, and requires limited waste stripping at a ratio of 0.17:1. It has measured reserves of 36MT and a total resource of 73MT, including inferred material. This is enough for 36 years of mining at the DFS rate of 1MTpa. The mining is simple, and 1MTpa is a low rate by open pit mining standards.
Demonstration Pilot Plant at ANSTO
The ore geology is a complex of zirconium, hafnium, niobium, tantalum, yttrium, LREEs and HREEs. The company has been successfully working on the metallurgy to offer a tailored product mix to its offtake partners since 2008. They have developed a demonstration pilot plant with the Australian National Nuclear Research and Development Organisation (ANSTO) at the Lucas Heights facility in Sydney. ANSTO has assisted work for the massive BHPB Olympic Dam deposit and the Rio Tinto Ranger Uranium Mine.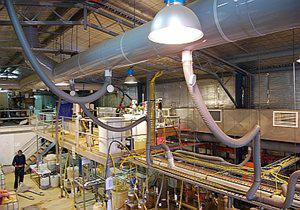 Very Positive DFS
A Definitive Feasibility Study was completed in April 2013, with the following results:
Capex ~A$1,000M.
Annual revenue of A$504M at a 1MTpa rate.
Annual operating expense of A$214M for EBITDA of A$290M.
Capital payback of 4 years and an initial reserve life of 36 years.
NPV of A$1,253M (8% discount rate over 20 years cashflow).
NPV is equivalent to A$3.36 per share.
Engineering at Advanced Level
A detailed project schedule and updated capital expenditure is expected in Q2 2015 by Hatch Engineering who are conducting Front End Engineering Design with costing accuracy of within 10%. Detailed drawings such as proposed plant layout have already been published.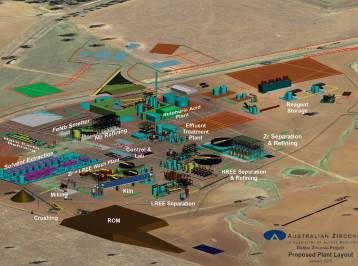 The DZP will produce LREO, HREO, zirconium oxide, niobium FeNb and studies are examining the feasibility to produce hafnium. Hafnium metal prices have recently increased from a couple of hundred dollars to $1000/kg as reported by the company in an interview with Managing Director Ian Chalmers in February.
MOU and JV with Offtake Partners
For offtake of the rare earths, there is an MOU in place with Shin-Etsu, for niobium there is a JV in place with Treibacher (Austria) to produce an FeNb product for direct sale to end users and for zirconium offtake, Alkane is in discussions with several parties.
NSW PAC Recommendation of Approval
In February, Alkane received advice that the NSW Planning Assessment Commission has completed its review of the Dubbo Zirconia Project (DZP) and recommended the project to be approved subject to certain conditions. The specified conditions are standard for mining projects and relate to air and water quality, transport, long-term landform and land use. Alkane states,
There is nothing that raises any material concerns for the development of the project.
This is a major milestone for Alkane and formal NSW government project approval is expected in Q2 2015. NSW had an election in March and the incumbent was returned safely.
Financial Advisors in Negotiations
Credit Suisse, Sumitomo Mitsui Banking Corporation and Petra Capital have been appointed for strategic financial advisory services. Discussion is underway with Japanese and Korean Export Credit Agencies (ECAs) and interested banks. This is reinforced by the need for supply outside of China and the strategic importance of alternative supply. Alkane has flagged a strategic sale of up to 15% at the project level. Reportedly they are considering selling a 10% stake for A$200M according to this linked article.
Cashed up with no debt
Alkane has a A$32M cash balance, expected TGO cash flow of A$35Mpa and no debt. Tomingley has proven the management to be good mine constructors and operators. For these reasons, Alkane should get favourable financial terms to construct the DZP and dilution will be minimized in a capital raising. The management and directors are longstanding shareholders and own 23% of the company, ensuring any deals will be for maximum possible shareholder value.
The company's total liquid assets of A$32M are comprised of:
Cash on hand of A$18.9M at end of Dec 2014.
Bullion inventory of 5.6k ounces worth ~A$9M end of Dec 2014.
Furthermore the company has a tight share register with outstanding shares of 414.2 million with a 52% free float. Current market capitalization is A$124M @ 30c/share.
Other Prospects
Alkane has other prospects in the region which have ongoing exploration, and these may prove to be significantly valuable in their own right:
Intercept of 29m @ 1.53 g/t Au from surface recently recorded at Elsienora from 1,516m scout RC drilling campaign in March.
Porphyry mineralization identified at Kaiser prospect from a 1,672m RC drilling campaign, including 112m @ 0.36% Cu, 0.24 g/t Au from 115m.
The Central Western NSW region is home to the Northparkes and Cadia Valley orebodies. These are large porphyry 10+ million ounce block/panel cave producers and their location can be seen in relation to Alkane's prospects.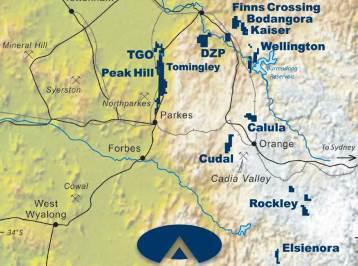 Improving Rare Earth Market
Rare earth prices have started to surge recently as the Chinese attempt to improve their environment. Although quotas have been scrapped, export licenses are limited by stringent environmental conditions placed on Chinese producers. Prices have been increasing this year and the trend is expected to continue.
March 11, 2015, REE Prices - Association of China Rare Earth Industry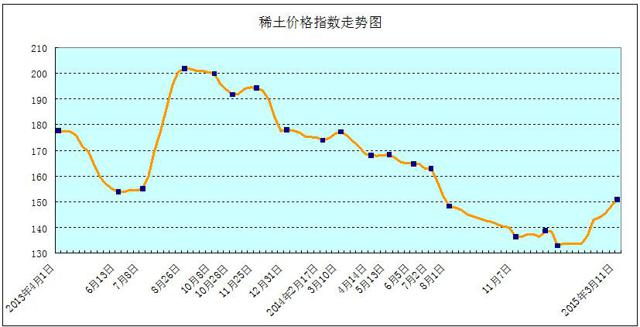 Key Risks and Investment Time frame
Approval risk
There is a risk that the NSW government decides to reject the final planning approval. It may be that Alkane have to do further expensive studies or it is decided that the project is not to be developed for the community's best interest. This seems highly unlikely, as the community is generally supportive. At one community meeting, concerns were raised that the project will use equivalent of half of the Dubbo Council's water supply and about the potential for radioactive solid waste being produced at the plant. The company officer, Mr Earner, allayed these fears by pointing out that the DZP would use double lined ponds with leak detection and secondary capture systems for tailings storage, and that the company has secured water licenses from irrigation and would not draw upon the local water supply. This ABC article demonstrates both advocates for and against the project within the community.
Financing risk
There is a risk that the project receives government approvals, however, it cannot receive adequate financing. It may be that the project receives financing, but on poor terms that heavily dilute the current shareholders. I believe this risk is lowered by the fact that management owns 23% of the company and have been working since 2008 on the demonstration pilot plant to ensure their products are well known in the marketplace.
Commodity price risk
The markets for rare earths, zirconium, niobium and other specialty metals are very small, and prices can fluctuate wildly. China has a stranglehold on the market, and controls prices based on policies it makes that Alkane has no control over. The recent experience of Australian investors with rare earth producer Lynas Corporation has shown that rare earth projects which look promising on paper can end up being very costly for shareholders. It is important to recognize there are differences between Lynas and Alkane, as the DZP is primarily a Zirconium project, and produces a higher portion of HREEs, which are more valuable than LREEs, in comparison to Lynas' Mt. Weld mine.
Investment time frame
The investment time frame for this stock is 5+ years. Plant commissioning is not scheduled until the second half of 2017, and there could be considerable delays to this schedule for approvals and financing. Alkane is a highly speculative and risky stock in nature, and therefore, should only make a small proportion of one's portfolio.
Takeaway
Alkane is a potential elusive ten-bagger. Significant interest exists in the DZP as a strategic long-term supplier of rare earths, zirconium and niobium backed by a 36-year mine life. Increasing rare earth prices, a proven product with offtake partners and the importance of alternative supply to China suggests the DZP will inevitably be developed and the nascent value will be released to Alkane shareholders. Several catalysts to improve the share price are coming this quarter, including the FEED study, final government approvals and any subsequent project stake sale or financing arrangements which are waiting on the government approval's green light.
Disclosure: The author is long ALK.AX.
The author wrote this article themselves, and it expresses their own opinions. The author is not receiving compensation for it (other than from Seeking Alpha). The author has no business relationship with any company whose stock is mentioned in this article.
Editor's Note: This article covers one or more stocks trading at less than $1 per share and/or with less than a $100 million market cap. Please be aware of the risks associated with these stocks.