China Internet stocks staged a strong and broad-based comeback in October: The 50 stocks in the industry surged 16.2% on average (Table 1), outperforming the monthly gains of NASDAQ Composite (+11.1%), BNY Mellon China ADR Index (+9.2%), and Halter USX China Index (+13.9%). The advance/decline ratio for the industry improved to 42/8 in October from 0/49 in September and 11/38 in August. Online video stocks gained the most in the month (+21.6%), followed by online games (+20.9%), social media (+17.6%), e-commerce (+16.9%), and online advertising (+12.5%) segments.
The industry's impressive rebound in October was led by Dangdang (NYSE:DANG), +41.1%; Renren (NYSE:RENN), +38.0%; Baidu (NASDAQ:BIDU), +31.1%; and Youku (NYSE:YOKU), +29.8%. These four big-name stocks had the most dramatic recovery in October. After plunging 32.3% on average in September and ranking in the bottom half of the 50 China Internet stocks for the month, they bounced back and ranked among the 10 best performers in October.
Microblogging platforms Sina (NASDAQ:SINA) and Tencent (OTCPK:TCEHY) did not join the other industry bellwethers to lead the rebound: After dropping 33.3% in September, Sina shares rose 13.5% in October, ranking at the 30th among 50 China Internet stocks. After dropping 11.5% in September, Tencent shares rose 11.2% in October, ranking at the 32nd in the industry. Both stocks underperformed the industry's average monthly gain of 16.2%. Such underperformance shows that investors are beginning to lose patience in the microblogging investment theme.
The timing of this "beginning" is not surprising: As I pointed out in the August review, microblogging may have reached an inflection point in China. Chart 1 shows that search queries for microblogs peaked in late June and since then have declined and stagnated. During the same period, Sina's share price has been in a downtrend. The implication is that microblogging has likely entered a new stage that requires something other than user growth to support stock prices. Obviously this "something else" is monetization.
As I mentioned in a previous article, microblogs' penetration rate may not have much room for further growth. Microblogging service providers have to develop a growing sense of urgency in monetizing their traffic. The failure to do so may lead to a gap between rapid user growth and large-scale monetization - as user growth slows down, investors will punish microbloging service providers' stocks if they do not see enough monetization to offset such a slowdown. Sina and Tencent shares' underperformance in October has confirmed this point.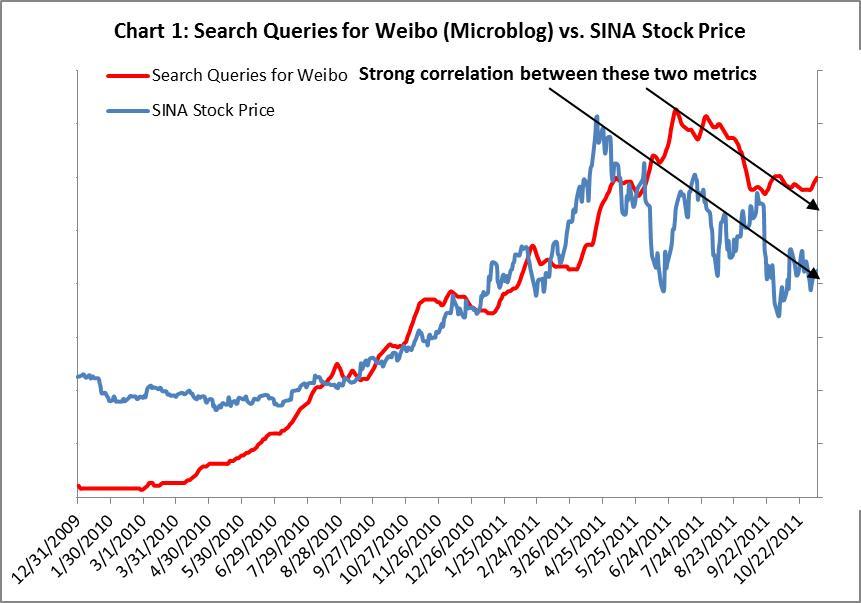 Source: Baidu.com and Yahoo! Finance
Table 1: China Internet Stocks' Performance in October 2011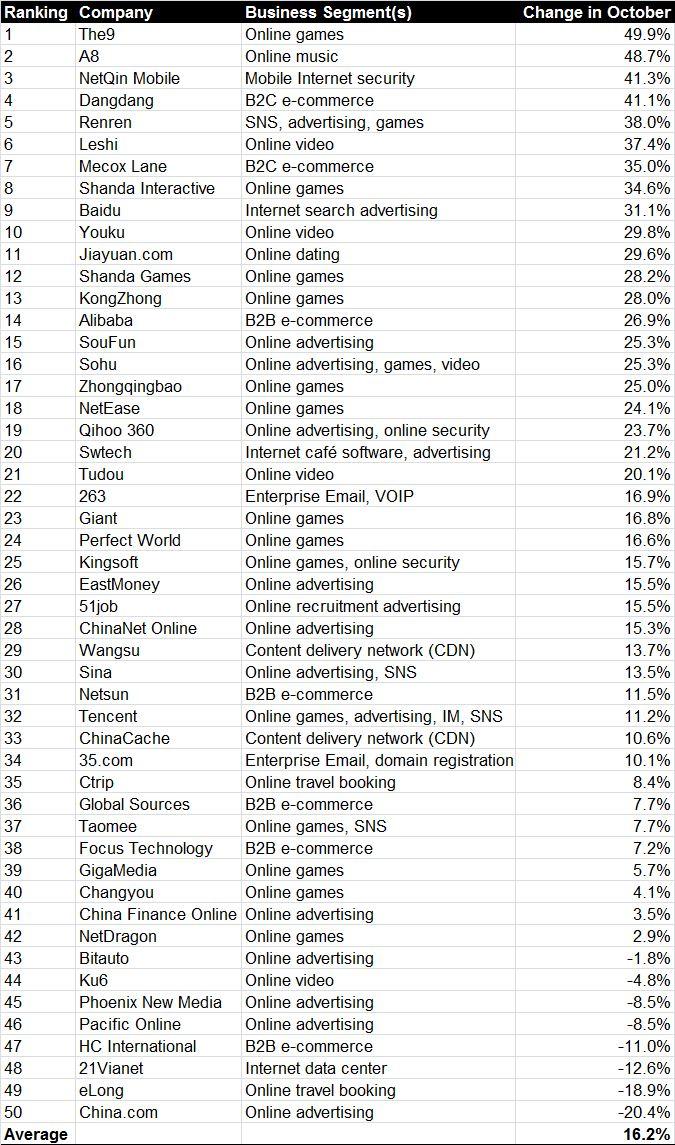 Disclosure: I have no positions in any stocks mentioned, and no plans to initiate any positions within the next 72 hours.