We are taking a brief look at gold and gold mining stocks again, updating our previous reports on the sector. We last wrote about gold itself on October 5 ('Gold, positive signals emerge') and on the sector including gold stocks on August 15 and September 12. In the latter article we took note of the fact that the HUI index had broken out to a slight new high, but also commented on the flaws we perceived with regards to this breakout at the time – notwithstanding the fact that gold stocks represented and continue to represent good value relative to gold itself.
The HUI index has managed to break out to new highs, but it is too early to judge whether this breakout will be sustained in the short term. The index is notoriously volatile and a steep sell-off in the stock market could lead to some profit taking in the near term. There is also the fact that the sister index XAU (which has a slightly different composition) has not yet managed to break out. This disparity is indicative of the fact that although the advance in gold stocks has broadened, it remains uneven. There is not yet a move 'in concert'. As a result careful stock selection continues to be rewarded, but it also means that one must remain circumspect about breakout moves such as the one in the HUI.
'Some profit taking' indeed occurred shortly thereafter, and as is often the case with this fairly illiquid sector, it turned into a major rout, albeit one that left the gold stocks largely within the confines of their year-long trading range.
Unfortunately for investors in the sector, it has still not managed to shake off the influence of the broader stock market in the short to medium term, which has persisted (with brief exceptions) since mid 2008. Note however that in the long term, the gold mining sector tends to be negatively correlated with the stock market, so there obviously have to be periods when it actually moves opposite to the broader market, respectively outperforms it during both up and down markets.
This is in fact perfectly logical behavior – gold stocks should directionally reflect the swings in the ratio of gold to the SPX, which is subject to large long term cyclical fluctuations. Usually the stock market and gold move in opposite directions over the long term because secular bear markets in stocks coincide with economic weakness, which in turn increases the demand for money (gold may not be our medium of exchange, but the market treats it as though it were money) and induces central banks to pursue an easy monetary policy.
The profit margins of gold mining companies tend to increase the most precisely when economic activity and confidence are on the wane, as gold rises relative to other currencies and commodities when this occurs. In short, the gold sector is the only sector of the market that actually profits from recessions and declining economic confidence. This fact is illustrated in some of the charts that follow below.
At present, gold mining companies enjoy excellent profit margins. Quarterly earnings reports that have been published over the past few weeks have on the whole been very good. Large increases in earnings, free cash flows and revenues were reported by almost all major and mid tier producers. Several companies have once again raised their dividends and in some cases announced new dividend payment policies that will tie dividends to the price of gold (e.g. Newmont has announced such a policy and Harmony is considering it as well).
Dividends have become a major bone of contention between gold mining managements and shareholders over the past year or so. After all, gold mines are wasting assets; from the point of view of a shareholder in a gold mining firm dividends are therefore essential. An exception may be made for smaller or mid tier firms that are in a period of strong growth and need to finance new mine developments, but senior producers should definitely try to offer a decent dividend return. The clamor has finally had an effect – and this has led the market to reassess the potential of the shares of producers relative to that of explorers in the short term. After all, paying higher dividends goes hand in hand with avoiding 'growth at any cost', so market participants appear to have concluded that fewer takeovers of exploration and developments projects will occur (share dilutions due to acquisitions that are not immediately accretive to earnings have also irked many an investor). To this it should be added that a large increase in development costs has also affected the share prices of exploration companies.
---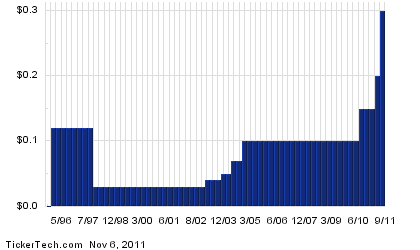 The dividend history of Newmont Mining (NYSE:NEM) – after along time of keeping its quarterly dividend at 10 cents, NEM has tripled its payout since late 2010.
That times have clearly changed is probably best demonstrated by the gold stock everybody loves to hate (or rather, simply doesn't care about anymore), South Africa based DRDGold (DROOY). Not only does the company pay a dividend these days, it has actually recently increased it by 50%, after operating earnings improved strongly for several quarters in a row.
So there is a good fundamental/value case to be made for gold stocks at current levels (in fact, a good argument could be made along these lines all year long).
This must be tempered by the technical consideration that in the short to medium term, the sector correlates strongly with the rest of the stock market. To be sure, this should change again at some point, but it isn't possible to tell when exactly that will happen.
Sentiment Remains Supportive
One of the reasons why we are publishing this update is that it became known last week that well-known hedge fund investor David Einhorn is betting that gold stocks will outperform bullion from here on out, i.e., he expects the current valuation gap to close. Unfortunately he isn't the first person saying so, and so far these expectations have been disappointed. However, the people making these assertions are generally people whose opinions on gold related investments tend to be correct more often than not (from Eric Sprott to John Hathaway to Bill Fleckenstein an impressive roster of well-known contrarians is agreeing with Einhorn).
As Bloomberg reports regarding Einhorn's stance:
"A substantial disconnect has developed between the price of gold and the mining companies," Einhorn said today in a conference call discussing results at Greenlight Capital Re Ltd. (NASDAQ:GLRE) , the reinsurer where he is chairman.

The reinsurer cut holdings of the commodity in the third quarter and moved funds into the Market Vectors Gold Miners ETF, Einhorn said. The exchange-traded fund lost 5.4 percent in the six months ended yesterday, while bullion gained 11 percent.

"With gold at today's price, the mining companies have the potential to generate double-digit free cash flow returns and offer attractive risk-adjusted returns even if gold does not advance further," Einhorn said. "Since we believe gold will continue to rise, we expect gold stocks to do even better."
We don't disagree, although we are agnostic as to the 'when'. The gold stock indexes have been in a complex correction all year long, and it is difficult to tell when it will be over, as corrective sequences are notoriously difficult to interpret and have a habit of taking a long time to play out.
However, what actually prompted us to write this missive is that the long corrective sequence has worn down bullish sentiment considerably. There is for one thing plenty of anecdotal evidence to that effect (consider for instance this article about Einhorn's view at the 'Reformed Broker' site. A quick summary would be: 'gold stocks just suck'. What is noteworthy is that in the comments section everybody – except yours truly – seems to agree).
One can easily ascertain that anecdotal evidence of this nature currently abounds (we e.g. also came across a thread on Silicon Investor discussing the above article, and again, nearly everybody agreed – in the sense of 'we don't expect anything positive to happen'). The same attitude is evident when looking at the subdued cash flows into the Rydex precious metals fund, the fairly low level of the Hulbert gold newsletter writer index (HGNSI), public sentiment on gold itself as per sentimentraders' 'public opinion' amalgam of sentiment survey data and the low premiums to NAV on closed end precious metals funds such as GTU and CEF.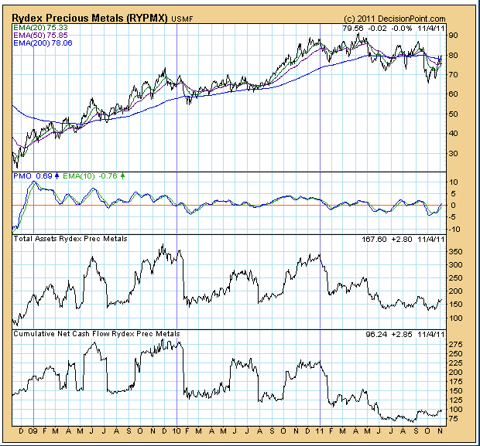 The total level of assets in the Rydex precious metals fund is quite low as cumulative net cash flows remain near their recent multi-year lows. It would actually be best for the sector if these cash flows were to pick up a bit, but this illustrates the currently prevailing negative sentiment nicely – click for higher resolution.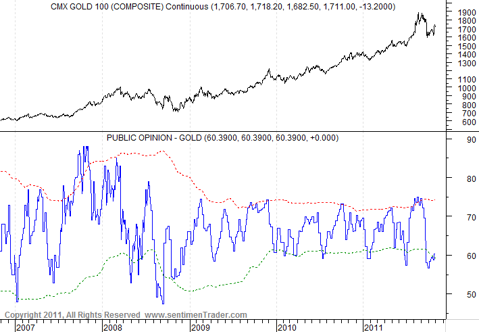 Sentimentrader's public opinion chart on gold, a weighted amalgam of several sentiment surveys, remains at the low end of its three-year range– click for higher resolution.
---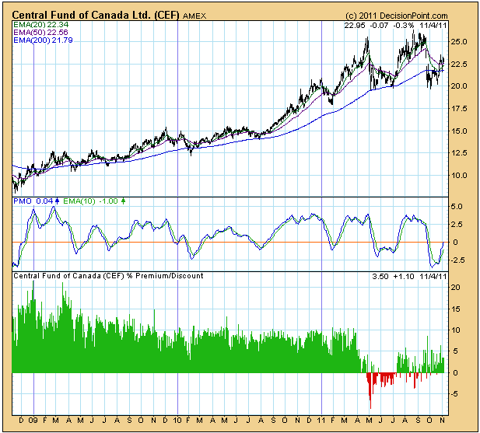 The CEF premium to NAV remains fairly low compared to historical levels– click for higher resolution.
Meanwhile, the positioning in gold futures which we last discussed on October 5 hasn't deteriorated much yet – last week the aggregated CoT report showed that big speculators covered about 1/5th of their gross short position, but this is not necessarily a negative, as these shorts are usually largely tactical in nature (at least this has been the case since the bull market's began). The non-reportable category is perhaps slightly too enthusiastic at present, but all in all there still seems to be room for an expansion in speculative longs.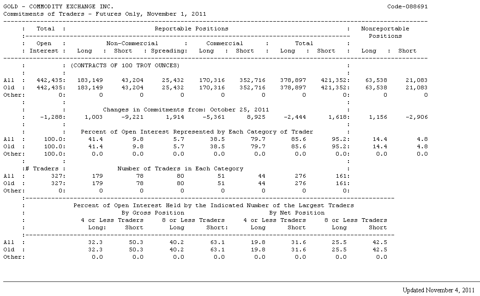 The aggregated CoT report on gold: last week saw big speculators covering a portion of their tactical gross short position. We would rather see non-reportable positions at a 2:1 than the 3:1 ratio currently in evidence, but one can not have everything– click for higher resolution.
Does all of this mean it's 'up and away' from here? Unfortunately there can be no guarantee of that, not least because gold has lately begun to correlate positively with 'risk assets' and there are a number of signs that the recent stock market rally is overdone.
Also, as you can see below, there is a possible wave count for the HUI that would indicate that the complex correction is not yet over. On the other hand, any near term pullback would be likely to cement the support from sentiment data even more, which at present seem clearly out of sync with both fundamentals and the recent price action.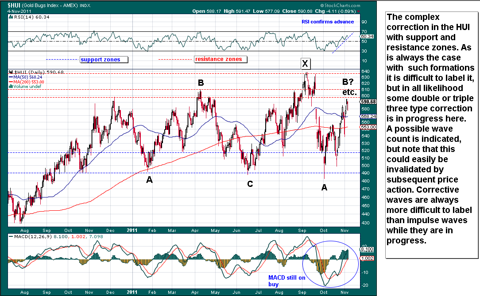 The HUI index, daily – so far an MACD buy signal remains in effect and RSI still confirms the recent rally. The index is now getting close to the major resistance zones established earlier this year. Indicated is a possible wave count (which would indicate a 'double three' or perhaps even 'triple three' correction is underway) that would require at least one more downswing to be completed. Alas, corrections are notoriously difficult to judge in real time, so one should take this with a big grain of salt – click for higher resolution.
Concurrently, the gold-HUI ratio could have more upside potential in the near term and seems to recently have established a low, as can be seen in the next chart: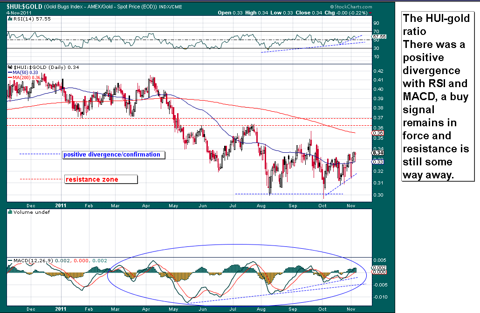 The HUI-gold ratio appears to have completed a bottoming process if the above indicated divergences are any guide. Whether it will once again flounder at the resistance level established earlier this year remains to be seen– click for higher resolution.