Reach into your pocket and pull out your phone. Is it s smartphone? If not it very shortly will be, and that is bad news for a company like Garmin (NASDAQ: GRMN). Consumers will soon find no value in purchasing a stand alone GPS device for over $100.00 when they can get the same functionality and much more in a smartphone.
According to Nielson smart phones will overtake feature phones sometime this year. Additionally, as seen in the chart below, Morgan Stanley (NYSE:MS) expects this trend to accelerate.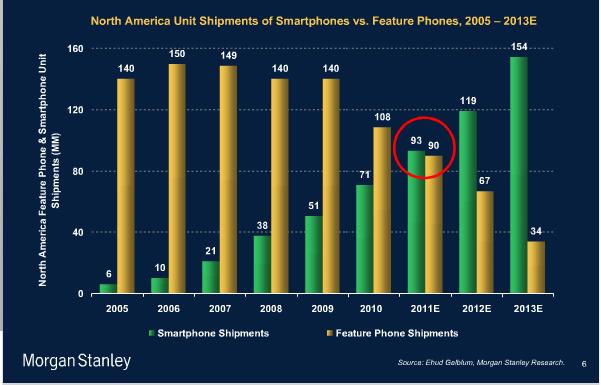 As with the carriage upon the advent of the car, the typewriter upon the advent of the personal computer and the video store (e.g. Blockbuster) upon the advent on of Netflix (NASDAQ: NFLX), the stand alone GPS device seems poised to swiftly disappear from our world.
I would like to point to a Yahoo! article to prove this fact, but there is a much more reliable and frightening source. On November 2, 2011 Garmin reported third quarter results and warned "Volume declines were driven by the North American market as competitive technologies reduced the portable navigation device (PND) market."
I have looked back, and it appears that this is only the second quarter where such a statement has been made. The question we must ask is how many warnings do we need? This warning and the clear trends in Garmin's earnings should be enough for us to decide not to invest in this company.
When this statement was most recently made, Garmin's Automotive/Mobile segment represented nearly 60% of its revenue. In the same quarter of 2010 it made up nearly 64% and the quarter before almost 70%. The Automotive/Mobile segment is representing increasingly less of the whole. As seen below, Garmin must increasingly look elsewhere, in particular the Outdoor and Fitness segments (which I combine as Garmin had done prior to 2011) to take up the slack of the declining sales from its core Automotive/Mobile segment.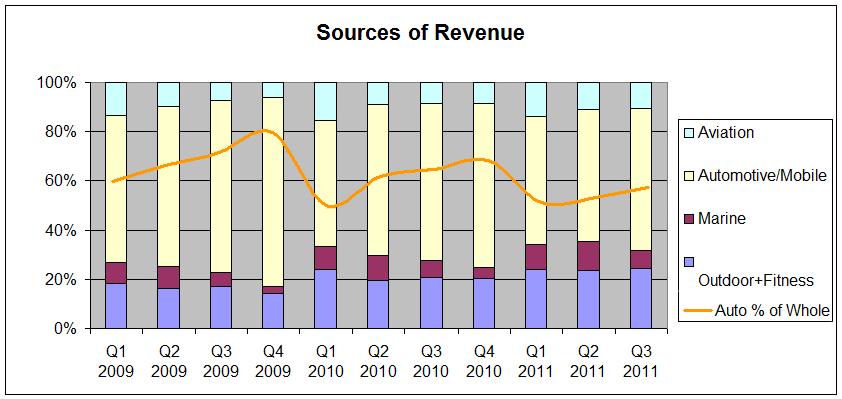 However, the increasing revenues in the non-Automotive/Mobile segments are not enough to make up for the shortfall. This is demonstrated by the fact that Garmin's YoY quarterly revenue continues to fall. Despite the warning only having been made twice, the Automotive/Mobile segment has not seen an increase in YoY quarterly revenue in the last 6 quarters. Conversely, the Outdoor and Fitness and Aviation segments have seen 4 of the 6 quarters with YoY increasing revenue and the Marine segment has seen 3 of the 6 quarters with YoY increasing revenue. Regardless of the strong performance of these other segments, as a whole, in the last 6 quarters, Garmin has seen only one where total income increased when compared to the same quarter of the previous year. That being a 1.5% increase in Q2-2010.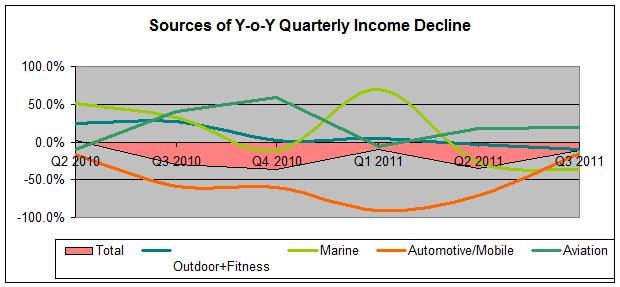 Garmin's core business is in trouble, the writing is on the wall and even Garmin sees it. It has areas of growth but they cannot compensate for the hemorrhaging in its core.
Whereas a competitor like TomTom (OTCPK:TMOAY) seems to now be focusing on introducing streamed revenue by selling subscriptions, Garmin seems to be taking the opposite approach as it continues to focus on "lifetime" maps. I don't have confidence in either business, but would be amiss if I did not point out that the Garmin strategy will increase revenue in the near term (lifetime maps are recognized over 3 years) and therefore will only accelerate the perceived decline in revenue from the Automotive/Mobile segment.
Garmin currently trades at a respectable 12.8x TTM earnings and 2.6x sales. However with very divergent growth metrics Garmin should really be valued based on its parts. The following table shows the annualized YoY Quarterly growth (based on the last 6 quarters) for each segment:
| | | | | |
| --- | --- | --- | --- | --- |
| | Annualized Average Earnings Growth | Annualized Averaged Sales Growth | TTM Contribution To Revenue | TTM Contribution to Earnings |
| Outdoor + Fitness | 34.99% | 96.5% | 22.9% | 45.4% |
| Marine | 61.88% | 52.4% | 8.0% | 11.0% |
| Automotive/Mobile | -94.83% | -36.4% | 58.4% | 29.1% |
| Aviation | 107.19% | 40.8% | 10.6% | 14.4% |
| Total | -59.6% | -9.9% | 100% | 100% |
Based on historic growth rates the Aviation and Marine segment, which are the smallest segments, should be valued at the highest multiple.
Based on rough multiples of earnings and sales, as outlined in the table below, I don't think Garmin should be trading above $30.00 (almost 16% lower than its current levels).
| | | | | | | | |
| --- | --- | --- | --- | --- | --- | --- | --- |
| | EPS TTM | P/E | Implied Value | | Sale/Share TTM | P/S | Implied Value |
| Outdoor+Fitness | $1.26 | 12 | $15.12 | | $ 3.17 | 3 | $ 9.52 |
| Marine | $0.30 | 16 | $4.87 | | $ 1.11 | 3 | $ 3.33 |
| Automotive/Mobile | $0.81 | 3 | $2.42 | | $ 8.09 | 1.5 | $ 12.13 |
| Aviation | $0.40 | 20 | $8.00 | | $ 1.47 | 2.7 | $ 3.96 |
| Total | $2.77 | 10.97 | $30.42 | | $ 13.84 | 2.09 | $ 28.94 |
If the application revolution happens as quickly as some predict the decline may be even greater. Keep in mind (a) outdoorsmen and boatmen also have iphones and (b) these markets are naturally smaller than the Automotive/Mobile segment.
If you have paid attention to my other articles, you'll note that I often tout stocks with good dividend yields. Garmin does not necessarily fall into this category. At 5.6% the current dividend yield is not bad. Moreover, with over $7.00 of cash on the balance sheet the company is more than able to pay its liabilities (current or otherwise) and therefore the company's other assets put a nice floor value on the Company's share price. For the record Garmin has over $15.00 of non-cash assets on its balance sheet; although not all realizable in a worst case scenario. Additionally, although increasing, the company does not report significant contractual commitments over the next 5 years
That being said, after 3 years of holding its dividend steady at $0.75 Garmin doubled its dividend in 2010 and increased it again by a third in 2011. On Garmin's decreasing earnings this has caused the company's payout ratio (calculated based on earnings or cash flow from operations) to jump significantly.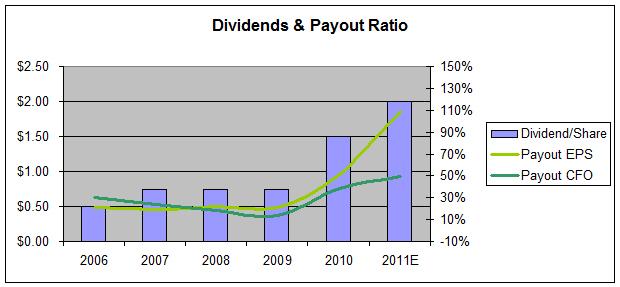 Garmin also has historically, although not yet this year, repurchased shares. Taking these share repurchases into account (adjusting for the issuance of shares outside of its compensation regime) the above chart looks worse.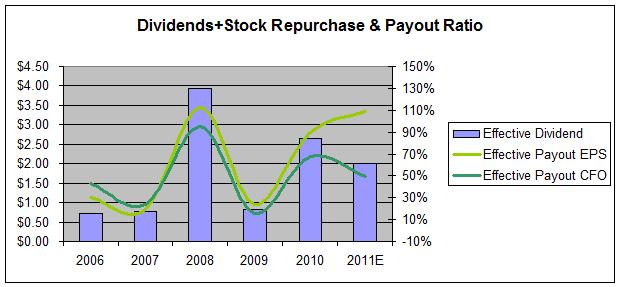 Garmin is not currently in dire shape; however the core of its business is under significant threat that will likely have a significant negative effect on the company. As investors, we must remember that we invest for the future and not for now. For this reason you should not be investing in Garmin.
Disclosure: I have no positions in any stocks mentioned, and no plans to initiate any positions within the next 72 hours.