By Stuart McPhee
AUD/USD for Friday, April 10, 2015
For the last week or so now the Australian dollar has relied heavily on support at the 0.76 level after falling away sharply to down below the key 0.77 level over the course of the week prior. It has in the last week also felt some resistance around the key 0.77 level which has been severely tested over the last few days with the AUD/USD surging strongly higher and making repeated attempts to push through. The resistance at 0.77 has stood tall and fended off the buyers at this stage but remains under pressure. Its next obvious support level is down at 0.7550 and it will hoping to be propped up by it. Its recent decline was from the key 0.7850 level after surging higher to a new two month high above 0.79 earlier a few weeks ago. For a couple of weeks it moved back and forth from below 0.76 and up to the key resistance level at 0.7850 and higher, before the recent fall. Back in early March the Australian dollar made a statement and broke down strongly through the key 0.77 level which then provided significant resistance for the following few days. It was also able to enjoy some short term support around 0.7550 which propped it up and allowed it to rally strongly back up to above 0.79.
Throughout February the Australian dollar made repeated attempts to move up strongly to the resistance level at 0.7850 however it was rejected every time and sent back easing lower, which is why this level remains significant presently. Just prior to that towards the end of February the Australian dollar moved through the resistance at 0.7850 to reach a new four week high around 0.7900. In the second half of January, the Australian dollar fell very sharply and break lower from the trading range that had been established roughly between 0.8050 and 0.8200. Back in mid-January it made numerous attempts at the resistance level at 0.82 only to be sent back often before finally finishing that week moving through this key level. In doing so it was able to reach a one month high near 0.83 before being sold back down again towards 0.82 as the resistance and selling activity above this level kicked in.
Over the Christmas / New Year period, the Australian dollar seemed to have been content with trading in a narrow range below the resistance at 0.82, which continues to remain a key level as it is presently provides resistance. The Australian dollar experienced a disappointing November and December moving from resistance around 0.88 down to the new lows recently. For a couple of months from September through to November, the Australian dollar did well to stop the bleeding and trade within a range between 0.8650 and 0.88 after experiencing a sharp decline throughout September which saw it move from close to 0.94 down to below 0.8650.
The Reserve Bank of Australia (RBA) has chosen to put off a cut in interest rates by another month, keeping borrowing costs steady at a record low of 2.25 percent on Tuesday. Markets had priced in an 80 percent chance of a cut, but analysts were largely divided over whether it would come in April or May. Market watchers who tipped no move in April said the RBA would likely wait on more information around Sydney's red-hot property market, as well as the latest employment and inflation data which are due later this month. Others who calling for a cut Tuesday cited the value of the Aussie dollar, which still appears high when compared with plummeting iron ore prices, which fell below $50 metric ton last week for the first time in 10 years.
(Daily chart / 4 hourly chart below)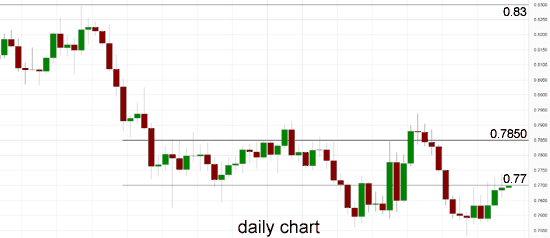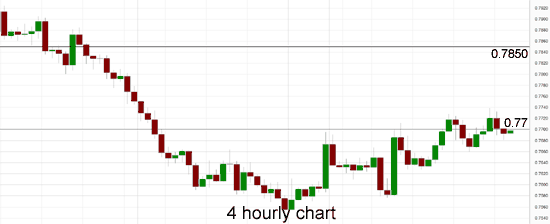 AUD/USD April 9 at 23:50 GMT 0.7698 H: 0.7738 L: 0.7660
AUD/USD Technical
| | | | | | |
| --- | --- | --- | --- | --- | --- |
| S3 | S2 | S1 | R1 | R2 | R3 |
| 0.7600 | 0.7550 | - | 0.7700 | 0.7850 | 0.8200 |
During the early hours of the Asian trading session on Friday, the AUD/USD is placing more pressure on the resistance level at 0.77. Current range: trading right below 0.7700.
Further levels in both directions:
• Below: 0.7600 and 0.7550.
• Above: 0.7700, 0.7850 and 0.8200.
OANDA's Open Position Ratios
(Shows the ratio of long vs. short positions held for the AUD/USD among all OANDA clients. The left percentage (blue) shows long positions; the right percentage (orange) shows short positions.)
The long position ratio for the AUD/USD has moved back to 55% as the Australian dollar has rallied back towards the resistance level at 0.77. The trader sentiment remains in favour of long positions.
Economic Releases
01:30 AU Housing & Lending Finance (Feb)
08:30 UK Construction Output (sa) (Feb)
08:30 UK Industrial & Manufacturing Production (Feb)
12:15 CA Housing starts (Mar)
12:30 CA Unemployment (Mar)
12:30 US Import Price Index (Mar)
14:00 UK NIESR GDP Est. (Mar)
18:00 US Budget (Mar)
* All release times are GMT