This is part 2 of my initial article "7 Must-Own Dividend Stocks For 2012". My focus is to provide an update on the companies, and their respective dividends. My secondary focus is to articulate specific ways to hedge these positions. Blue chip companies can be buy and hold for years. Other companies possess cyclical business models. These equities require selling when their earnings strength weakens.
click on images to enlarge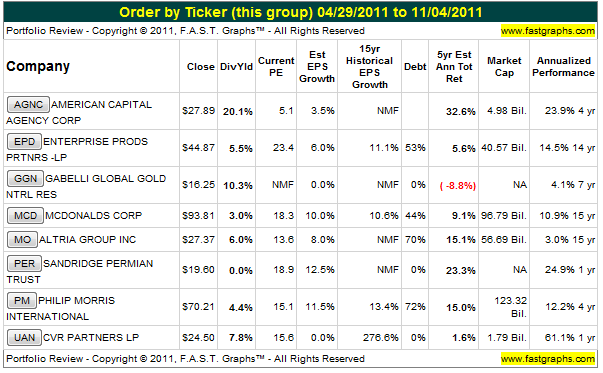 American Capital Agency Corp. (NASDAQ:AGNC)
American Capital Agency continues to provide a high dividend yield in a turbulent market. The stock, as of September 30th, has a book value per share of $26.90. The balance sheet has 85 cents of undistributed taxable income as of Sept 30, 2011. A $1.40 per share dividend was paid on October 27th. The fourth quarter dividend should go ex-dividend on approximately December 21st. Using history as a guide, investors should expect the fourth quarter dividend to be paid on January 27th, 2012.
Net Yield Curve
The Treasury bill and Treasury bond curve continue to trade at historically low interest rates. Foreign and US investors continue to buy the Treasury bond as a flight to safety. The Greek fiscal troubles and euro currency problems are perceived as a significant problem. The flight to Treasury bonds narrows the yield curve. American Capital Agency makes money through the net yield curve. Investors should pay attention to the yield curve and recognize this may impact future dividend payouts.

I am not concerned about hedging American Capital Agency because the government sponsored entities (GSE) mortgage backed securities (MBS) are 100% backed by the US Federal Government. I realize the dividend may be decreased in the future. If this occurs, the yield will still be significantly higher than other dividend paying equities.
Repo Counterparty Credit Risk
Page 14 of the company's investor relations report highlights the increase in counter parties from 26 to 29. The company addresses its reliance upon counterparty risk in the SEC 10Q and SEC 10K filings. I am not aware of a listing of the 29 specific counterparties. The counterparties are key to providing repurchase agreements.
American Capital Agency does have a November 10th presentation. Per the November 3rd press release:
Peter Federico, Senior Vice President and Chief Risk Officer, is scheduled to make a presentation at the Sandler O'Neill + Partners East Coast Financial Services Conference on November 10, 2011 in Aventura, FL.
In recent weeks MF Global has allegedly not followed generally acceptable accounting principles (GAAP) with repurchase agreements. This illustrates the vital role repurchase agreement parties facilitate with mortgage real estate investment trusts (mREITs). If the MF Global allegations of fiscal improprieties are accurate, it will be interesting to note if any repurchase agreements exist with mREITs.
Enterprise Products Partners LP (NYSE:EPD)
On November 2nd, Enterprise Products Partners announced very sound earnings for the 3rd quarter ending September 30th. The company announced 3rd quarter net income was $480 million. This contrasts to the 2010 3rd quarter net income of $348 million.
The dividend was increased to 61.25 cents per unit. On an annual basis the dividend is $2.45 per unit. The dividend will be paid November 9th. This represents the company's 29th consecutive quarterly increase.
Enterprise Products Partners and Chesapeake Energy Corporation (NYSE:CHK), on November 2nd, announced a long term strategic pipeline contract. Chesapeake will assume a leadership role in Enterprise Products Partners' proposed long-haul ethane pipeline from the Marcellus and Utica shale regions in Pennsylvania, West Virginia and Ohio to the US Gulf Coast. The proposed 1,230 mile pipeline would provide a much needed infrastructure for the Marcellus and Utica regions to deliver daily 125,000 barrels of ethane to the Gulf Coast. Initial start up dates are estimated at the 1st quarter of 2014.
In this article, "A Catalyst for Higher EV Energy Partners' Dividend Stream", I highlight Chesapeake Energy management's enthusiasm for the Utica shale production. This is likely an asset with increasing awareness, as time and results may prove, to the investing community.
Gabelli Global Gold, Natural Resources & Income Trust (NYSEMKT:GGN)
Gabelli Global Gold continues to produce consistent results. The equity is trading at a 1% premium to its net asset value. The closed end fund pays a monthly 14 cents per share. This equates to a 10.4% annual dividend yield.

Gabelli Global Gold owns shares in publicly traded gold and natural resource stocks. Gabelli management then selectively sells covered calls against these stock holdings. The sale of covered call options results in shareholders receiving a return of capital report. This is an SEC requirement for net covered call proceeds reporting.
Gabelli Global Gold is operating on all cylinders. The income arrives monthly to shareholders. Gold and natural resource stocks offer a potential hedge against future inflation.
A key issue to track is the net asset value. As long as the net asset value remains stable, then the principal investment in shares is strong. The 14 cent dividend has been paid monthly for years.
McDonald's Corp. (NYSE:MCD)
McDonald's is simply a dividend machine. In my opinion, McDonald's is a high quality blue chip that should be in every dividend investor's portfolio. This graph illustrates what shareholders have experienced since 2004.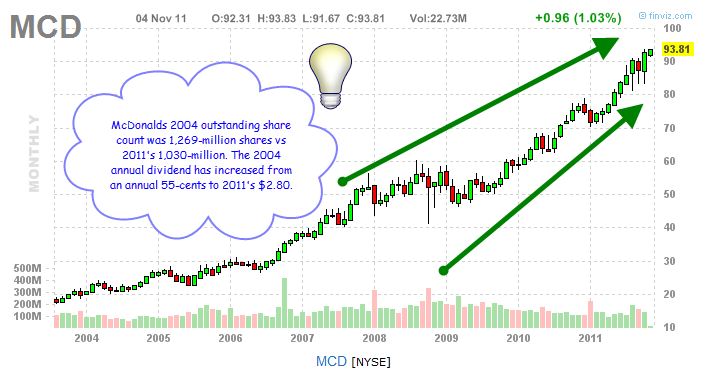 The company continues to expand with new stores. Families love the inexpensive meals at McDonald's. The stores are innovative in offering fun meals to children, and even offering free wireless Internet (wi-fi) to customers. The management team is highly competent at explaining their capital structure with debt, stock buybacks, and annually increasing the dividend. Sometimes the best names are just waiting for a long term investor to buy.
The company, on October 23rd, announced earnings per share of $1.45. This is an increase of 12% year over year. The dividend was recently increased to 70 cents per share, which represented an annual 15% dividend increase from the prior year.
I do not have any hedges on McDonald's. My portfolio does contain SPDR S&P 500 (NYSEARCA:SPY) put options which should hedge against a total market downturn. McDonald's has a .34 beta, and proven to be a winning position.
The rule of thumb is once a stock has reached $90, then it is on its way to $100. I do own the stock. In addition, I own vertical call option spreads. These spreads were opened with selling the $90 call and buying the $80 call, thus creating a net credit balance to my account.
Altria (NYSE:MO)
I recommend, for asset allocation, Altria (MO) and Philip Morris International (NYSE:PM) as "one" stock. They both sell a legal product, but one which does have its health critics. Altria sells, amongst other products, tobacco in the US. Philip Morris sells tobacco outside the US.
Altria and Philip Morris International provided shareholders the highest 50 year return during 1957 thru 2007. The average annual return was 19.75%, beating the S&P 500 by approximately 9% per year. The stellar return during that period has been helped along by an uninterrupted 45 year history of annually increasing dividends.
While it achieved much of its growth prior to its spin off of its most profitable subsidiary, Philip Morris, Altria remains the largest tobacco producer in the US and is still viewed as a cash cow for investors. With a dividend yield of close to 6%, it gives investors a big cushion as it wades through the regulatory, legal and tax code minefield of the US government. Although the number of smokers in the US has declined in the last fifty years by more than 50%, its profitability remains intact by virtue of its near monopoly of the most popular brands, including Marlboro, and its strategic diversification into smokeless tobacco products, and wine (Columbia Crest among others).
Altria is seen as a solid dividend play, not only because of its record, but also because of its wide moat which keeps competition from becoming an issue. Its dominance in the US is not likely to be challenged due to the high cost of entry into the market. As a primarily domestic producer, it may not see the kind of growth that its former subsidiary and global producer, Philip Morris, will see, but its earnings growth is almost assured by its ability to increase prices on high margin products. Altria will continue to pay out as much as 80% of its earnings as a way to keep investors interested. And, as long as its dividend payment continues to yield as much as 70% more than typical long-term bonds, it should be able to keep the attention of inflation-conscious investors.
Of course, Altria, which is actually classified as a consumer staple company, is considered to be a "vice" stock for its pursuit of profits through socially controversial means. If you can get past that, or it's not an issue for you, Altria can strengthen your dividend portfolio and add some much needed inflation protection for your income.
Altria (MO) is trading at $27.37 per share. The $1.64 annual dividend provides an excellent 6% yield. Altria trades with a .45 beta, meaning the stock has less than half the volatility of the SP500. I hedge Altria via an overall SP500 market hedge. This can be done with ProShares Short S&P500 (NYSEARCA:SH) shares, or with SPDR S&P500 (SPY) put options.
Philip Morris International (PM)
Inflation conscious investors in need of higher yields and long term income growth may want to consider the virtues of vice in their investment strategy. Setting aside, for the moment, any moral or ethical issues you might have, as an investor, wouldn't you want to know about a stock sector that has outperformed the S&P 500 over the last fifty years by double-digits with an average dividend payment nearly three times higher? In an era of rampant stock market volatility and painfully low bond yields, the virtues of high-dividend stocks are well established, and, as a vice stock, there are few with better long term prospects than Philip Morris.
One of the biggest advantages of dividend stocks over other yield investments is that dividend payments have the potential to increase over time. So, the biggest consideration for dividend investors is how a company is expected to perform in the future and whether it possesses the capacity to generate higher earnings over time. One of the reasons why tobacco stocks are highly sought after is that the companies strive to pay out as much as 70% of their earnings to shareholders.
Philip Morris is one of the premier manufacturers of tobacco products with over $30 billion in annual sales. Recently spun off from Altria, Philip Morris generates nearly half of its revenues from global markets and it dominates the Asian market where its profits have grown by nearly 50% in just the last twelve months. Its 4.5% dividend yield is not among the top in the industry, but its projected 10% dividend growth rate is the real story. From a growth standpoint, the stock is considered fairly valued with projected earnings growth of about 11% which tops among its peers. Through October 1 of this year share price gains and dividends have generated a 21% return.
If your investment philosophy is guided by social, moral or ethical principles, you might want to consider this: Tobacco has been in use for thousands of years and it will continue to be in use long into the future. The good news is that tobacco use is declining in the US and in Europe; however, its use is increasing in emerging countries. Not investing in a company like Philip Morris is not likely to put a crimp in its future prospects or the use of tobacco. But, investing in Philip Morris is likely to generate enough additional income and growth which will allow you to contribute to causes that do have an impact on tobacco use.
I currently do not have an option hedge on Philip Morris specifically as the stock has run up. My strategy is likely to buy a collar option position:
I own, for example, 100 Philip Morris (PM) shares.
Sell one PM Jan 2012 72.500 call for a credit of $135. This position expires January 20th, 2012.
Buy one PM Jan 2012 65.000 put for a debit of $143. This position expires January 20th, 2012.
The net cost is [$143 - $135 = $8] a net debit of $8.
SandRidge Permian Trust (NYSE:PER)
SandRidge Permian Trust recently announced its first dividend payout. The 72 cent per share dividend will be paid on November 30th. The dividend was higher than anticipated per the initial public offering prospectus. My cost basis is $18 per share. The hedged dividends are known and the company has delivered more than they promised. I am very pleased with the trust up to this point.
Counter Party Risks
As with all investments, investors should study the risks. One risk is on page 14, the counter party risk of SandRidge Permian Trust's parent company. SandRidge Energy, Inc. (NYSE:SD) is the parent company. The parent has a $3 billion market cap and a $6 billion enterprise value. The $3 billion in debt, to a great extent, is manageable with stable or higher oil and natural gas prices.
I pay attention to SandRidge Energy's performance. My trust in the management team is a positive one. If energy prices decline, then I will pay closer attention to the ongoing parent business developments. At this point, dividend investors are finding SandRidge Permian Trust on their radar screen. In the event I see trouble, my first reaction will be to attempt to establish a break even collar trade.
Dividends
I am not reinvesting SandRidge Permian Trust distributions. The trust has a finite life, and I am accumulating the dividends as a return of capital. I am deploying these funds into strong dividend plays. My goal is the trust will continue to have high dividend payouts after the hedges are off. This would presume oil and natural gas prices increase over the next few years.
CVR Partners (NYSE:UAN)
CVR Partners, on October 31st, announced a very solid third quarter. The 3rd quarter dividend is 57.2 cents per share. CVR Partner shareholders can anticipate increased fertilizer production with their ongoing expansion plans. The expansion will be finished and in operation by March 31st, 2013. This expansion will increase urea ammonium nitrate output capacity from 675,000 tons to 1,075,000 tons.
My net cost basis is closer to the $18.50 than the recent prices. Although pleased with the equities performance, I monitor the fertilizer prices for any sustainable decrease.
Key Risk
Weather plays a key role in CVR Partners' business model. They are a one location based operation. Weather patterns have been very strange this year. The natural disaster in Japan fueled the onslaught of nuclear radiation. When 5,000 birds are falling out of the sky in the US, without known reason, then my "warning" light comes on. Investors must watch unusual weather reports for potential impact to CVR Partners' one site facility.
In the interim, management on the November 1st conference call has stated they are focused on growing the company via mergers or acquisitions. They recognize the risk of a one site facility and the negative implications if the site is damaged due to weather behavior. If the company announces an acquisition, then the focus of a one plant operation becomes muted to some extent.
Summary
I am very pleased with the performance of all the stocks. The one issue is the net yield curve which is impacting agency mortgage real estate investment trusts (mREITs). Ideally, the longer duration Treasury bonds' yield will rise. The short term borrowing cost remains very reasonable. On a positive note, the agency mREITs interest rate risk is marginal. Rates can continue to dip, but 3% is approaching some type of bottoming out. We know rates can't go below 0% for the 30 year bond.
Disclosure: I am long AGNC, EPD, GGN, MCD, MO, PER, PM, UAN.