Overview
Walt Disney (NYSE:DIS) is scheduled to report 4Q 2011 earnings after the closing bell on Thursday, November 10. The release will be followed with a conference call at 5:00 p.m. EST. The media and entertainment giant is also a member of the Dow Jones Industrial Average and could therefore influence direction of the index futures and other broad market gauges.

Outliers & Strategy
Several other media and entertainment companies reported solid results over the past several weeks. Among them:
11/02: Comcast (NASDAQ:CMCSA) 3Q EPS of $0.33, including items, was below the consensus, while revenue of $14.3 bln topped forecasts. Consolidated Pro Forma Operating Cash Flow increased 3.2% to $4.6 billion.
11/02: Time Warner (NYSE:TWX) 3Q adjusted EPS of $0.79 beat the consensus of $0.75, while revenues of $7.1 bln were up 11% and represented the highest growth rate since third quarter of 2007. Adjusted operating income jumped 18%, driven by a record quarter at Warner Bros.
11/03: CBS Corp. (NYSE:CBS) 3Q 2011 EPS of $0.50 topped the consensus of $0.46, while operating income before depreciation and amortization ("OIBDA") of $837 million increased 25%. The company cited high-margin digital streaming revenues, growth in affiliate and subscription fee revenues, and lower television programming costs.
Walt Disney is expected to earn $0.54 per share (range is $0.42 to $0.60), up from $0.45 a year ago, while revenues are expected to come in at $10.36 billion, up 6.3% from the prior year. (Source: Yahoo! Finance)
At a recent $35.15, Disney is trading at just 12.2x forward earnings, roughly in-line with the 5-year growth rate, resulting in a FWD PEG ratio of just 1.08. The shares also fetch just 1.6x sales.
Recent News
10/05: Citigroup upgraded Walt Disney from Hold to Buy with a price target of $36, according to Benzinga.com, based on solid upside from current levels.
09/21: Walt Disney CFO Jay Rasulo made the following observations from the Goldman Sachs Communacopia Conference: 1. Disney is making extensive efforts to use new technology to distribute content, particularly the ESPN brand; 2. Disney is taking "large steps" to grow internationally, particularly in China and Russia; 3. Disney "aggressively" stepped up buyback activity this quarter; 4. Despite the economic climate, margins in the parks and resorts business can still return to pre-downturn levels.
Technical Review
Walt Disney shares are nearly 25% above the 52-week low of $28.19 established back on October 4, having recently pushed through key resistance at $34. Near-term support is at the 20-Day SMA near $34.50, followed by $34. There is further downside risk to the 50-Day SMA near $33 in the event of a weak report. Conversely, resistance is at the recent high near $36.50, followed by $37. (Chart courtesy of StockCharts.com)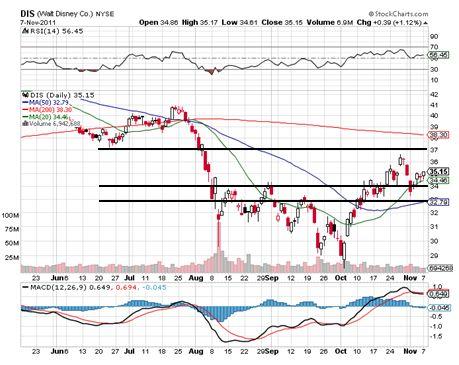 Summary
Walt Disney shares are well above last month's 52-week low, thanks in part to stronger than expected earnings from its peers, particularly CBS Corp. and Time Warner, based on improvements in ad spending and strength in entertainment. Disney is also focused on international growth and adoption of new technology to expand content, while growing the parks and entertainment businesses. The company is also buying back stock, while the shares are trading in-line with the growth rate on a Forward PEG basis.
Disclosure: I have no positions in any stocks mentioned, and no plans to initiate any positions within the next 72 hours.