* All data are as of the close of Thursday, April 9, 2015. Emphasis is on company fundamentals and financial data rather than on commentary.
There has been a fair bit of reshuffling in the Electric Utilities industry since the last time I examined it six months ago last October, so it's due for another visit.
The biggest change has been the reallocation of one of America's largest energy producers, Duke Energy Corporation (NYSE:DUK), out of the Diversified Utilities category into Electric Utilities, making it the new top U.S. player in this space.
Another change over the past six months has been the overtaking of Southern Company (NYSE:SO) by Dominion Resources Inc. (NYSE:D), making Dominion the new 3rd largest U.S. electric utility company, while Southern drops to 4th place.
Hence, we have a new line-up of companies occupying the top three U.S. spots by market cap in the Electric Utilities industry: with Duke now at the head of the table, NextEra Energy Inc. (NYSE:NEE) bumped down to 2nd place, and Dominion rising up to 3rd place, as the industry plays a little musical chairs.
In recent years, the rising demand for electricity in America has truly been music to the ears of electricity producers, as graphed below. According to data from the U.S. Energy Information Administration [EIA], retail sales of electricity in the U.S. from 2001 to 2007 increased by 10.9%.
Though there was a slump in electricity demand - and consequently sales - of nearly 5% during the 2008-09 economic crisis, nearly all of that reduction in sales has been reclaimed, with electricity sales in 2014 being 9.7% higher than in 2001, although still down about 1.2% from the 2007 high.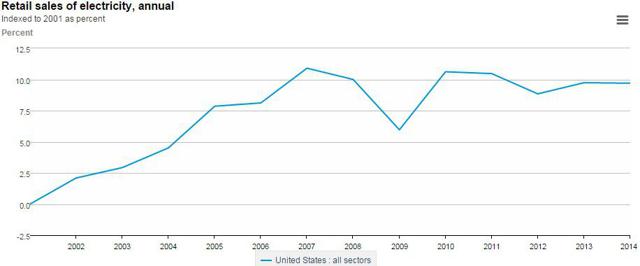 Source: EIA - Retail Sales
It is quite interesting to note how the sources of America's electric power have changed over this opening decade and a half of the new millennium, as graphed below.
While the leading source of electricity is still coal at 1.586 billion megawatt hours, there is now a new number two energy source: natural gas at 1.122 billion mwh, which has overtaken nuclear at 797 million mwh.
The 4th largest source is still the same, conventional hydroelectric projects, currently producing 259 million mwh. But the 5th greatest source is an upstart that has literally come out of thin air: wind energy, currently adding 182 million mwh to America's energy supply.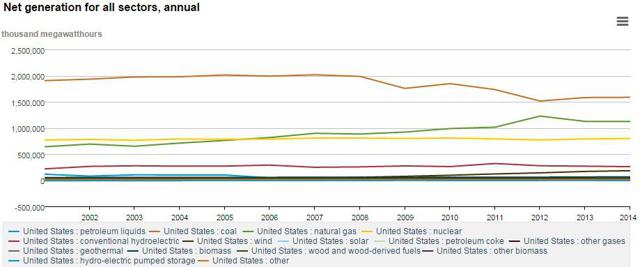 Source: EIA - Net Electricity Generation
Indeed, since the turn of the millennium, America has been going green as it improves its record of environmental stewardship by increasing the amount of electricity it produces from cleaner sources, as graphed below.
Since 2001, the greatest increase in electricity production has come from natural gas whose output in 2014 was up by 483 million mwh over 2001, while the second greatest increase has come from wind whose output in 2014 was up 175 million mwh over 2001.
At the same time, America has also decreased the amount of power it harnesses from dirty sources, with the second greatest decrease in electricity production coming from petroleum liquids whose output in 2014 was down by 96 million mwh over 2001, while the greatest single decrease has come from coal whose output in 2014 was down 318 million mwh over 2001.
A green thumbs up to you, America! Keep up the progress.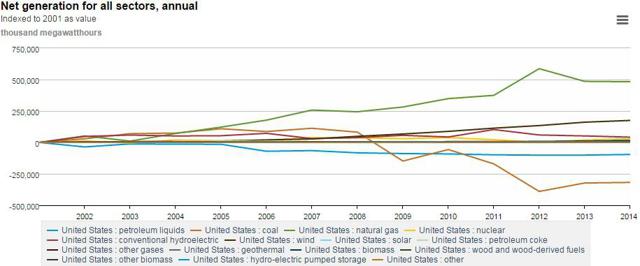 Source: EIA - Net Electricity Generation
These changes in the sources of America's electric power can present investors with a good deal of insight into which types of energy companies to invest in, as well as which types of commodities to avoid. But if you don't have a great deal of time to devote to such a thorough investigation into the future of energy production, then picking up a company or two from the Electricity Utilities industry is the easier way to go. They're the experts. Let them pick their energy sources. We'll just sit back and enjoy their growth, collecting some hefty dividends while we wait.
Of course, we must understand that utilities are not huge growth generators, since they are highly regulated and are confined within limited territorial boundaries. Growth comes mainly through changes in population and industrial activity within each company's jurisdiction. And even then, such growth can be slow, as graphed below.
Since the economic recovery began in March of 2009, where the broader market S&P 500 index [black] has gained 210%, the SPDR Utilities Sector ETF (NYSEARCA:XLU) [blue] has gained a mere 95%.
Yet I'm happy to say that even though America's three largest electric utilities have, like their sector benchmark, underperformed the S&P broader market, they have at least beaten their sector average, rising from 120% to 160% over the past six years, or some 20% to 26% annually. This, of course, comes in addition to their above average dividend yields currently ranging from 3% to 4.1%.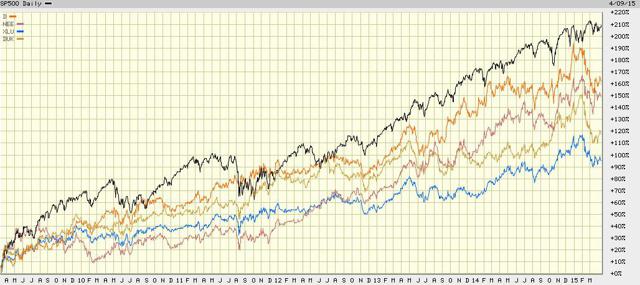 Source: BigCharts.com
But the utilities' rather boring business activity does not mean they will always be boring stocks. Some of them can really surprise you, especially after a market correction, as graphed below.
Since the hefty correction of Q3 2011, for instance, where the S&P has risen 90%, one of our three contestants actually beat the market, namely NextEra which is currently up 97% since then. Its two rivals, however, are nowhere near it, currently lagging behind in the 30% to 45% area.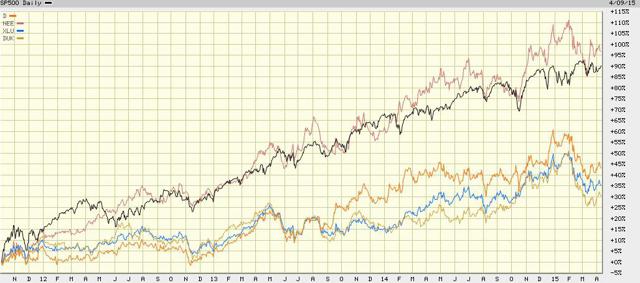 Source: BigCharts.com
Naturally, if you pick the right time frame on a graph you can make any company look good. But for NextEra there seems to be something of a pattern here, as graphed below.
Since the most recent hefty correction in Q3 of 2014, where the S&P is up 12%, NextEra is at it again, beating the broader market with gains of 13.5%. Meanwhile, Dominion has managed to beat the utility sector for a second time, rising 8% versus XLU's 4%. The largest gorilla in the room, Duke, however, is still at the bottom with a slight loss of 2%.
Clearly, then, despite all players moving to the same music, not all end up with a chair when the music stops, with some landing flat on the floor. To help us spot which utility has the better chances of not falling down we'll need to look at their earnings growth forecasts.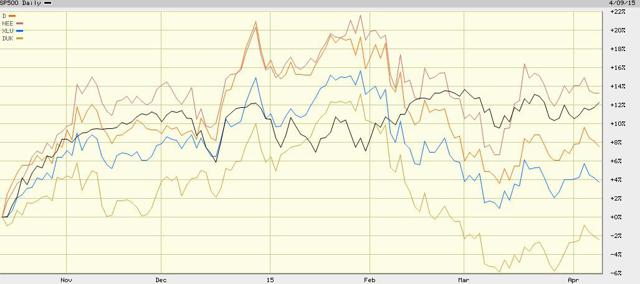 Source: BigCharts.com
For the Electric Utilities industry as a whole, earnings growth is expected to be as it usually is for the utilities, rather flat, as tabled below where green indicates outperformance while yellow denotes underperformance relative to the broader market.
During almost every time period forecasted, the industry's earnings are expected to under-grow the S&P's earnings growth with the exception of 2015 overall. Mind the current quarter shrinkage, too.

Zooming in a little closer, our new largest three U.S. companies in the Electric Utilities industry are not expected to fare much better than their industry, though there are one or two impressive growth spurts to look forward to, as tabled below.
Over the current quarter, all three companies are seen under-growing the S&P, with Duke and Dominion shrinking by 6% each, while NextEra beats them with a goose egg.
Yet by the next quarter, Dominion really cranks up its turbines with outstanding growth of more than 22%, beating its two rivals and nearly doubling the S&P.
Over the longer term, however, all three are once again back down on Earth, with earnings growing at half the market's rate in 2016, improving slightly to a modest underperformance by one to three percentage points annually over the next five years.

Yet there is more than earnings growth to consider when sizing up a company as a potential investment. How do the three compare against one another in other metrics, and which makes the best investment?
Let's answer that by comparing their company fundamentals using the following format: a) financial comparisons, b) estimates and analyst recommendations, and c) rankings with accompanying data table. As we compare each metric, the best performing company will be shaded green while the worst performing will be shaded yellow, which will later be tallied for the final ranking.
A) Financial Comparisons
• Market Capitalization: While company size does not necessarily imply an advantage and is thus not ranked, it is important as a denominator against which other financial data will be compared for ranking.

• Growth: Since revenues and expenses can vary greatly from one season to another, growth is measured on a year-over-year quarterly basis, where Q1 of this year is compared to Q1 of the previous year, for example.
In the most recently reported quarter, NextEra delivered the greatest trailing revenue and earnings growth, where Dominion and Duke split the smallest growth between them, which were negative denoting shrinkage.

• Profitability: A company's margins are important in determining how much profit the company generates from its sales. Operating margin indicates the percentage earned after operating costs, such as labor, materials, and overhead. Profit margin indicates the profit left over after operating costs plus all other costs, including debt, interest, taxes and depreciation.
Of our three contestants, NextEra enjoyed the widest profit and operating margins, while Duke contended with the narrowest.

• Management Effectiveness: Shareholders are keenly interested in management's ability to do more with what has been given to it. Management's effectiveness is measured by the returns generated from the assets under its control, and from the equity invested into the company by shareholders.
For their managerial performance, NextEra's management team delivered the greatest returns on assets and equity, while Duke's team delivered the smallest returns on both.

• Earnings Per Share: Of all the metrics, measuring a company's income, earnings per share is probably the most meaningful to shareholders, as this represents the value that the company is adding to each share outstanding. Since the number of shares outstanding varies from company to company, I prefer to convert EPS into a percentage of the current stock price to better determine where an investment could gain the most value.
Of the three companies compared here, NextEra provides common stock holders with the greatest diluted earnings per share gain as a percentage of its current share price, while Dominion's DEPS over current stock price is the lowest.

• Share Price Value: Even if a company outperforms its peers on all the above metrics, however, investors may still shy away from its stock if its price is already trading too high. This is where the stock price relative to forward earnings and company book value come under scrutiny, as well as the stock price relative to earnings relative to earnings growth, known as the PEG ratio. Lower ratios indicate the stock price is currently trading at a cheaper price than its peers, and might thus be a bargain.
Among our three combatants, Duke's stock is the cheapest relative to forward earnings and company book value, where NextEra's is the cheapest relative to 5-year PEG. At the overpriced end of the scale, where Dominion's stock is the most expensive relative to earnings and book, Duke's is the costliest relative to PEG.

B) Estimates and Analyst Recommendations
Of course, no matter how skilled we perceive ourselves to be at gauging a stock's prospects as an investment, we'd be wise to at least consider what professional analysts and the companies themselves are projecting - including estimated future earnings per share and the growth rate of those earnings, stock price targets, and buy/sell recommendations.
• Earnings Estimates: To properly compare estimated future earnings per share across multiple companies, we would need to convert them into a percentage of their stocks' current prices.
Of our three specimens, Duke offers the highest percentage of earnings over current stock price for the current quarter and next year, where NextEra offers it for the next quarter. At the low end of the spectrum, where NextEra offers the lowest percentage for the current quarter, Dominion offers it for all other time periods.

• Earnings Growth: For long-term investors this metric is one of the most important to consider, as it denotes the percentage by which earnings are expected to grow or shrink as compared to earnings from corresponding periods a year prior.
For earnings growth, NextEra offers the greatest growth in the current quarter, next year and beyond, where Dominion offers it next quarter and in the current year overall. At the low end of the scale, where Dominion offers the slowest growth in the current quarter and next year, Duke offers it next quarter and over the next five years.

• Price Targets: Like earnings estimates above, a company's stock price targets must also be converted into a percentage of its current price to properly compare multiple companies.
For their high, mean and low price targets over the coming 12 months, analysts believe NextEra's stock offers the least upside potential and least downside risk, while Dominion's offers the greatest upside and greatest downside.
It must be noted, however, that NextEra's stock is already trading below its low target. While this may mean increased potential for a sharp move upward, it may warrant a reassessment of future expectations.

• Buy/Sell Recommendations: After all is said and done, perhaps the one gauge that sums it all up are analyst recommendations. These have been converted into the percentage of analysts recommending each level. However, I factor only the strong buy and buy recommendations into the ranking. Hold, underperform and sell recommendations are not ranked since they are determined after determining the winners of the strong buy and buy categories, and would only be negating those winners of their duly earned titles.
Of our three contenders, NextEra is best recommended with 5 strong buys and 11 buys representing a combined 84.21% of its 19 analysts, followed by Dominion with 4 strong buy and 7 buy ratings representing a combined 55% of its 20 analysts, and lastly by Duke with 2 strong buy and 3 buy recommendations representing 27.78% of its 18 analysts.

C) Rankings
Having crunched all the numbers and compared all the projections, the time has come to tally up the wins and losses and rank our three competitors against one another.
In the table below, you will find all of the data considered above plus a few others not reviewed. Here is where using a company's market cap as a denominator comes into play, as much of the data in the table has been converted into a percentage of market cap for a fair comparison.
The first and last placed companies are shaded. We then add together each company's finishes to determine its overall ranking, with first place finishes counting as merits while last place finishes count as demerits.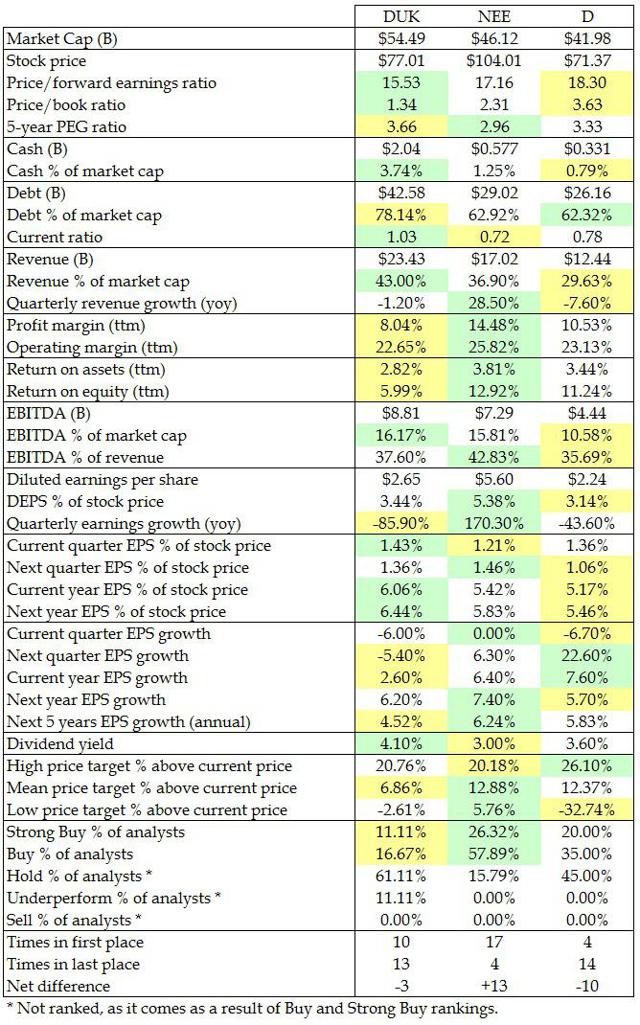 And the winner is… NextEra with a high voltage victory, outperforming in 17 metrics and underperforming in 4 for a net score of +13, followed by Duke with intermittent outages in second place, outperforming in 10 metrics and underperforming in 13 for a net score of -3, with Dominion left in total darkness in last place, outperforming in 4 metrics and underperforming in 14 for a net score of -10.
Where the Electric Utilities industry is expected to underperform the S&P broader market significantly this and next quarters and next year, and moderately beyond, the new largest three U.S. companies in the space are expected to live up to their industry's reputation as a lack-luster grower relative to the broader market - with shrinkage and slow growth near term (with the exception of a power surge by Dominion next quarter), and slight underperformance longer term.
Yet after taking all company fundamentals into consideration, NextEra Energy Inc. powers-up the brightest financials, given its lowest stock price to 5-year PEG, highest trailing revenue and earnings growth, widest profit and operating margins, greatest returns on assets and equity, highest EBITDA over revenue, highest diluted earnings over current stock price, highest future earnings over current stock price next quarter, highest future earnings growth nearest and longer terms, best mean and low price targets, and highest strong buy and buy recommendations percentages - decisively winning America's New 3 Largest Electric Utilities competition.