Management Forecasting Revenue Down More than 50%
Carbo Ceramics' (CRR) management team is setting the stage for a dismal first quarter, with major revenue declines, margin pressure and one-time charges all expected.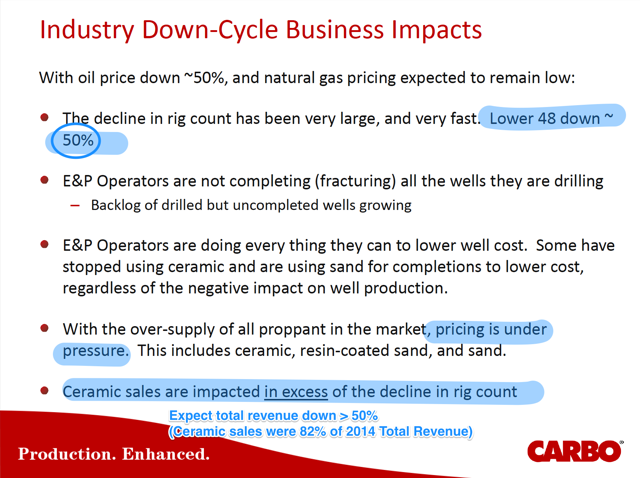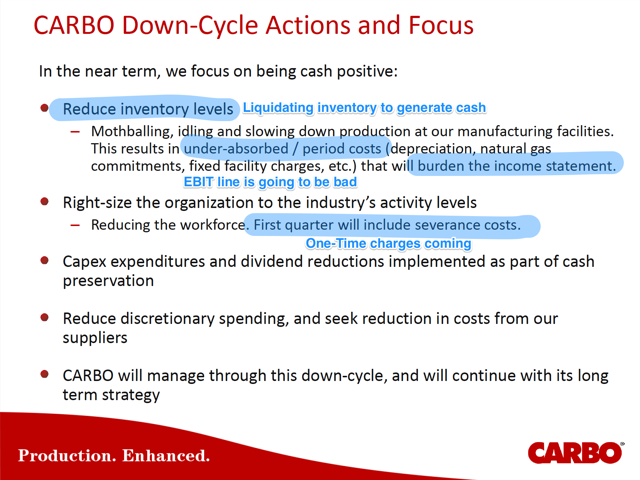 FracFocus Database Analysis
Given the severity of management's guidance, I decided to take a deep dive into the proppant industry, and recently completed an in depth analysis of completion trends using the public database FracFocus. FracFocus is not user friendly, as it has no database functionality. It only provides well-by-well PDF files. However, it does allow one to search for wells by proppant type, and best in class operators are now updating the database with minor delays, allowing for a real time look into completion trends.
FracFocus data reveals some troubling trends for the ceramics industry and for Carbo. Last year, significant investor attention was placed on Carbo when major customer Rosetta Resources (ROSE) switched to all-sand completions in the Eagle Ford. A review of the FracFocus database indicates further customer losses for the ceramics industry and Carbo.
2014 E&P M&A Deals Negatively Impacting Carbo
Two of last year's major E&P mergers are having a significant negative impact on Carbo: Whiting's (WLL) acquisition of Kodiak Oil and Gas, and Encana's (ECA) acquisition of Athlon Energy. Both deals closed at the end of the fourth quarter, and their impact only began to be felt in the first quarter. These acquisitions are likely to have an impact similar in scale to the loss of Rosetta in 2014.
Based on FracFocus data, it is likely that Kodiak was one of Carbo's top ten customers. Kodiak used ceramics as its primary proppant. However, Whiting is primarily using sand. Whiting still uses ceramics for a portion of its wells in McKenzie County, but ceramics are typically no more than 30% of the proppant volume for those wells. With the exception of Kodiak's Polar acreage, Whiting is now primarily using all-sand completions on the former Kodiak acreage.
Encana's acquisition of Athlon is likely to have a similar negative impact on Carbo. Athlon represented one of Carbo's top customers in the Midland Basin, giving Carbo some geographic diversity. However, since the acquisition closed, Encana has moved to all-sand completions. Based on FracFocus data, Athlon was likely a top ten customer for Carbo.
Baker Hughes/Halliburton Deal A Major Risk
Halliburton (HAL) is a primary distributor for Carbo and accounts for approximately thirty percent of Carbo's total sales. Noticeably absent from Carbo's top customers is Baker Hughes (BHI). Baker Hughes appears to have vertically integrated its ceramics manufacturing and sells ceramics under the brand name TerraProp. While it is not clear what TerraProp's manufacturing capacity is, if a combined HAL/BHI chooses to distribute TerraProp ceramics at the expense of Carbo's ceramics, Carbo is at significant risk of losing its most important distribution partner. The current market downturn exacerbates this risk as the proppant industry is oversupplied.
(Subsequent to publication, frac expert Frac4Crude pointed out in the comments section that TerraProp is a private label Chinese import. Thus, I am striking this section of my original thesis. Thanks to Frac4Crude).
Bakken Region is Increasingly Critical
A review of the FracFocus database indicates that approximately 60% percent of wells completed with ceramic proppants are coming from the Bakken region:

During its second quarter 2014 earnings call, Carbo downplayed the importance of the Bakken (source Seeking Alpha transcripts):
Marc Bianchi - Cowen and Company

Could you talk a little bit about market shares in the Bakken and may be some kind of proppant intensity, ceramic proppant intensity in the Bakken and how that's been changing and may be what you're seeing in terms of competition?

Gary Kolstad - President & CEO

Yes, I think some people get confused about that. I've seen articles where people think that's where most of the ceramic is in the U.S. and that's not the case with us anyway. So we have several other basins that are extremely big for us, and obviously we'll always have new one pop here and there. But the Bakken is very big for us. We don't deny that. We won't break out what percentage of it is, but we got a couple of other ones that are close to it.
However, since that time, Carbo has lost Rosetta Resources in the Eagle Ford, and has now lost Athlon in the Midland Basin. Today, Carbo's Bakken exposure is likely similar to industry averages. Therefore, it is critical to understand the market dynamic for ceramics in the Bakken.
Exxon Mobil Changes Its Completion Recipe in the Bakken
Throughout 2014, Exxon Mobil (XOM) used ceramics in its Bakken completions and was one of the top five end users for ceramics, accounting for approximately 8% of wells completed using ceramics, according to FracFocus data. In the first quarter of 2015, it appears Exxon has changed its Bakken completion recipe to all-sand.
Exxon's move to sand in the Bakken region is a material negative event for the ceramic proppants industry. Exxon's acreage position is in the core of Northeast McKenzie, the historical sweet spot for ceramics in the Bakken. While Carbo management claims that all-sand completions sacrifice EUR for upfront cost savings, it is unlikely that Exxon would be switching to sand if the move was not supported by long-term EUR improvements.
Looking at the well data, Exxon was using competing ceramics vendors and was not a major Carbo customer at year-end. However, the loss of Exxon as a customer will undoubtedly put further pressure on the entire industry, accelerating pricing pressure in what is already a challenging downturn.
More Bakken Operators Making the Switch to Sand
In the most recent Q4 earnings calls, several other key operators indicated they were considering switching to all-sand completions, or that they already have done so.
QEP Resources (QEP) has switched to an upsized all-sand completion. QEP is a top ten producer in the Bakken.
Oasis (OAS), a historically all ceramics player and a top ten Bakken producer, indicated it is considering switching to all-sand. Oasis indicated it is taking the transition slowly, so any final decision by Oasis is likely to weigh on Carbo's back half in 2015 (source Seeking Alpha):
Taylor L. Reid - President, Chief Operating Officer and Director

"We have tested 2 wells with close to 100% sand and then we have some additional wells, additional 2 or 3, where we've done a combination of sand and resin-coated sand. And early time, the results on those wells look similar to other slickwater wells around them but it's very early time... If we do go to all sand, you could expect an incremental savings on our wells of about $1 million."
WPX Energy (WPX), a former all ceramics Bakken operator, has begun experimenting with all-sand completions and is posting impressive results.
Halcon Resources (HK), is switching to all-sand, and had the following to say on its Q4 call (source Seeking Alpha):
Floyd C. Wilson - Chairman & Chief Executive Officer

Looks like we're going all the way to white sand. We've had enough wells and our peers up there have drilled enough wells with this. We haven't really seen a huge difference and it saves a lot of money per well, $0.5 million to $1 million . . .

Charles E. Cusack - Chief Operating Officer & Executive Vice President

That pretty well covers it. But the key is what Floyd says: going 100% white sand. And it cuts that $0.5 million or so off of it. And we have - with our large non-operator position, we're in with a lot of other companies and there's enough production history now from wells that just have 100% white sand, and we don't see any difference in the basin. So we're very confident going into that direction.
Carbo Customers Increasingly Concentrated
Carbo has some major customers that remain loyal to its ceramic proppants. However, these customers are increasingly concentrated, and any further attrition from these remaining customers would significantly impact the company.
Based on FracFocus data, it would appear that Carbo's largest remaining customer is ConocoPhillips (COP). Conoco consistently uses ceramics, including premium ceramics, on its Bakken acreage along the Nesson Anticline.
Continental Resources (CLR) is a top five producer in the Bakken and continues to use ceramics as well. Continental appears to be experimenting with numerous completion recipes ranging from all-sand to all-ceramics. As 2014 progressed, however, Continental increasingly used Baker Hughes as a service provider. As discussed above, Baker Hughes is not a Carbo customer.
Newfield (NFX) is another provider that continues to use ceramics in its Bakken and Utah completions. In fact, it would appear Newfield is a customer for one of Carbo's product introductions: SCALEGUARD. SCALEGUARD volumes appear to be only a minor component of Newfield's proppant mix.
Whiting, as mentioned above, continues to be a buyer of Carbo's ceramics, but only for its acreage in Northeast McKenzie.
Given Exxon's move to all-sand completions, it is not without risk that these major Carbo customers will eventually follow suit, but currently, no evidence exists that these customer are considering making such a switch.
Negative Mix Shift
Another challenge for Carbo is a negative mix shift. Historically, Carbo has had some success selling premium ceramics featuring corundum and bauxite. However, a review of recent ceramic wells shows that operators have increasingly shifted to low-end kaolin based ceramics. In Q1, only a handful of wells appear to be using premium bauxite proppants, another major headwind for Carbo. This may be a temporary cyclical event, or it may reflect a secular shift away from premium proppants.
Carbo Operating Model
While Carbo has already seen a significant decline in its stock price, a close look at current industry dynamics reveals a continued deterioration in Carbo's business, including the loss of major customers. Based on my analysis, it's likely that Carbo's revenues will decline by a minimum of 60% in 2015. Given the fixed costs of the business, EBITDA losses are now likely for Carbo. This excludes one-time charges and write downs to inventory and PP&E, which are now likely.
Carbo Ceramics
Company Operating Projections ($ in Millions) (1)
2012
2013
2014
2015
2016
Proppant Sales Volumes
Ceramic
1,649.0
1,718.0
1,618.0
889.9
1,156.9
Resin Coated Sand
57.0
241.0
162.0
105.3
136.9
Northern White Sand
6.0
101.0
1,131.0
1,017.9
1,323.3
Total Proppant Sales
1,712.0
2,060.0
2,911.0
2,013.1
2,617.0
YoY Volume Growth
Ceramic
4.2%
(5.8%)
(45.0%)
30.0%
Resin Coated Sand
322.8%
(32.8%)
(35.0%)
30.0%
Northern White Sand
1583.3%
1019.8%
(10.0%)
30.0%
Total
20.3%
41.3%
(30.8%)
30.0%
Price per Pound
Ceramic
0.348
0.324
0.330
0.198
0.218
Resin Coated Sand
0.220
0.220
0.220
0.132
0.145
Northern White Sand
0.020
0.025
0.030
0.024
0.026
Average Price per Pound
0.343
0.297
0.207
0.107
0.117
YoY Price Growth
Ceramic
(7.0%)
1.9%
(40.0%)
10.0%
Resin Coated Sand
0.0%
0.0%
(40.0%)
10.0%
Northern White Sand
25.0%
20.0%
(20.0%)
10.0%
Total
(13.4%)
(30.2%)
(48.6%)
10.0%
Revenue
Ceramic
$574.6
$556.6
$533.9
$176.2
$252.0
RCS
12.5
53.0
35.6
13.9
19.9
Sand
0.1
2.5
33.9
24.4
34.9
Other
58.3
55.2
44.8
44.8
44.8
Gross Revenue
$645.5
$667.4
$648.3
$259.3
$351.6
YoY Revenue Growth
Ceramic
(3.1%)
(4.1%)
(67.0%)
43.0%
RCS
322.8%
(32.8%)
(61.0%)
43.0%
Sand
2004.2%
1243.8%
(28.0%)
43.0%
Other
(5.3%)
(18.8%)
0.0%
0.0%
Total
3.4%
(2.9%)
(60.0%)
35.6%
COGS
Fixed Operating
$253.2
$284.6
$280.2
$238.2
$262.0
Variable Operating Costs
168.8
189.8
186.8
74.7
97.1
Total COGS
$422.0
$474.4
$467.0
$312.9
$359.2
Fixed as % of COGS
60.0%
60.0%
60.0%
76.1%
73.0%
Variable as % of COGS
40.0%
40.0%
40.0%
23.9%
27.0%
Fixed Change %
12.4%
(1.6%)
(15.0%)
10.0%
Variable Change %
12.4%
(1.6%)
(60.0%)
30.0%
Total COGS Change %
12.4%
(1.6%)
(33.0%)
14.8%
Gross Profit
$223.5
$193.0
$181.3
($53.6)
($7.6)
Margin as % of Gross
34.6%
28.9%
28.0%
(20.7%)
(2.2%)
SG&A
$64.0
$68.4
$72.5
$35.0
$45.7
SG&A as % of Revenue
9.9%
10.3%
11.2%
13.5%
13.0%
Total EBIT
$159.5
$124.5
$108.7
($88.6)
($53.3)
Total EBIT Margin
24.7%
18.7%
16.8%
(34.2%)
(15.2%)
Depreciation
44.9
47.5
50.9
55.0
55.0
EBITDA
$204.4
$172.0
$159.6
($33.6)
$1.7
Total EBITDA Margin
31.7%
25.8%
24.6%
(12.9%)
0.5%
Capex
77.2
99.9
161.5
80.7
40.0
As % of Revenue
12.0%
15.0%
24.9%
31.1%
11.4%
EBITDA - Capex
$127.2
$72.1
($1.9)
($114.3)
($38.3)
Leverage and Liquidity
Carbo is often given credit for low leverage. However, this will not be the case going forward. Year end net debt was $1mm, but the 10-K notes that the company's total debt had increased to $35mm by February. It is likely the company will quickly use up its cash balance to pay out upcoming one-time charges, leaving the company with at least $25mm in net debt at the end of the first quarter. The company has $65mm available on its $100mm credit facility.
Assuming a 60% decline in revenue, EBITDA - Capex could easily exceed negative $100mm for the year. Given those levels, liquidity will become a problem for the company as the year progresses. Without a V-shaped oil recovery, debt levels will begin to rise rapidly and will end 2015 at approximately $100mm, negatively impacting the company's equity valuation. Even assuming a healthy recovery in 2016, Debt/EBITDA levels will not be sustainable. A dilutive equity raise and a suspension of the dividend are likely to be required.
Capitalization
| | | | | |
| --- | --- | --- | --- | --- |
| CRR Price | | | | $31.19 |
| Shares Outstanding | | | | 23.3 |
| Restricted Stock | | | | 0.4 |
| TSM Options | | | | 0.0 |
| TSM FD Shares | | | | 23.6 |
| | | | | |
| Equity Value ($mm) | | | | $737 |
| Net Debt | | | | $1 |
| Other Obligations | | | | $0 |
| Enterprise Value ($mm) | | | | $738 |
Risks to Investment Thesis
Until clear data emerges supporting ceramic proppant usage in new vintages of wells, Carbo is unlikely to see a quick recovery. However, some significant risks remain for a short thesis. Carbo is a heavily shorted stock, with short interest at 35% of the outstanding shares. Therefore, a potential short squeeze is a risk.
The biggest risk to a short thesis is a potential acquisition of Carbo by a service provider or E&P operator wishing to vertically integrate ceramics manufacturing into its operations. This is certainly not impossible. Numerous operators such as EOG and Pioneer (PXD) have moved to vertically integrate frac sand providers.
A Quick Primer on Proppants
Proppants are a key ingredient in the fracturing of oil and gas reserves. Proppants are the largest non-water ingredient in a typical frac fluid mix. Proppants keep the fractured oil and gas well "propped" open, allowing for oil and gas recovery. See Wikipedia for basic information. For a more technical understanding of the fracturing process, this Baker Hughes presentation is excellent.
There are three main categories of proppant: raw sand, resin-coated sand and ceramics. Raw sand is the cheapest and comes in several sizes and qualities. Ceramics are made from a variety of metal ores, and claim to offer superior strength and performance, but charge a premium price. Resin-coated sand is a hybrid, attempting to offer some of the benefits of ceramics, but at a lower price point. Major frac sand companies include Fairmount Santrol (FMSA), US Silica (SLCA), Hi-Crush Partners (HCLP), and Emerge Energy Services (EMES).

According to PacWest Consulting Partners, overall proppant consumption on a per pound basis has been growing at a 30% CAGR heading into the current industry downturn. Increases in the total number of horizontal wells fractured, frac stages per well and pounds of proppant per stage have all contributed to this high rate of growth. However, raw sand has seen almost all of the growth, with resin-coated sand only having modest growth and ceramics volumes flat. Resin-coated sand and ceramics have both lost share in the number of wells using them and in the percent of proppant per well.
While ceramics cost more than ten times raw sand at the source, transportation costs disproportionately impact the price of raw sand. For example, Northern White Frac Sand costs between $60-$70/ton at the mine, but typically costs $120-$160/ton at the basin after rail transportation costs. In 2014, Carbo realized a price of $600/ton for its ceramic products. Thus, in basin pricing is typically 4-6x higher for ceramics. Given the historical pricing disparity between sand and ceramics, most E&P customers have chosen to frac with sand. According to a Freedonia Group study, raw sand accounted for 81% proppant volumes by weight in 2013, and that likely increased to nearly 90% of proppant volumes in 2014, as frac sand continued to take share.
Are Ceramics Better?
A host of Society of Petroleum Engineers studies argue that ceramics are superior proppants given their higher crush strength and more uniform shape.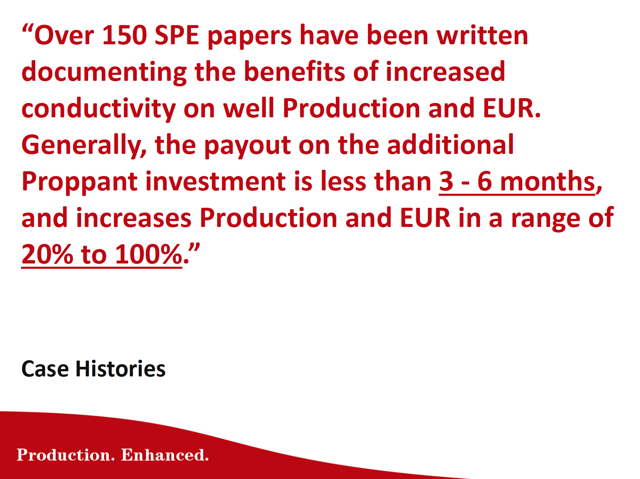 However, most of the cited studies are focused on historical data using antiquated completion techniques, with far fewer stages per well and far less proppant per well. Furthermore, the studies are typically sponsored by ceramics manufacturers. Ceramics manufacturers, like Carbo, argue that EURs (Estimated Ultimate Recoveries) are better with ceramics even if IP rates are the same or better with sand. The logic behind this is that, over time, sand degrades and compromises the ultimate recoveries of a well. It is challenging to analyze these claims given the rapid evolution of completion techniques and the amount of time required to evaluate EURs. Moreover, given the high decline rates of shale wells, most E&P operators are motivated more by IRRs than by EURs.
Carbo, in its most recent investor presentations, cites several offset results as evidence of its superior product, but the data presented is underwhelming. Small sample sizes, an absence of data on key regions and a lack of backup data on offset wells, is in my mind illustrative of the fact that a compelling case for ceramic proppants outperforming sand in the latest generation of wells is not an easy one to make. If the data supported ceramics, Carbo would be trotting out impressive studies from McKenzie, Midland and Karnes counties showing the improved performance of ceramics v. sand. They are not able to do so.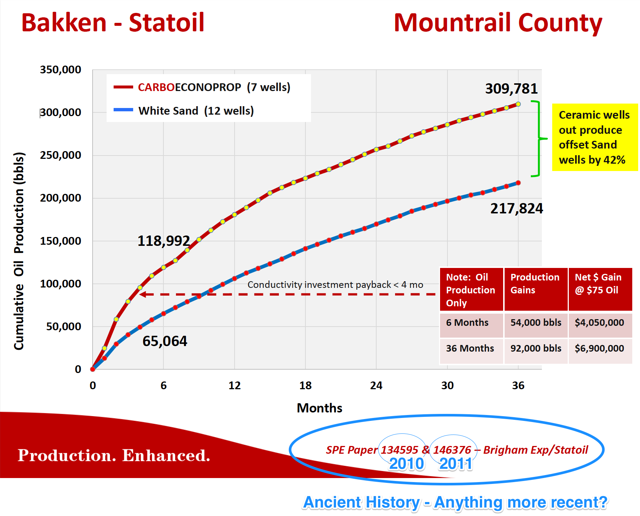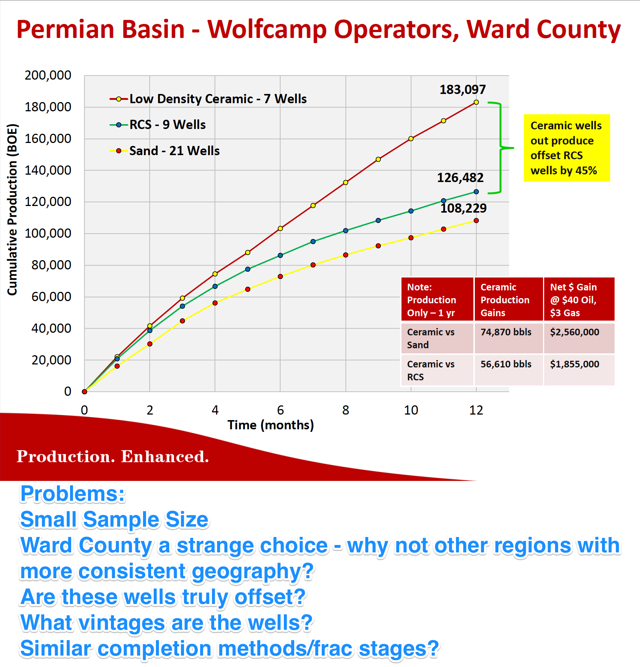 Author's Note
The above report is based on my current working knowledge of the proppants industry. It is possible that I may have some facts wrong. I am open to constructive feedback. If you are able to identify any errors or mistakes, please let me know and provide backup data, and I will attempt to resolve potential discrepancies to the best of my ability. I look forward to feedback from the SA community.