J.C. Penney Company (NYSE:JCP) is a stock that has been on a wild ride. Since legendary activist investor Bill Ackman got involved last fall, the stock has gone from the mid $20s to $41 and then back again. Last week, in spite of a horrendous sales report (same-store sales down 2.6% and total sales down 6.6%), JCPenney caught a break from the market and moved up to close at $33.69 on Friday. This makes JCP a major short opportunity (again).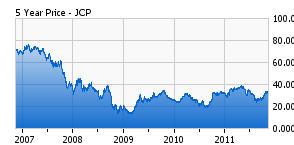 JCP has a fairly rich valuation at 24X analyst estimates for FY12 (source: Yahoo Finance). In large part, this probably reflects high hopes for the new management team, led by Ron Johnson. Johnson created the Apple Store and led it to great success. Investors clearly expect a strong rebound in JCPenney's results under his leadership. For the foreseeable future, however, JCP has bleak prospects:
The Hidden Hand of SEO: JCP caught some negative headlines back in February when the New York Times found that their search engine optimization firm had manipulated JCPenney's Google search rankings. Google subsequently penalized JCP's search results, while executives from JCPenney pleaded ignorance and fired their SEO firm. This headline has faded into the background by now. That said, it's hard not to notice that in a tough month for all retailers, Macy's (NYSE:M) managed a nearly 40% gain in online sales, whereas Penney's online sales came in lower than last year! Penney is going up against tough comp. sales in the online segment because its results last year were artificially boosted by its manipulation of online search results. This headwind will continue next quarter and could lead to yet more disappointing same-store sales figures.
Disappearing Cash: JCPenney foolishly spent $900 million earlier this year buying back stock at $37 a share. Had management waited a few months, JCP could have executed the buyback at a much lower price. In light of the company's recent purchase of the Liz Claiborne (LIZ) brand (offset to some extent by the sale of its outlet business), the likely Q3 loss, and the expensive buyback, JCP's balance sheet is in much worse shape than it was at this time last year. Given the recent trend of shrinking sales and profits, this could lead to a credit rating downgrade in the near future.
Struggling Consumers: Most importantly, JCP appeals to a middle class demographic that is not doing well in today's economy. This (along with the SEO issue) is why Penney hasn't had strong sales trends since February. While JCPenney last week reported total sales down by nearly 5% in Q3, analysts are currently projecting sales down by less than 1% in Q4. Sales trends are going the wrong way for JCP, and this target seems far too ambitious. Disappointing sales and/or profit guidance on next week's earnings call could finally lead investors to abandon the stock for good.
Given the issues highlighted here, JCP should probably be trading around $25 today: a slight premium to book value and roughly 18X earnings. Fundamentally, the company is having and will continue to have difficulty creating value for shareholders because of the sluggish consumer environment. Unemployment and high gas prices are clearly hurting JCPenney's store traffic. In the long run, Ron Johnson may be able to turn this ship around, but for now it's headed south!
Disclosure: I am short JCP.