Is it time to flee to safety? With the economic and political climates only becoming more tumultuous I have been paying closer attention to dividend stocks. We all know about the blue chip dividend companies but there are attractive companies with high yields that are going ex-dividend every week. This strategy can work in one of two ways: Either you buy before the ex-date to receive the dividend or buy after if the stock declines far below the after-tax amount of the dividend.
Buying the stock to receive the dividend is intuitive but many have contacted me requesting further details on the second strategy. Investopedia has a great example of how this works. To explain this, I will use AT&T (NYSE:T) as an example. AT&T declared a $.43 dividend to shareholders of record on October 10, 2011. On the ex-dividend date the stock price should decline by the after-tax dividend amount, with an assumed tax rate of approximately 15% because many dividends qualify for a lower tax rate. As a result, an investor would expect the stock price to decline by $.37 = [$.43 * (1-.15)]. If AT&T declined by more than $.37 in the absence of negative news you might have an attractive opportunity on your hands. Executing this strategy can generate outsized returns over short periods of times.
To focus on these opportunities I ran a screen with a focus on relative safety for the investments. Since this is a high yield quest I began with a specification of a dividend yield greater than four percent and an ex-dividend date within the next week. To provide some layer of safety I narrowed down the environment by looking at companies with market capitalizations greater than one billion, PEs between zero and twenty, and institutional holding percentage of at least 25%. While not a precise requirement, I prefer companies that have underperformed the S&P 500 year-to-date as it indicates limited downside relative to peers. This is summarized below:
Dividend Yield ≥ 4.0%
Ex-Dividend Date = Next Week
Market Capitalization ≥ $1B
PE Ratio: 0-20
Institutional Ownership ≥ 25%
After applying this screen I arrived at these potential trades. Although I envision these as short-term trading ideas, you still need to be careful. The information presented below should simply be a starting point for further research.
Olin Corporation (NYSE:OLN): 4.15% Yield – Ex-Dividend 11/8
Olin operates two distinct service lines: Chlor Alkali Products (chemical manufacturer) and Winchester (firearms and the related products). Neither of these are high growth businesses; however, they are both stable earners that can afford to return money to shareholders. Sleepy, low-risk companies that fit the mold (i.e. low PE, high institutional ownership, and YTD underperformance) are exactly what you are looking for when trying to find ex-dividend carry plays.
Entergy Company (NYSE:ETR): 4.77% Yield – Ex-Dividend 11/8
Entergy is an electric power production and retail electric distribution company that services over two million customers in the Southern U.S. with a focus on nuclear power. Entergy beat out a crowded field of electric utilities that dominated this week's screen. With over 40% of the hits involving utilities I had to make a difficult choice but Entergy has the lowest PE, highest institutional holdings, a respectable market cap, and is the only one to have underperformed the S&P year-to-date. As I stated last week about The Southern Company (NYSE:SO), "while slight geographical differences exist for regional utilities, the underlying business is essentially the same: a stable, cash-cow business that returns most profits to investors via dividends. I have successfully owned utility companies in the northeast U.S."
Eli Lilly & Co (NYSE:LLY): 5.15% Yield – Ex-Dividend 11/10
Eli Lilly is one of the largest pharmaceutical companies in the world with drugs focusing on cancer, men's health, osteoporosis, and many other medical issues. Eli has one of the stronger pipelines in the industry and historically pharma companies have been able to maintain their high payout ratios so the yield appears to be safe. For reference, Eli has the second highest yield this week trailing only printing company R.R. Donnelley (NASDAQ:RRD) – a business which is too risky for me. Eli bests much larger Pfizer (NYSE:PFE) due to its higher dividend, lower PE and, 15% relative underperformance.
Cablevision Systems Corporation (NYSE:CVC): 4.00% Yield – Ex-Dividend 11/8
Cablevision is an entertainment conglomerate that derives the bulk of its earnings from cable, Internet and telecommunication services provided to customers in the New York region. As with Olin, Cablevision does not operate in a very high growth area. Cablevision has been severely punished in 2011 as it lags the S&P 500 by nearly 40%, indicating limited downside on a potential trade. Having said that, I think the other trades presented offer a more attractive risk/return profile.
Vectren Corporation (NYSE:VVC): 4.96% Yield – Ex-Dividend 11/10
Vectren is also an energy company like Entergy but has an increased focus on natural gas and coal distribution and transportation. Personally I like the exposure to natural gas that VVC presents but this is on the higher end of the risk spectrum due to the high PE and high outperformance this year. Remember to be calm with your trades and never to enter a position that you would be uncomfortable about holding long.
The information presented above has been summarized below.
Click to enlarge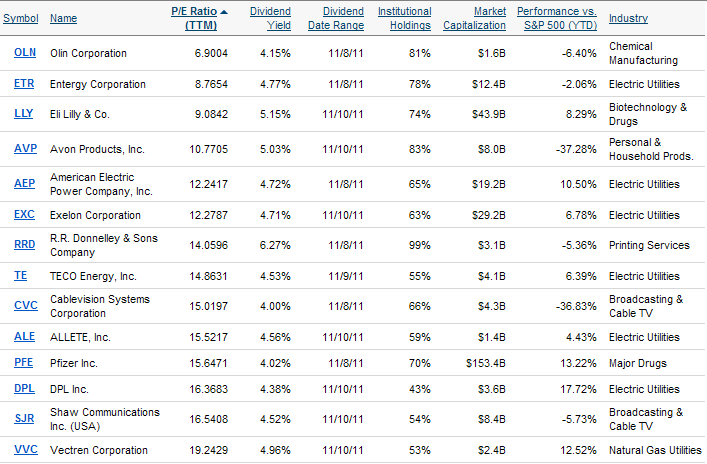 Disclosure: I am long T.