Introduction and Background
This article is an update to my 401K Portfolio, which I have been profiling as it has been transitioned from investments in mutual funds into a dividend growth portfolio. With the change in investing styles, my focus has also changed from one that relied strictly on capital gains to an emphasis that now focuses more on a growing stream of dividend income, while still taking portfolio growth and future capital gains into consideration. It is my hope that as I continue to grow my dividend income stream, I will eventually be able to use this portfolio as a significant portion of the funding for my future retirement.
This article marks the 9th part in the series, and I have been very satisfied with how the portfolio has performed thus far, and also with my growth as an investor through the process of sharing and reporting on my progress.
Market Overview and Portfolio Highlights
With a swing from lows to highs of over 5%, the market has provided investors with a wild ride to start 2015. In the end, these ups and downs culminated in a scant 0.47% gain over the last 3 months.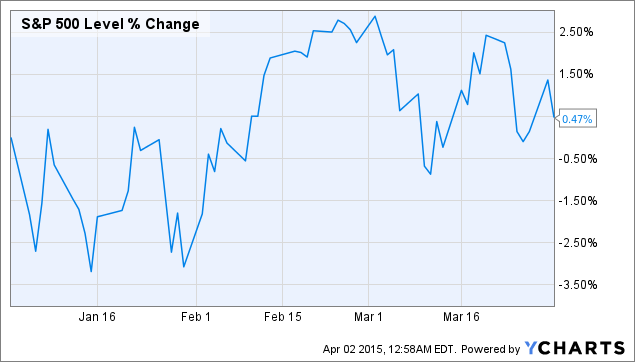 In the meantime, my DGI portfolio continued to plod along, steadily growing in value and producing an ever-increasing dividend income stream. That said, there was still some volatility in the portfolio, most of which was self-induced, as I made a few moves in hopes of cutting some underperformers and adding some new companies to the mix. These moves will be highlighted below, with my thought process behind each transaction.
On January 28th, I sold my shares in Mattel (NASDAQ:MAT) for $826, which was a loss of $310 on my $1136 cost basis.
I never like selling something for a loss, but after several quarters of having Mattel on my close watch list, I finally had enough after continued disappointment with the company. Some of which included: lowered credit rating from BBB+ to BBB by S&P, lowered earnings guidance, a dividend freeze at $0.38 per share, and just an overall underperformance in a changing children's toy environment.
In the long run, Mattel may get things figured out and right the ship, but recent events suggests it won't be anytime soon. With the loss of the Frozen line to Hasbro and continuing decline in the Barbie franchise, I got to the point of investing on hope rather than reality, and that isn't a very sound investing principle.
On January 30th, I sold my shares on Coach (COH) for $386, which was a loss of $118 on my $504 cost basis.
Similar to Mattel, Coach is another company that has been on my potential sale list for some time. The company was rated BBB- by S&P in December with a negative outlook, and the company has had a long string of disappointing earnings results. In addition, CFO Jane Nielsen guided for a frozen dividend of an annual $1.35 per share for the remainder of 2015. With uncertainty remaining on the direction of the company going forward, I decided it was time to move on to other ideas with my capital.
With the proceeds from these two sales, I decided to add to my position in AT&T (NYSE:T) and begin a new position in Visa (NYSE:V). AT&T offered a similar yield to what I was receiving with Mattel, but has a much longer track record of dividend payments, and is a higher-quality company with a BBB+ credit rating. It has also been active on the M&A front with the soon-to-be-completed acquisition of DirecTV (NYSE:DTV) and wireless assets in Mexico. With shares currently yielding over 5.7%, I think this was a great time to add to my position.
Visa is a company that I have been wanting to add for some time, but had just never been able to pull the trigger. After the company announced a 4:1 stock split and another great earnings report, I decided it was time to take the plunge and get it into my portfolio. The company has grown earnings at nearly 25% annually over the last 5 years, and is projected to continue growing at greater than 15% going forward. It has no debt, an A+ credit rating, and in addition to paying a growing dividend, is also aggressively buying back and retiring shares with the strong cash flows it produces. I am giving up some dividend income in the near term, but over the next 20 years, I am confident that the potential capital gains from this high-growth company will more than make up for it.
On February 25th, I sold my shares in Wal-Mart (NYSE:WMT) for $603, which was a gain of $87 on my $516 investment.
My thoughts behind this sale can be found in the article "No Dividend Conspiracy at Wal-Mart; Its Growth Has Simply Stalled", in which I wrote about what I see as the potential for future dividend growth with the company. In short, I think the trend of recent ~2% dividend increases may continue for the next few years as the company continues to spend large amounts of capital on growth initiatives and works to get the payout ratio back down to normal levels. While I still think Wal-Mart is a great company and won't be going away anytime soon, I also think there are better alternatives for my portfolio that will provide either a higher yield or higher growth of dividends.
I've been wanting to expand my exposure to the healthcare sector, and after my sale in Wal-Mart, I spent a week debating between Gilead, AbbVie, and Amgen for my portfolio. In the end I decided to go with the two companies, Gilead and AbbVie, that are trading at the most attractive valuations and offer the best entry point with at current prices.
Gilead recently announced its intentions to implement a dividend, and also announced a massive $15B share repurchase program as a use of cash from the company's growing HCV franchise. The price seems right, as the stock is trading at just ten times forward earnings, and there are plenty of catalysts for future growth, with HCV, HIV and other drugs in the pipeline.
AbbVie is also trading at attractive levels, with a forward PE of under 12 and a dividend yield of around 3.6%. The company also came out with big news the day of my purchase, as it announced the acquisition of cancer drug maker Pharmacyclics (NASDAQ:PCYC). It is expected that this acquisition should lead to a strong growth in sales over the next few years, and should help shift focus from the potential loss of sales of Humira. Like Gilead, AbbVie is also active on the HCV front with its Viekira Pak treatment. The drug doesn't seem to be on quite the same growth trajectory as Gilead's Harvoni and Solvaldi, but should still provide growing earnings and revenues in the coming years. With an "A" credit rating from S&P and a previous corporate culture of dividend growth from parent Abbott Labs, this seems to be a quality company that is worth holding for the long term.
With those trades now entered, here stands the portfolio as of the end of the quarter.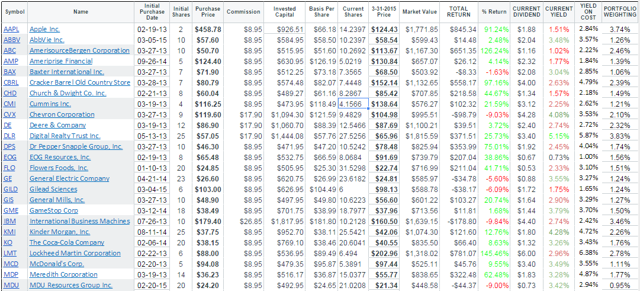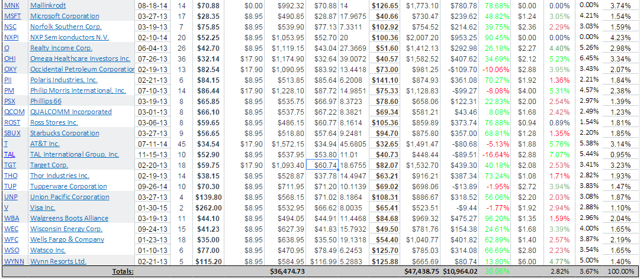 Dividend Announcements and Progress
My favorite part of these updates; listing all of the dividend increase announcements during the last quarter. The first quarter of the year is generally one of the busiest, and that held true in 2015, as sixteen companies announced increases during the quarter.
Watsco (NYSE:WSO) - Raised the quarterly dividend from $0.60 to $0.70, a sequential increase of 16.67% and a 75% increase over last year's January payment of $0.40.
Omega Healthcare Investors (NYSE:OHI) - Raised the quarterly dividend from $0.52 to $0.53, a sequential increase of 1.92% and an 8.16% increase over last year's January payment of $0.49.
Norfolk Southern (NYSE:NSC) - Raised the quarterly dividend from $0.57 to $0.59, a sequential increase of 3.51% and a 9.26% increase over last year's February payment of $0.54.
Meredith Corp. (NYSE:MDP) - Raised the quarterly dividend from $0.4325 to $0.4575, an increase of 5.78%.
Church & Dwight (NYSE:CHD) - Raised the quarterly dividend from $0.31 to $0.335, an increase of 8.06%.
Union Pacific (NYSE:UNP) - Raised the quarterly dividend from $0.50 to $0.55, a sequential increase of 10% and an increase of 20.88% over last year's February payment of $0.455.
Dr Pepper Snapple (NYSE:DPS) - Raised the quarterly dividend from $0.41 to $0.48, an increase of 17.07%.
Wal-Mart - Raised the quarterly dividend from $0.48 to $0.49, an increase of 2.08%.
Coca-Cola (NYSE:KO) - Raised the quarterly dividend from $0.305 to $0.33, an increase of 8.2%.
Ross Stores (NASDAQ:ROST) - Raised the quarterly dividend from $0.20 to $0.235, an increase of 17.5%.
Digital Realty Trust (NYSE:DLR) - Raised the quarterly dividend from $0.83 to $0.85, an increase of 2.41%.
GameStop (NYSE:GME) - Raised the quarterly dividend from $0.33 to $0.36, an increase of 9.09%.
Qualcomm (NASDAQ:QCOM) - Raised the quarterly dividend from $0.42 to $0.48, an increase of 14.29%.
General Mills (NYSE:GIS) - Raised the quarterly dividend from $0.41 to $0.44, an increase of 7.32%.
Realty Income (NYSE:O) - Raised the monthly dividend from $0.189 to $0.1895, a sequential increase of 0.26% and an increase of 4.03% over last year's dividend payment of $0.1821667.
Wells Fargo (NYSE:WFC) - Raised the quarterly dividend from $0.35 to $0.375, an increase of 7.14%.
In all, the sixteen announcements average out to a 13.5% year-over-year increase. Taking Watsco's outsized increase out of the mix drops the average down to 9.4%, which is still impressive considering the number of higher-yielding REITs in the group. The 13.5% overall average is the best in recent months, topping the 12.8% increase seen with the previous update.
Here are the actual dividends collected for the quarter, and how it compares with the historical dividends seen in the portfolio.

The goal I set for the 2015 calendar year was to collect $115 per month, or $1,380 for the year. With one quarter in the books and $326.86 collected, I am currently on pace for $1,307. Between continued contributions to the portfolio, reinvestment of dividends, and organic growth in dividend payouts due to announced increases, this goal still seems to be well within reach for the year.
On The Radar
The only current holding in the portfolio that I am considering a sale of at this time is Baxter International (NYSE:BAX). Shares are offering an attractive yield of nearly 3%; but the upcoming split of the company, lack of recent or expected earnings growth, and lack of any guidance by management on future dividend payout expectations for the new companies has me contemplating a sale. I like certainty and consistency from my investments, and I'm not feeling either of those with Baxter right now. During the Q4 2014 earning's conference call, CFO Robert Hombach stated that financial details of the split business will be provided in the May time frame. I will likely hold until this information is released, and make a decision on my investment at that time.
As for potential replacements, I have been wanting to add another utility company to the portfolio, but have been patiently waiting for the sector to pull back into fair value. Some companies I am considering include Dominion Resources (NYSE:D), Scana Corp. (NYSE:SCG), South Jersey Industries (NYSE:SJI), Vectren Corp. (NYSE:VVC) and Xcel Energy (NYSE:XEL). Other potential ideas are DOW Chemical (DOW) and Fastenal Company (NASDAQ:FAST).
Closing Thoughts
It was another very successful quarter for my 401K, as the compounding snowball really seems to be picking up steam and my dividend income continues to grow. Additionally, I've been fortunate to see positive capital growth that is currently outpacing the broader markets. The portfolio isn't perfect, and I'm sure I never will feel 100% satisfied with the contents, but I couldn't be happier with how it's been meeting my goals in the transition into dividend growth investing.
Happy investing!
Disclosure: The author is long AAPL, ABBV, ABC, AMP, BAX, CBRL, CHD, CMI, CVX, DE, DLR, DPS, EOG, FLO, GE, GILD, GIS, GME, IBM, KMI, KO, LMT, MCD, MDP, MDU, MNK, MSFT, NSC, NXPI, O, OHI, OXY, PII, PM, PSX, QCOM, ROST, SBUX, T, TAL, TGT, THO, TUP, UNP, V, WBA, WEC, WFC, WSO, WYNN.
The author wrote this article themselves, and it expresses their own opinions. The author is not receiving compensation for it (other than from Seeking Alpha). The author has no business relationship with any company whose stock is mentioned in this article.
Additional disclosure: I am a Civil Engineer by trade and am not a professional investment adviser or financial analyst. This article is not an endorsement for the stocks mentioned. Please perform your own due diligence before you decide to trade any securities or other products.