The industrial production for February 2015 moved up, printing a growth of 5% YoY, compared to 2.8% YoY in January 2015. This is the highest growth recorded in the past 9 months. Core industries (constituting 38% of industrial output) grew at a tepid pace of 1.4% YoY during the month.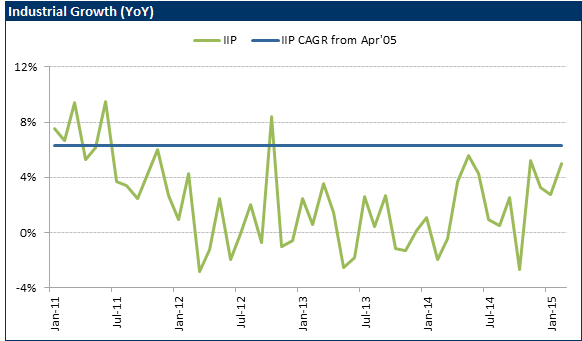 Source: MOSPI
Industry-wise growth
Manufacturing, constituting 75% of the industrial production index, expanded 5.2% YoY, against 3.4% in the previous month. Mining grew at 2.5% YoY (January 2015: contraction of 2%), while electricity generation registered a 5.9% growth YoY (January 2015: 3.3%).
The sector-wise details are given below:

Source: MOSPI, Finalytiks' computations
Of the major manufacturing industries, 6 out of the top 8 sectors expanded:

Source: MOSPI
The broad-based growth continued, with 15 of the 22 manufacturing sectors expanding, which constitute ~82% of industrial output. 7 manufacturing sectors contracted, dragging down the headline industrial production growth figure by 2%.
Out of the 8 core industries, 5 contracted, which is disappointing. The current month's growth is the lowest recorded figure in the past 16 months.

Source: Office of the Economic Adviser
Item-wise/Use-based growth
Based on the type of goods manufactured, consumer goods showed positive growth, growing 5% in February. Consumer durable goods production contracted by 3%, while consumer non-durable goods production grew 11%. Capital goods, the most volatile item of the index, expanded 9%; while intermediate goods production grew 1%. Basic goods (including mining and electricity), the largest component with ~46% weight in the index, grew at 5% YoY.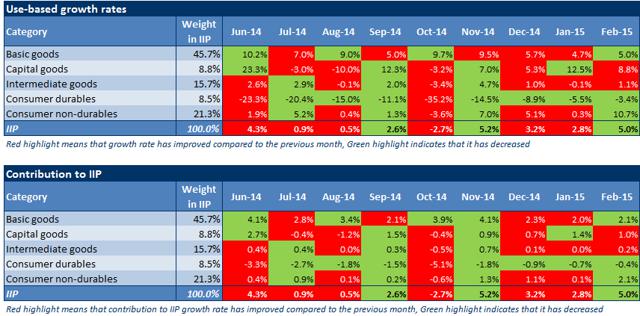 Source: MOSPI, Finalytiks' computations
Perhaps the most important trend shown by the industrial production data might be the growth in production of capital goods. Looking at the moving average, it can be seen that capital goods have slowly started showing an upward trend, after trending below zero for three years. As a proxy for higher investments in the economy (though part of capital goods production is exported - engineering goods are close to 1/4th of exports), this is a very important signal of future economic growth, as companies invest in capital goods for future production. This shows that business sentiment is improving.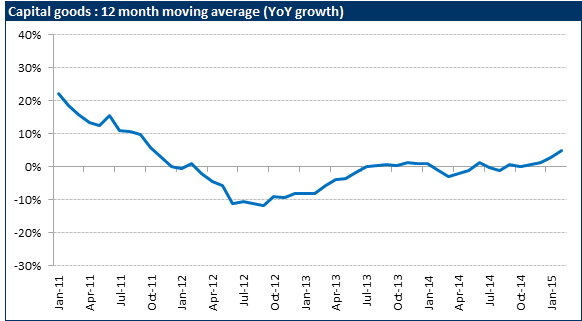 Source: MOSPI, Finalytiks' computations
Year-to-date (first 11 months of the financial year), industrial production has grown only by 2.8%. This is still better than the past two years' flattish growth.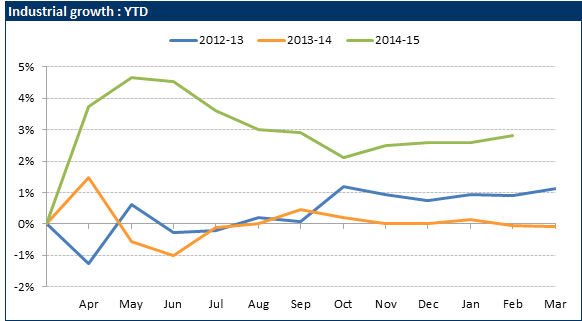 Source: MOSPI, Finalytiks' computations
Our View
Industrial growth has slowly started picking up, with the 12-month moving average showing a clear upward trend.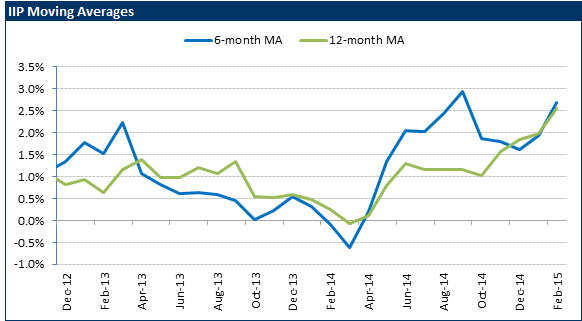 Source: MOSPI, Finalytiks' computations
While consumer demand is still weak, the much needed rate cut cycle has begun now, which will help in kick-starting consumer demand. India's major banks - State Bank of India, HDFC Bank (NYSE:HDB) and ICICI Bank (NYSE:IBN) - have reduced their lending rates by 15 to 25 bps, after the central bank expressed unhappiness over non-transmission of its policy rate cut. The industrial sector constitutes ~45% of the outstanding banking sector credit, and hence a pick-up in industrial growth is a positive for banks - especially for the more aggressive private sector banks like HDFC Bank and ICICI Bank, which have cut their lending rates by 15 bps and 25 bps, respectively. As consumer demand revives, loan disbursement to both individuals and corporates will improve, helping banks to benefit from better net interest income growth.
On the government side, the central government recently passed regulations related to mining (especially coal mines) that - (i) will free up the sector, and (ii) provide much needed coal to the power and steel sectors, and other minerals to the manufacturing sector. The Indian Prime Minister has been projecting the 'Make In India' campaign as one of his top priorities (making it a key point of discussion on his trips to developed nations) to push India to the forefront of manufacturing, hoping to reap the benefits in the way China did. The monetary policy push and the government's efforts to improve business environment will add impetus to growth momentum going forward.
Disclosure: The author has no positions in any stocks mentioned, and no plans to initiate any positions within the next 72 hours.
The author wrote this article themselves, and it expresses their own opinions. The author is not receiving compensation for it (other than from Seeking Alpha). The author has no business relationship with any company whose stock is mentioned in this article.