While the fixed income space has struggled for several months on interest rates hike speculations, the sentiments reversed last month post the Fed's still dovish stance. The Fed laid the foundation for the first interest rate hike in the U.S. since 2006 by dropping the word 'patient', but committed not be impatient and provided a cautious outlook on inflation and economic growth.
This suggests that the interest rate hike is unlikely until later this year and that the near-zero interest rate policy will stay in place for longer than expected. Further, a slew of disappointing economic data lately stirred up slowdown concerns and might further delay the prospect of a rates hike. All these have breathed a new lease of life into the depressed bond market, sending yields lower.
Yields on 2-year Treasury notes dropped to around 0.55% as of today from 0.68% on March 10, while yields on 10-year Treasury notes slipped to below 1.96% from 2.12% over the same period.
Apart from this, sluggish earnings expectations, lofty stock valuations, sliding oil prices, global growth concerns, and geopolitical concerns are driving demand for fixed income securities. While nations across the globe have chosen cheap money policies to stimulate sagging growth and fight deflation, it will take some time for the economies to be on track.
Given these bullish trends, many U.S. bond ETFs have seen smooth trading over the past one month. While passively managed funds are most common and popular, an active management strategy for the bonds could be better options and result in higher returns if managed properly.
Here, we have taken a closer look at the ultra-popular active bond ETF - PIMCO Total Return ETF (NYSEARCA:BOND) - and compared it with the newly debuted SPDR DoubleLine Total Return Tactical ETF (NYSEARCA:TOTL).
BOND
This fund seeks to maximize total returns by providing a diversified portfolio of investment-grade bonds. It holds a large basket of 463 securities with effective maturity of 6.96 years and effective duration of 4.40 years. The ETF has significant exposure to high yield and investment grade bonds, making up for one-fourth of the portfolio, while other short duration instruments and mortgage-backed securities round off the top three with 21% and 19% share, respectively.
The product has over $2.6 billion in AUM and trades in good volume of 231,000 shares. It charges 55 bps in annual fees and expenses. It currently yields 4.31% per annum, which is above its 30-day SEC yield of 2.00% and yield to maturity of 3.25%. The ETF is up 3% so far in the year.
TOTL
This product seeks total return by investing in a global portfolio of fixed income securities of various maturities and array of credit quality. Holding 230 securities in its basket, the fund puts 55% of its assets in mortgage-backed securities, while bank loans and emerging markets round off the top three with double-digit exposure.
TOTL targets long-end of the yield curve with an average maturity of 18.71 years and interest risk is lower with modified duration of 3.63 years. The fund has gained immense popularity since its debut in February, attracting $262.7 million in its asset base. Average daily volume is also good, surpassing BOND, as it exchanges nearly 342,000 shares in hand per day. Expense ratio came in at 0.55%. The ETF has generated flat returns since its debut.
The following table summarizes the similarities and dissimilarities between the two bond ETFs: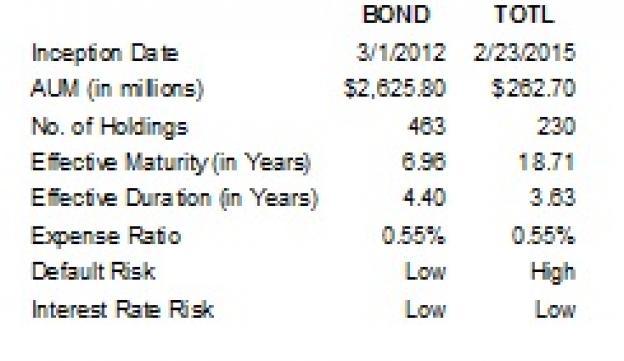 To sum up, both BOND and TOTL target various corners of the bond market and have little international exposure. While both charge the same expense ratio, the holding profile is different. The former focuses on high quality securities and has higher allocation to high-yield and investment grade corporate bonds. More than half of the latter's portfolio is allotted to not rated bonds. High-yield and investment grade corporate bonds account for just 12% of assets.
As a result, risk adverse investors might go for BOND, as it has a lower default risk, carrying investment grade bonds. However, TOTL also seems a good option given its huge success in garnering investors' interest within two months of debut.