Brazil is the largest country in South America and it is the fifth largest country in the world. The current population of Brazil is right around 192 million people. Geographically, Brazil is strategically located in South America as it relates to trade. Brazil shares a border with every South American country except Ecuador and Chile.
Brazil currently has the seventh largest economy in the world. Brazil is also one of the fastest growing economies in the world. Brazil has a mixed economy with abundant natural resources. Brazilian exports are booming. Everything from orange juice, soybeans, steel, coffee, ethanol, aircraft, and meat are currently fueling the Brazilian economy.
The Brazilian stock market has delivered returns far superior to those of our S&P 500 over the last three, five, and ten years. Our markets have outperformed Brazil over the last twelve months, however. Here is a table that shows the performance of the Brazil vs. U. S. stock market:
| | | |
| --- | --- | --- |
| | Brazil | U. S. |
| | | |
| 10 Yr. Avg. | 24.0% | 1.5% |
| | | |
| 5 Yr. Avg. | 12.2% | -1.6% |
| | | |
| 3 Yr. Avg. | 23.2% | 9.0% |
| | | |
| 1 Yr. Avg. | -19.7% | 6.3% |
I follow approximately 2,700 stocks on a daily basis. The stock of Brasil Foods (NYSE:BRFS) is currently ranked in sixteenth place. It currently is also my top rated large-cap stock.
Brasil Foods is an $18 billion dollar company that is a producer of specialty meats, frozen processed meats, and dairy based products sold worldwide.
My grading and ranking system takes into account performance, value, and safety. Let's take a look at how Brasil Foods currently stacks up in those areas.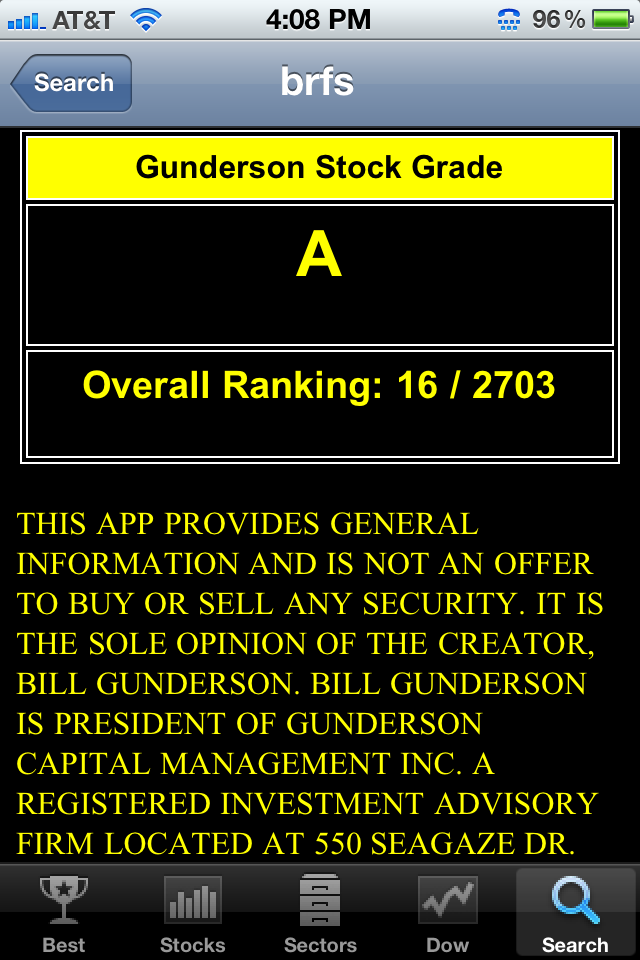 Data from Best Stocks Now iPhone App

Let's first look at the performance of the stock against the S & P 500 and 2,700 other stocks: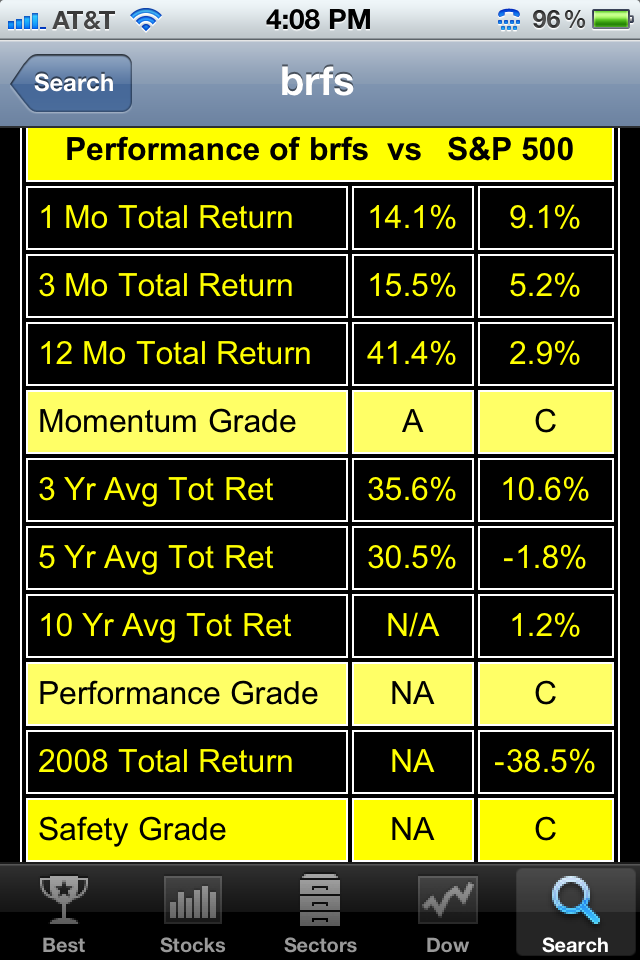 As you can see, Brasil Foods has outperformed the S & P 500 over the last one-month, three-months, one-year, three-years, and five-years. The stock does not yet have a ten year record.
Not only has Brasil Foods outperformed the S & P, it has beaten overall market returns by a wide margin. I think most alpha seekers would have been quite happy with the returns shown above!
While past performance is just that, I find it to be very important information to possess in the overall evaluation of a stock. It makes a lot more sense to me to pay more attention to stocks with stellar track records than those with dismal track records.
By contrast, let's look at a large U.S. based food stock with a rather mediocre performance record: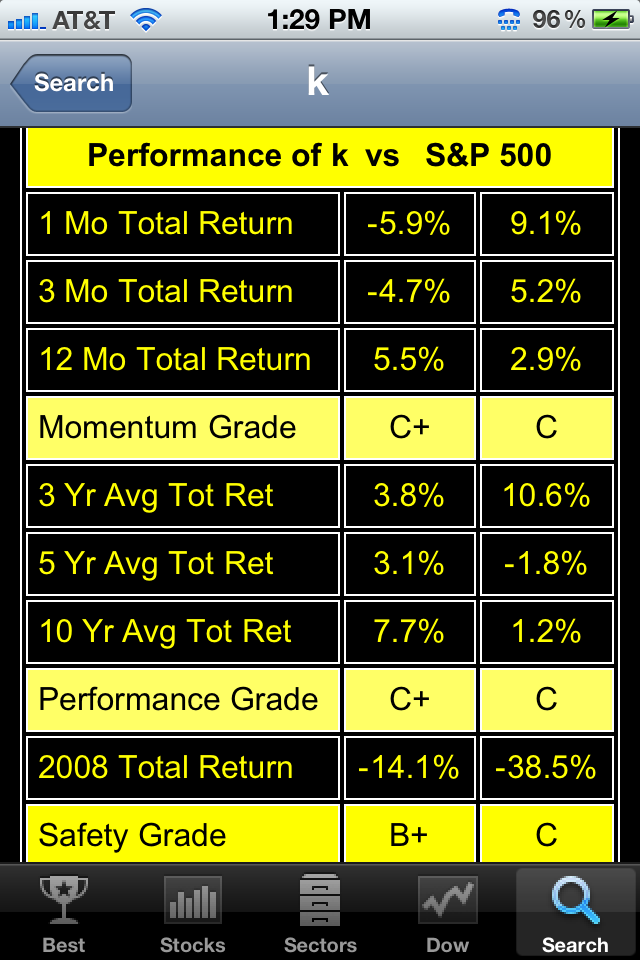 As you can see, Kellogg Company (NYSE:K) has produced rather mediocre results compared to the market and to the other 2,700 stocks that I follow. It gets a "C+" overall performance and it compares very poorly with Brasil Foods.
I have learned not to buy stocks on performance only, however. Valuation is also a very important factor in analyzing a stock.
Brasil Foods is currently trading at just 13.83 times forward earnings.
Brasil Foods is expected to make $1.51 per share next year. The four analysts that cover the stock also project a very lofty average of 41% per year earnings growth over the next five years.
My own analysis is a little more conservative. Based on past numbers, I believe that Brasil Foods can continue to grow their earnings by 25% per year over the next five years. Brasil Foods is expected to grow by 128% over last year and another 23% next year.
Beginning with $1.51 in earnings and a growth rate of 25% per year, we come up with five year earnings estimate of $3.69 per share. As I have stated in previous articles, I like 5 year target prices as opposed to short, 6-12 month target prices. I find that long term target prices keep me from over-reacting to short-term events in the stocks that I own.
Now, if Brasil Foods can indeed make $3.69 per share five years from now, what will those earnings be worth at that time?
The current PE ratio of Brasil Foods is 19. The current forward PE of the stock is
13.83. The PE of the stock has ranged between 14-30 over the last four quarters. I have found over the years that food stocks generally trade in the low teens. I am using a very conservative multiple of 11 to come up with the following five year price target for Brasil Foods.
$3.69 X 11=$40
With the stock currently trading at $20.89, it has almost 92% upside potential over the next five years. I like to buy stocks that have 80-100% upside potential over the next five years. Brasil Foods easily falls within this range.
Let's look at a graphic representation of Brazil Food's current valuation: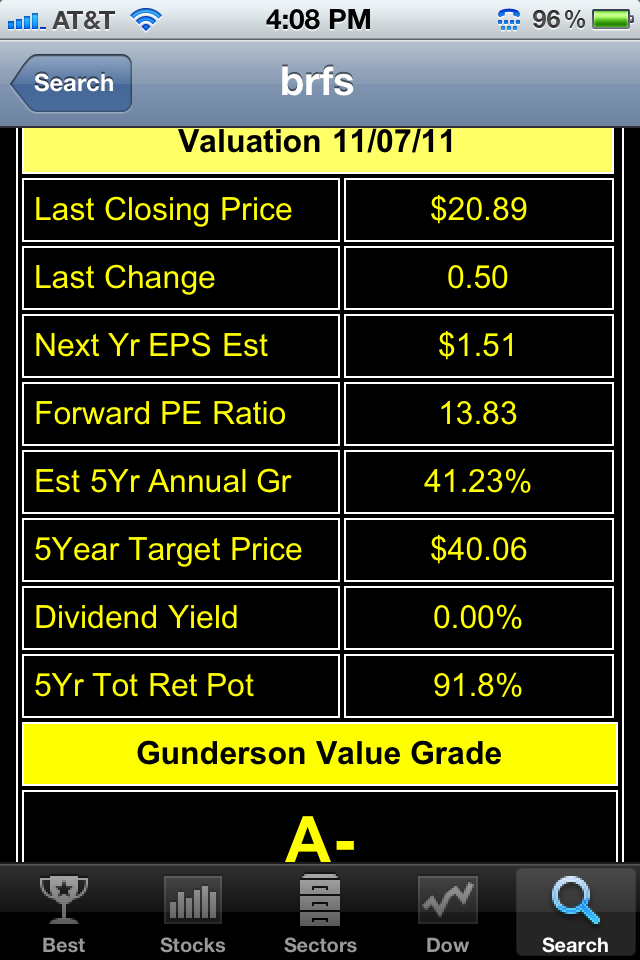 Brasil Foods passes the performance test and the valuation test with flying colors. No wonder the stock is currently ranked number 16 out of 2700 stocks!
Lastly, I am a daily chart watcher. I feel it is very important to stay on top of the behavior of the stocks that I own. I currently like very much what I see in the chart of Brasil Foods: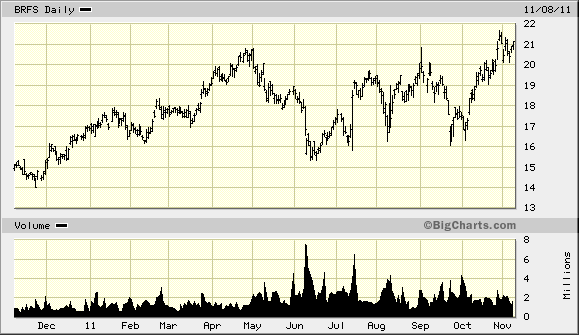 As you can see the stock is currently hitting new all-time highs. It should be noted that this was $1.00 stock back in 2004. It is now a $21.00 stock. I believe that the stock can be a $40 stock five years from now.
I like the Brazilian economy and it makes sense to me to have some exposure there. Brasil Foods is a good way to get some of that exposure.
Disclosure: I am long BRFS.