The odds may have been a bit stacked against stocks heading into last week, but the market clearly overcame them. All told, the S&P 500 (SPX) (NYSEARCA:SPY) gained about 1.7% last week, crossing above some key moving average lines in the process and rekindling the bigger-picture rally.
Can it last? There are certainly some hurdles ahead, not the least of which is the market's valuation, which is getting a bit frothy by some measures. Higher highs are not out of the picture though, because as they say, don't fight the tape -- short-term momentum in the broad market indexes (NYSEARCA:DIA) (NYSEARCA:IWM) is strong.
Economic Data
It was a rather light week last week in terms of economic news, with only one real highlight - the release of the minutes from March's meeting of the Federal Reserve.
Collectively, there weren't any major surprises in what the Fed was seeing, thinking, and planning for the economy in the foreseeable future; most FOMC voters are confident rates should begin to rise before the end of the year. What was surprising was the wide split in those opinions. A large swath of the Fed's governors are still in support of a rate hike as early as June, while another large is in support of waiting until much later in the year (if not later) before bumping up the Federal Reserve's key overnight-borrowing interest rate.
Regardless of the timing of any rate increase, the Fed is aware the economy seems to be slowing, adjusting its GDP growth outlook lower. For 2015, the projected GDP growth rate range was ratcheted down from 2.6%-3.0% to 2.3%-2.7%.
The initial response to the Fed's meeting minutes was a slight - and we stress slight - dip in yields, suggesting the market interpreted the Fed's thoughts as more dovish than hawkish (a bias for keeping rates as low as possible for as long as possible). Thursday though, bond yields were creeping higher again, telling us traders still expect upward pressure on rates, and perhaps sooner than had been expected.
The only other item of real interest last week was the ISM Services Index for March. It slumped a little lower, from 56.9 to 56.5. As long as it remains above 50, though, it's still seen as bullish.
Our chart below plots the ISM Services Index as well as the related ISM Index, which was updated a week earlier. It fell too, from 52.9 to 51.5. Note that both indices have drifted modestly lower for the past few months.
ISM Indices Chart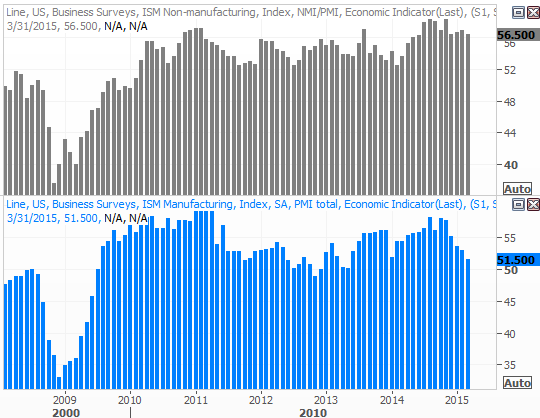 Source: Thomson Reuters Eikon
Everything else is on the following calendar:
Economic Calendar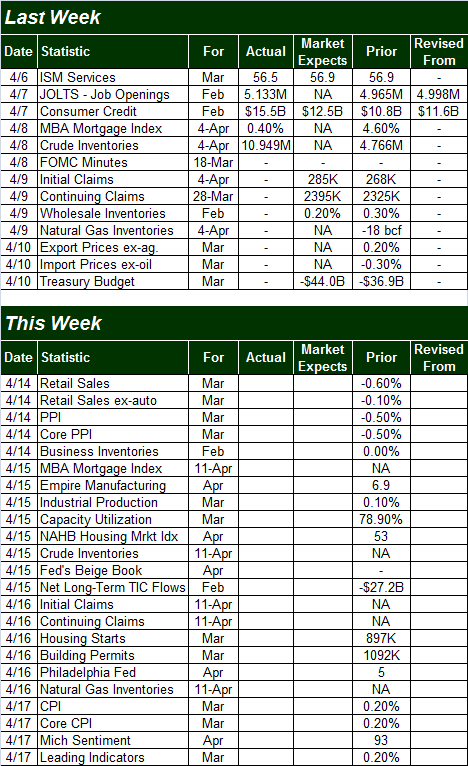 Source: Briefing.com
This week's economic deluge is going to more than make up for last week's lull, with major doses of inflation news, industrial activity, construction activity, and more.
We'll hear about March's retail sales on Monday. Recent numbers haven't been great, but much of that can be attributed to weak gasoline prices. That can't get all the blame though. On our chart below, retail sales excluding motor vehicles and gasoline stations (red, bottom) have also started to log a few negative year-over-year comparisons.
Retail Sales, YOY Change Chart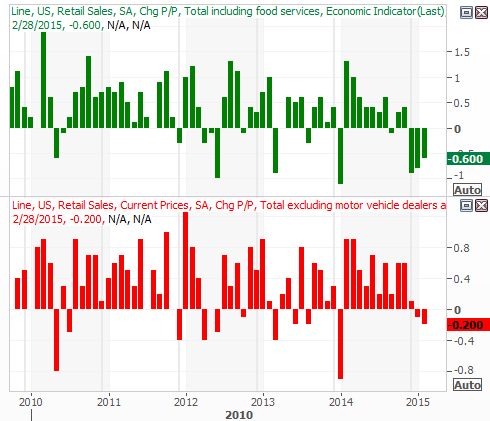 Source: Thomson Reuters Eikon
We'll get the producer price inflation rate on Tuesday, and the consumer inflation rate on Friday. Both have been rather weak of late, with most of that weakness attributable to low oil/gasoline prices.
On Thursday we'll hear about March's housing starts and building permits. We should see a measurable rebound from February's lull in starts, which was largely spurred by adverse weather. Either way, we're likely to continue to see progress from both.
Housing Starts, Building Permits Chart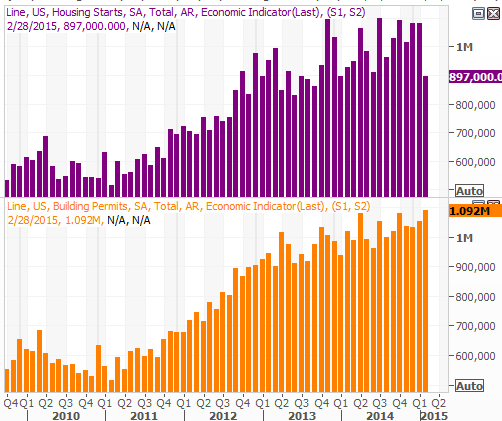 Source: Thomson Reuters Eikon
Stock Market Index Analysis
From a momentum perspective, we have to be bullish based on what we see right now. Not only did the market make pretty good progress last week, but all the major indices moved back above some key short-term moving average lines in the process. Volume wasn't great, but volume was getting better as the week wore on. The end result was a modest bullish MACD cross AND a Percent R line that made its way back above the key 80 level. This isn't a confirmed uptrend yet (which will materialize once the market goes through a bearish pushback but recovers before the Percent line falls back under 80), but it's the groundwork for a rally.
S&P 500 & VIX - Daily Chart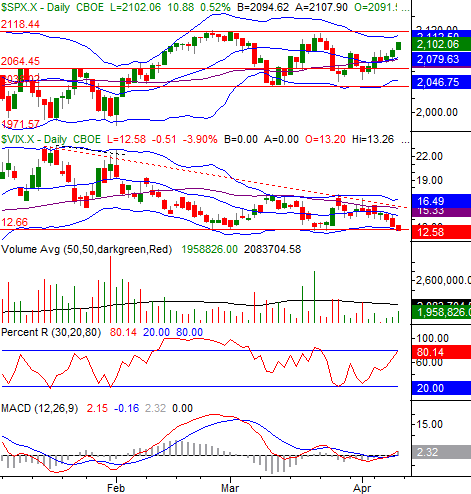 Chart created with TradeStation
You can also see the CBOE Volatility Index (VIX) (NYSEARCA:VXX) has developed a pretty nice downtrend, underscoring the market's bullish effort. The only problem with the VIX's downtrend is that its move lower has also pulled it down to what's been a major historical floor around 12.5.
Zooming out to a weekly chart of the S&P 500, we see the same basic thing, but perhaps with a little more perspective. It's here we can see there's another key floor for the VIX at 10.2, but we also have a clearer picture about the S&P 500's ceiling at 2118. While the undertow is bullish, until the S&P 500 moves above 2118, it's not a full-blown breakout. On the flipside, it's tough for the market to rally well while the VIX is this low. But, boy is the S&P 500's push off of its 26-week moving average line (at 2050) a clean one, right on cue.
S&P 500 & VIX - Weekly Chart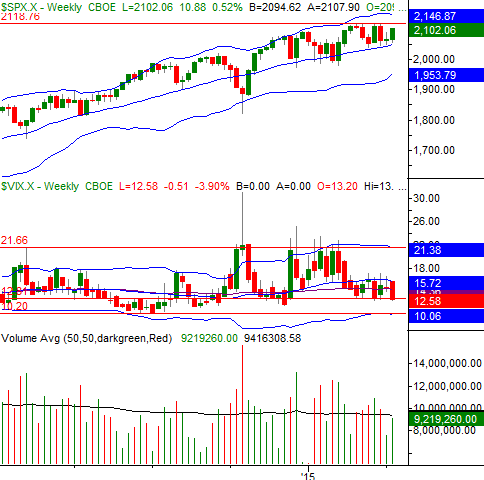 Chart created with TradeStation
Ditto for the NASDAQ Composite (COMP) (NASDAQ:QQQ), although the lines in the sand for the NASDAQ may be even better defined and more meaningful. Specifically, the composite is still approaching a major ceiling at 5038, and the Nasdaq volatility index (VXN) - is at a key floor at 14.1.
NASDAQ Composite & VXN - Daily Chart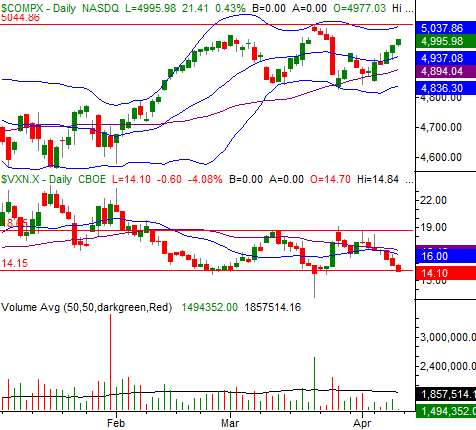 Chart created with TradeStation
Bottom line: The momentum is bullish, but there are still a couple of easy ways the bulls could trip the rally up. And, keep in mind that even though the momentum is increasingly bullish, the market's valuation could be a significant headwind as we work our way into the heart of earnings season. The S&P 500's trailing P/E ratio (based on the assumed Q1 earnings of $26.74) stands at 18.5 -- that generally is near the high end of valuations and may not leave a lot of room for upside.
Disclosure: The author has no positions in any stocks mentioned, and no plans to initiate any positions within the next 72 hours.
The author wrote this article themselves, and it expresses their own opinions. The author is not receiving compensation for it. The author has no business relationship with any company whose stock is mentioned in this article.