Dear readers,
This week's Outstanding Performance Awards are classic calls, though in quite different ways. One is a turnaround story that was still early enough along that investors could get behind it for a double within 2 years, while the other presents a priced-to-perfection overvaluation analysis that led to big gains. In both cases, good research led to profit, a nice example of conviction paying off for readers.
This week's Outstanding Performance Award winners are:
Bret Jensen for his long idea on Felcor Lodging Trust (NYSE:FCH) published in July 2013. Return to date: +89%
Akram's Razor for his Top short idea on Commvault (NASDAQ:CVLT) published in August 2013. Return to date: +44.6%
Both articles are part of the SA PRO equity research archive, available exclusively to SA PRO subscribers, but will be made available to all readers for 48 hours in honor of their winning the award.
About the winners
Bret Jensen is a well-known financial journalist and one of SA's most prolific and longest-tenured authors, starting on the site 5 years ago. He's established a strong reputation as a stock picker, and while it would be time-prohibitive to list them all, a few stand out, including a pegging of Avanir as a buy-out candidate some 200% ago, solid calls on railcar companies Greenbrier and American Railcar, and a spot-on prediction for Microsoft to clear $40 a share in 2014.
Bret Jensen's thesis on FelCor was for a turnaround at a REIT with, arguably, too much debt. Jensen first established why RevPAR growth was likely across the industry: below average hotel supply growth juxtaposed with increasing demand due to an improvement in the economy signaled good times ahead for hotels. On a company level, the turnaround was typical in many respects -- sell underperforming non-core properties and apply those sales to debt repayments and capital expenditures for renovations of their core properties, while seeing lower interest expense and better operating efficiency.
More specifically, there were a few catalysts Jensen cited for investors to consider:
General industry improvement.
Improving operations and debt paydown.
The reopening of a key property, the Knickerbocker, which would add a big piece of EBITDA.
The initiation of a dividend as the company returned to consistent generation of taxable income.
All of these items worked out, with the exception of the Knickerbocker which opened a year late, but which is expected to add $10M in EBITDA this year. The company saw consistent high single-digits/low double-digits RevPAR growth, significant margin improvement and interest expense decline, and a dividend initiated in early 2014 that has since been doubled. The sector has been a winner for Jensen and many readers, but FCH stands out as one of the big successes, clearing the 100% return mark last month.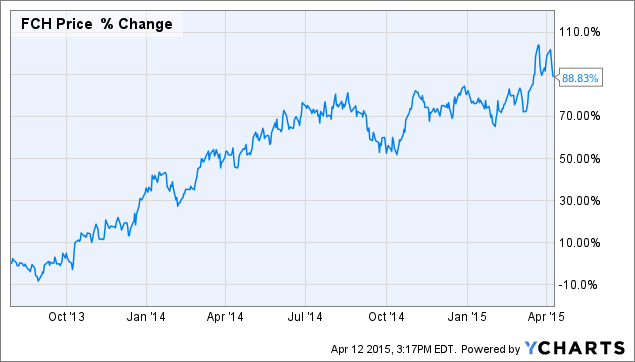 Akram's Razor is a director at Suhail Capital, and now contributes under that firm's handle. Focused largely on the tech sector in his SA articles, Akram has had many wins on both the long and short side, despite a tough environment for the latter. On the long side, he flipped positive on Acme Packet right before the company got bought out, and a well-timed series of articles on Deckers when the stock was languishing at a recent bottom. On the short side, the wins include Financial Engines, Mellanox, and Chegg's. We'd also be remiss if we didn't mention Suhail Capital's work on Veeva especially, as the collective analysis ranks among the best stock analysis published on Seeking Alpha, or any other site.
Akram's short thesis on Commvault ranks with the best of his short ideas. The article, written right after a CVLT conference call focused on the financial analysis, which suggested the company was priced for perfection given industry assumptions, including the difficulty in hiring sales personnel and the competition in the space, as attested to by management on the conference call. Slowing growth would leave the company's once reasonable PEG at an unlikely 5, which left the company vulnerable to multiple contraction. With the ongoing profitability of the corporation, it was unlikely that its valuation could diverge too much from traditional valuation schemes. Therefore, Akram's multiple contraction call was aptly timed, with evidence mounting over time that the growth to sustain valuations was not in the cards. Indeed, the next quarter saw the cracks widen, as Akram pointed out (despite sell-side support to the contrary), and by the CY 2014 Q1 report, the wheels on the growth story had come off, leading to a handy profit and a great call.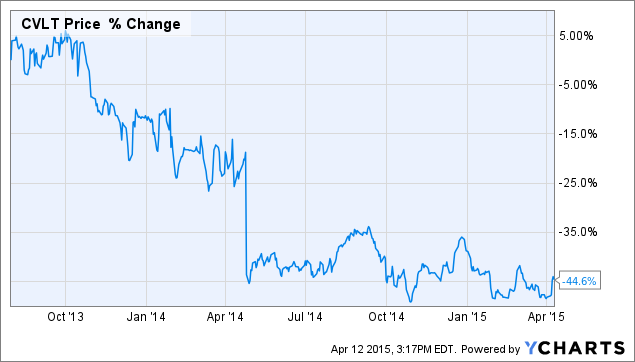 Congratulations to this week's winners! Look out for a new pair of Outstanding Performance award winners each Monday. Here's a page with all previous winners.
More about Outstanding Performance awards
Seeking Alpha aims to help investors outperform the markets. In awarding authors of outstanding stock ideas that played out, we hope contributors will be motivated to share more outstanding long and short ideas with our readers - which benefits everyone.
Every week, we'll be searching through our long and short ideas archives looking for outstanding stock ideas that played out, and awarding two $2,500 "Outstanding Performance" prizes.
Here's what we'll be looking for:
Performance: Above all, we're looking for ideas that made SA readers money. Risk matters, so we'll be looking at the stock's market cap, sector, etc. as well.
Confluence: Every idea has a thesis. Did the idea play out for the reasons proposed or not?
Compelling: For an idea to be outstanding, it needs to be sufficiently convincing that a reader would have been compelled to take a deeper look at the stock and potentially take a stake. In assessing compellingness, we'll be looking at a number of factors including article comments (how did readers react?), historical performance (does the author have a track record of well-thought-out stock ideas?), voice of expertise (does he/she come across as someone who has unusual insight into the stock?), and how thoroughly the article covered key issues (reasons for market mispricing, catalyst(s), competitive landscape, company management, key risks, etc.). In other words, we'll be looking for the same things readers look for when assessing an idea.
To qualify for an award, the idea needs to have been submitted exclusively to Seeking Alpha. We will also be asking award winners to publish an update to their thesis, either as a comment to the article or as a standalone article.
Generally, we'll be looking for longer-term ideas that offered meaningful upside to readers. We'll be going back as far as two years or even further. We may also reward ideas that played out outstandingly over a shorter timeframe. But we will not be using Outstanding Performance awards to reinforce extreme short-term price volatility.
To get exclusive access to these articles after they are selected, as well as early and archival access to many of our top performing ideas, subscribe to SA PRO.
We'll be announcing Outstanding Performance award winners in Wall Street Breakfast, in the Today in SA PRO newsletter, and in a standalone article like this one.
If you have great stock ideas, why not become a Seeking Alpha contributor yourself? Our contributor success team will make it easy to share your ideas with tens of thousands of readers.