Policy rate transmission has started in India, with the major banks cutting their benchmark base rates by 15 to 25bps. The Reserve Bank of India had eased policy rates by 50bps in the first quarter of CY2015.
Base rates are the benchmark lending rates of each bank, and represent the minimum rate at which they can lend. While the policy rate cuts immediately impacted money market rates, banks were reluctant to cut base rates to protect their margins. The non-transmission of policy rate cuts into bank's lending rates was one of the reasons why the central bank decided not to cut repo rates on the policy meeting held on April 7th.
The Reserve Bank governor - Dr. Raghuram Rajan - was clearly disturbed by the non-transmission of policy rate cut into banks' customer lending rates, as evident from his post-policy meeting media concall:
We want to facilitate the process of transmission. I do not see an environment where credit growth is tepid; banks are sitting on money so to speak and their cost of funding, their marginal cost of funding has fallen, the notion that it has not fallen is nonsense. It has fallen, they can borrow at the margin today at 7.5% - there is plenty of liquidity in the markets. So, at some point, the pressure on the banks, the competitive pressures will tell. As it is a number of corporations are borrowing directly from the markets, you have seen that announced even today. So, I have no doubt that this will happen. If it happens sooner, it is better for the economy, but banks have to make their own decision.
Following strong comments from the RBI, India's biggest lender - the government-controlled State Bank of India (SBI) - cut its base rates by 15bps from 10% to 9.85%. This was followed by the big private sector lenders - ICICI Bank (NYSE:IBN) and HDFC Bank (NYSE:HDB). While HDFC has matched the base rate of SBI, ICICI was more aggressive, cutting rates by 25bps to 9.75% - the lowest in the sector.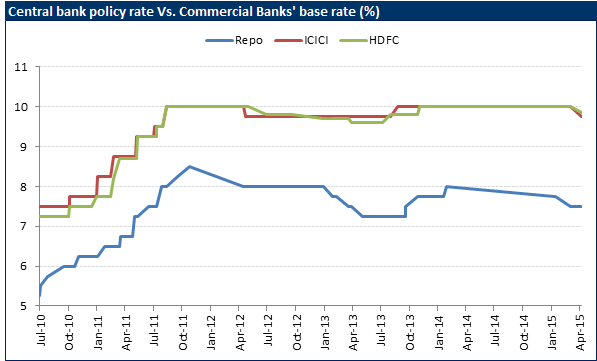 (Source: Reserve Bank of India, Reuters)
As of now, three among the top seven banks have cut rates. These three banks' loan books together constitute more than 1/3rd of India's banking system loans. This will push the other major banks also to cut rates very soon, as their base rates remain above 10%.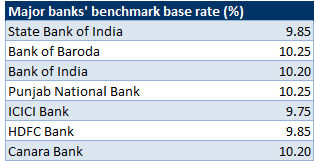 (Source: Reuters)
The lowering of base rates is expected to lead to lower net interest margins (NIM), as the reduction in lending rates will take effect immediately, while the cost of funds will take some time to come down (since the CASA ratio of both HDFC Bank and ICICI Bank are at ~40%, the cost of deposits will come down only when the higher-cost term deposits mature).
Looking at HDFC and ICICI's NIM trends over past 4 years, no one-to-one correlation with policy rate cut is seen: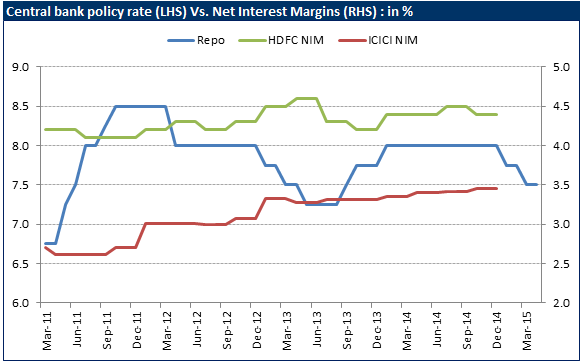 Every 10bps fall in NIM could lead to a roughly 3-4% fall in earnings for these banks. But this will easily be offset by higher lending, if the economy continues the uptrend. Additionally, there will be gains in the AFS investment portfolio (Available for Sale investments category, which will be marked to market), as a fall in interest rates leads to higher bond prices.
Our View
We expect the central bank to cut policy rates further by 25 to 50bps in 2015. We see next rate cut happening only in June 2015 or later. In the short term, bank earnings could remain under pressure due to lower NIM, as a lowering of lending rates will take effect immediately, while the cost of funds will take some time to come down. This will be offset by higher AFS gains (from Q1CY15) and better loan growth (in H2CY15). Expect stronger earnings growth in the second half of CY 2015.
Disclaimer: The information set forth herein has been obtained or derived from sources generally available to the public and believed by the author to be reliable, but the author does not make any representation or warranty, express or implied, as to its accuracy or completeness. The information is not intended to be used as the basis of any investment decisions by any person or entity. This information does not constitute investment advice, nor is it an offer or a solicitation of an offer to buy or sell any security.
Disclosure: The author has no positions in any stocks mentioned, and no plans to initiate any positions within the next 72 hours.
The author wrote this article themselves, and it expresses their own opinions. The author is not receiving compensation for it (other than from Seeking Alpha). The author has no business relationship with any company whose stock is mentioned in this article.