In spite of upcoming election jitters weighing in on the value of the GBP, the FTSE 100 continues to climb strongly. To provide some context, while the S&P 500 is up by 3% since the beginning of 2015, the FTSE 100 index is up by over 9%: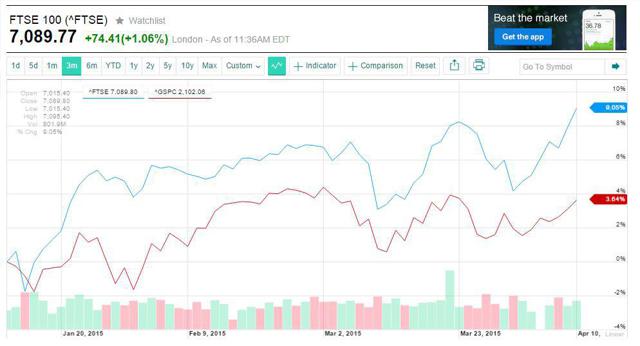 Source: Yahoo Finance
Recently, I had argued that I do not expect the GBP to rebound from present weakness until after May's elections, when the associated political uncertainty has been removed. However, I expect that we may even see a run-up in the FTSE 100 going forward into May. Firstly, a weak pound has historically been associated with a rising stock market in the United Kingdom. For instance, when the British pound hit a 2.5-year low against the US dollar in 2013, the FTSE 100 was up by 20% from July 2012-May 2013. However, this may not be unique to the United Kingdom, as a weakening currency has often been correlated with rising stock markets. From a theoretical standpoint, a weakening currency is highly beneficial for exports - of which many companies on the FTSE 100 rely heavily on export growth. However, besides the issues of a weak currency and exports, there are several reasons why I see the FTSE 100 in a position to continue climbing irrespective of currency levels.
Firstly, Britain's property market has seen a solid recovery over the past year. I had already pointed out that mortgage demand across Britain has seen its highest level in the past thirteen years. This has been facilitated by a broad increase in GDP growth leading to further consumer confidence. With the Bank of England holding interest rates at 0.5% until after the general election, low rates along with low inflation appears to be pumping up housing demand. Moreover, it is not simply the rise in housing demand that is good news for the FTSE 100 - rather that it indicates growing discretionary demand. In an economy with low consumer spending, house prices serve as a leading indicator in that they are one of the first economic indicators to decline before a more general downturn. With mortgage demand rising, consumers are willing to take on more debt and banks are more willing to lend. This serves as welcoming news for the many banking institutions and property firms that constitute the FTSE 100 index.
Moreover, I would point out that banking and fund management firms in particular make up virtually half of all the 101 constituents on Britain's primary stock market index. The recent upturn in M&A activity will in all likelihood provide a boon to the big investment banks that facilitate these mergers. For instance, the FTSE 100 closed at a record high this Friday in light of the news that Royal Dutch Shell (NYSE:RDS.A) (NYSE:RDS.B) has agreed a £47 billion offer for BG (OTCQX:BRGYY) - which has sparked further rumors that similar deals could follow. Similar bids have been witnessed across the pharmaceutical industry, with Shire reaching record highs and having previously been subject to a bid offer of £34 billion from AbbVie (NYSE:ABBV). Should continued activity in the M&A space increase, then this will be very good news for Britain's financial sector.
To conclude, I expect that a combination of increased M&A activity, along with a rebound in the property sector and general export growth will see the FTSE 100 continue to reach new highs over the coming months, and I do not see election uncertainty as being a hindrance in this regard.
Disclosure: The author has no positions in any stocks mentioned, and no plans to initiate any positions within the next 72 hours.
The author wrote this article themselves, and it expresses their own opinions. The author is not receiving compensation for it (other than from Seeking Alpha). The author has no business relationship with any company whose stock is mentioned in this article.