The impact of lower oil price on US GDP growth is a point of debate and there is no doubt that the steep decline in oil prices is likely to impact the US economy to some extent. However, on an overall basis, the negative impact on the economy coming from lower oil prices is likely to be offset by the positive implications. This article discusses this point and the reasons to believe why lower oil prices can boost consumption in the coming quarters.
I would first like to discuss the point that lower oil prices are indeed having an impact on the economy. The chart below gives the US oil production and the rig count data.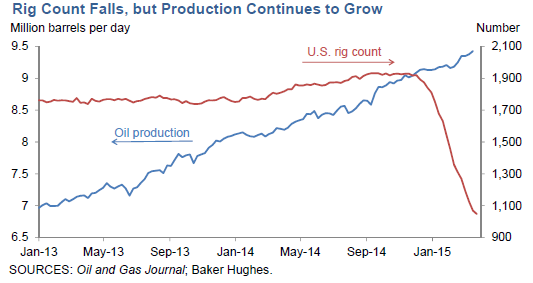 While production continues to be robust, the rig count has slumped in the last few quarters. Lower rig count is a clear indication of the point that oil and gas companies have cut on their capital expenditure and this will translate into a negative impact on the GDP and employment.
The employment situation summary for March 2015 does provide data on the negative impact of lower oil prices on employment. According to the report summary -
Employment in mining declined by 11,000 in March. The industry has lost 30,000 jobs thus far in 2015, after adding 41,000 jobs in 2014. The employment declines in the first quarter of 2015, as well as the gains in 2014, were concentrated in support activities for mining, which includes support for oil and gas extraction.
Therefore, there are job losses in the industry and this is expected with companies cutting in their investments and taking cost cutting measures to boost margin.
Coming to the positives, an excellent chart below from the Federal Reserve Bank of Dallas puts things into perspective.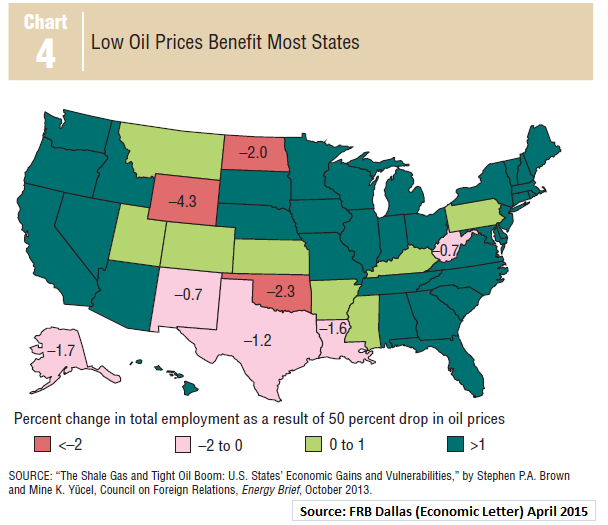 It is clear that lower oil prices benefit most states in the US. Further, according to the FRB Dallas report that quotes the EIA -
The decline in pump prices provides consumers with more money for purchases elsewhere. For example, the Energy Information Administration estimated that households may have more than $700 extra to spend this year as a result of lower gasoline prices. A large part of the gas savings will likely be spent, since gasoline is a larger share of lower-income households, and these households have a higher propensity to consume.
The same view comes from another article in the Chicago Tribune -
Cheaper oil prices will cause a shift of as much as $1.3 trillion from producers to consumers annually, according to The Economist magazine. The average American consumer who spends $3,000 a year on gasoline may save as much as $1,000, the equivalent of about a 2 percent increase in the yearly income of a typical household.
Clearly, lower oil prices are likely to translate into higher disposable income and this will result in higher consumption driven spending in the coming months. Therefore, when I wrote on US economic weakness in 1Q15, I was of the opinion that US consumption will bounce back in the coming quarters and a higher disposable income is one reason for this opinion.
I must also add that lower oil prices have translated into lower inflation and this, along with a strong dollar, has resulted in a more cautious stance from the Fed. According the FOMC minutes -
When the Committee decides to begin to remove policy accommodation, it will take a balanced approach consistent with its longer-run goals of maximum employment and inflation of 2 percent.
While it is clear that the Fed will not wait for 2% inflation target before increasing interest rates, the Fed would want to be reasonably confident of achieving the inflation target relatively soon. Lower oil prices will keep the Fed more cautious and potentially delay an interest rate hike. With consumers again starting to leverage, growth will also continue to be driven by artificially low interest rates.
Overall, lower oil prices have a bigger positive impact on the GDP and I believe that US consumption will remain steady in 2015 with higher consumption driven growth in 4Q15 and 1Q16.
I therefore remain positive on the consumption theme and I believe that the Vanguard Consumer Staples ETF (NYSEARCA:VDC), Vanguard Consumer Discretionary ETF (NYSEARCA:VCR) and iShares U.S. Consumer Goods ETF (NYSEARCA:IYK) are good investment options.
In addition, I remain bullish on overall US equities (NYSEARCA:SPY) with my view backed by the point that consumption will ensure that US GDP growth remains steady in 2015 even when it's not as robust as 2014 growth.
Disclosure: The author has no positions in any stocks mentioned, and no plans to initiate any positions within the next 72 hours.
The author wrote this article themselves, and it expresses their own opinions. The author is not receiving compensation for it (other than from Seeking Alpha). The author has no business relationship with any company whose stock is mentioned in this article.