Greenlight Capital was founded in May 1996 by David Einhorn and Jeff Keswin who were colleagues at SC Fundamental Value Fund (a hedge fund). The initial plan was to raise $10 million but raising capital proved formidable as the public was unwilling to warm up to a couple of money managers with barely two years of real-world experience. Ultimately, they raised $900K of which $500K came from Einhorn's parents.
The SC experience was invaluable and their approach to value investing embedded in Einhorn these three questions:
a) What are the true economics of the business?
b) How do the economics compare to the reported earnings?, and
c) How are the interests of the decision makers aligned with investors?
These questions trained Einhorn to focus on researching misconceptions in the market. Surprisingly, one lesson learnt was that there was virtually no difference between going long and going short. Hence, Greenlight is categorized as a long-short fund which is always net long.
The initial returns were staggering with the first three months returning 3.1%, 6.9%, and 4.8% respectively and 37.1% for the last four months of 1996. The returns were helped largely by an investment in C.R. Anthony, a small retailer who emerged from bankruptcy and returned 500% for the fund. Assets Under Management (AUM) reached $13 million by 1996 end. 1997 was another blockbuster year for Greenlight and the fund returned 57.9% with AUM reaching $75 million. The fund closed to new money following this and then again in 2000. Since then, the fund has opened only to do a few capital raising rounds. As of 2010 end, Greenlight's flagship fund Greenlight Capital, LP has returned 1,635% cumulatively or 21.5% annualized since inception.
As the fund holds short positions as well as positions outside the US, the 13F filing data provides only a partial picture of Greenlight's holdings. Even so, the data is important as for any given quarter it is a report on the majority of the portfolio allocation. Below is a look at Greenlight's US holdings over the last three years from the 13F filings: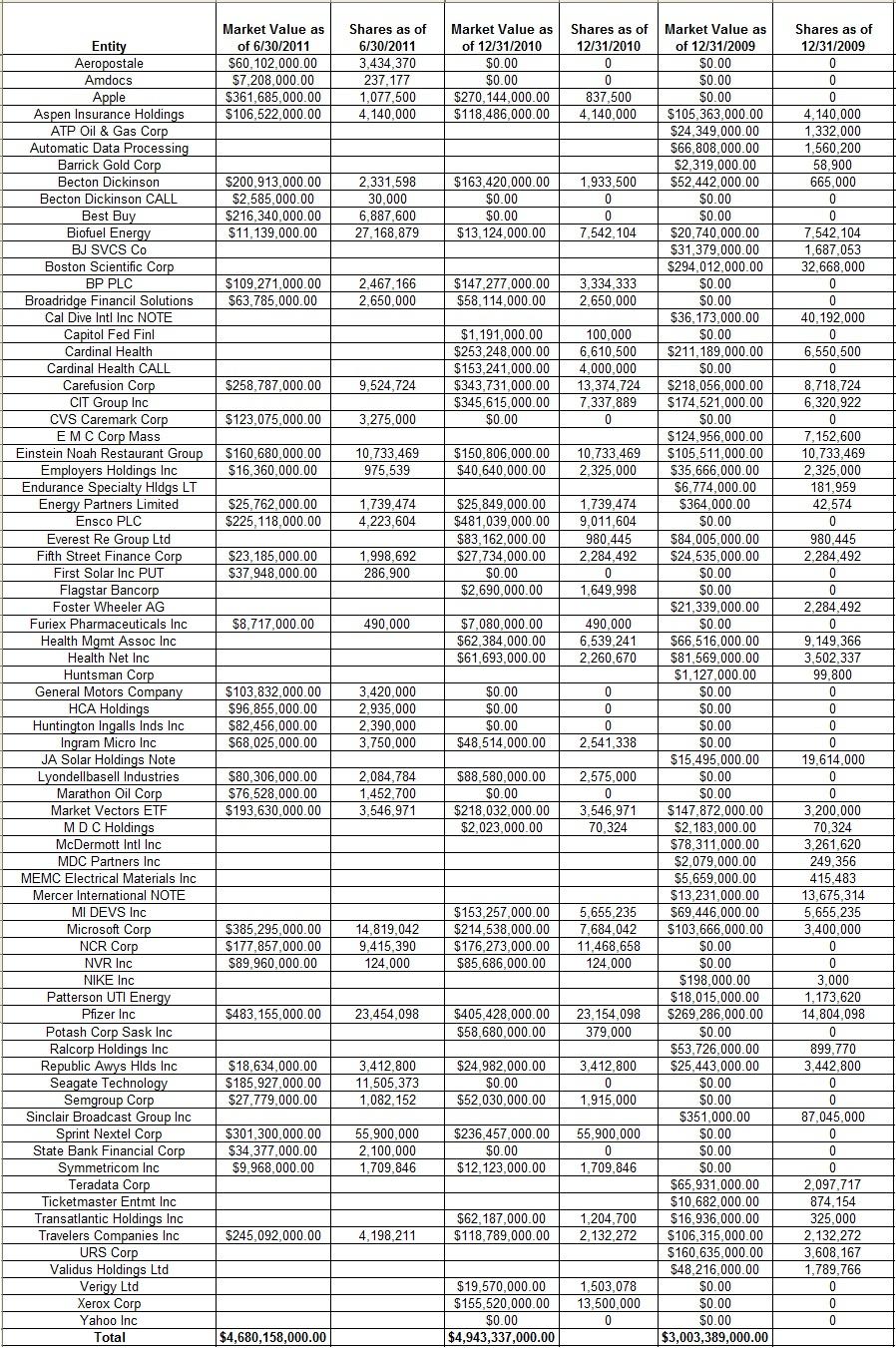 1. Greenlight has built large long positions on several large-cap stocks:
2. Other large positions that were purchased recently include Best Buy (NYSE:BBY), NCR Corporation (NYSE:NCR), Seagate Technology (NASDAQ:STX), and Sprint Nextel Corporation (NYSE:S).
Best Buy (BBY): This holding was purchased in the first quarter of 2011 at $33.33 per share based on the thesis that the stock is undervalued trading at 8x forward earnings. Further, Einhorn believes the short view that Best Buy is on a path to obsolescence overstates the risk.
NCR Corporation (NCR): This position was established in the 2nd quarter of 2010 at an average purchase price of $13.58 per share on the notion the shares are depressed temporarily due to the effects of large accounting losses on its pension obligations and expenditure in a new entertainment related business.
Seagate Technology (STX): This is a large stake initiated in the 2nd quarter of 2011 at an average purchase price of $16.06 per share. The investment theory on this one involves the recognition that the hard drive business will have just three players after the recent consolidation in the industry and the fact that management has a large equity interest in the company and has initiated several shareholder friendly measures.
Sprint Nextel (S): This was initiated in the 4th quarter of 2010 at $4.46 per share recognizing its customer additions and reduced churn. Also, Sprint has a uniquely large spectrum position which is becoming a scarce resource.
3. The fund holds a large position in gold. The positions were initiated in the 4th quarter of 2008 when gold was less than $1000 an ounce. The positions were split between the Market Vector Gold Miner ETF (NYSEARCA:GDX) and the Spider Gold Trust (NYSEARCA:GLD). In the 2nd quarter of 2009, the GLD holdings were switched to physical gold citing fees on GLD were well above storage costs. Einhorn's stance on gold is apparent from his Wealth Track interview of November 2010 when he said "gold is the money of choice; individuals should hold gold as a diversifier since Bernanke cannot create more of gold." In that interview, Einhorn also owned up to gold being his biggest holding. Einhorn turned bullish on gold in 2008 and has stayed bullish ever since, even though gold price has increased by an outstanding 80% in the last three years.
4. Large positions recently exited include Boston Scientific Corporation (NYSE:BSX), Cardinal Health (NYSE:CAH), CIT Group Inc (NYSE:CIT), EMC Corporation (EMC), URS Corporation (NYSE:URS), and Xerox Corporation (NYSE:XRX).
Boston Scientific (BSX): This was a large (~7%) position the fund initiated in the 4th quarter of 2009 at a purchase price of $8.42 per share with the expectation that new management will turn the company around quickly. To the contrary, the new management disappointed by failing to provide meaningful targets and at a significant loss of $7.57 per share Einhorn exited the position the following quarter.
Cardinal Health (CAH): Greenlight acquired a position in Cardinal Health just before the spin-off of its Carefusion (NYSE:CFN). As a result, the fund held both CareFusion and Cardinal Health. The Cardinal Health stake was disposed off in the 2nd quarter of 2011, based on valuation – earnings grew ~40% in the two years following the spin-off and PE ratio expanded to 15x earnings from 10x earnings at the time of purchase.
CIT Group Inc (CIT): Einhorn owned CIT debt prior to its bankruptcy and they were converted into equity. The fund increased its stake as CIT emerged from bankruptcy on the expectation CIT would improve its earnings by striking a deal with regulators and achieving a competitive cost of funds. The position was exited as these things did not ensue but fortunately the share price increased.
EMC Corporation (EMC): EMC Corp was a stake initiated at $11.28 and closed in the 3rd quarter of 2010 at $14.63 based on valuation and meaningful appreciation (40%).
URS Corporation (URS): Greenlight Capital purchased Washington Group as a distressed investment in 2002 and was rolled forward to URS Corp upon their purchase of Washington Group in 2007. The stake was exited at a 54% gain in the 2nd quarter of 2010.
Xerox Corporation (XRX): The Xerox position was initiated in 2010 in the hopes that the acquisition of Affiliated Computer Services would be much more accretive than generally understood. That hypothesis got delayed because of the Japanese earthquake and the fund exited the position in the 2nd quarter of 2011 with a small gain.