Update (4/17/2015): One of my readers reached out to me early this week and pointed out that I had missed mentioning a set of funds that is certainly very pertinent to the discussion: the HealthShares ETF suite. New York-based XShares Advisors LLC began the HealthShares franchise in January 2007 through the introduction of five ETFs for specific categories within healthcare. To craft each fund, the company utilized screens from BioCentury and MedTrack. The initial five areas of specialization were cardio devices, diagnostics, emerging cancer, enabling technologies, and patient care services. By the end of 2007, XShares had released 19 healthcare specialty ETFs. With the exception of the HealthShares Composite ETF (HHD), which comprised of 80 companies, the ETFs were made up of 22 small and mid cap stocks. While the idea to create these ETFs seemed smart, they failed to attract significant assets, with the company choosing to close 15 funds in August 2008 that held $50 million in total assets. The company announced in December 2008 that it would close the remaining four HealthShares funds.
So, what went wrong, and what's the read through for the LCINDX? To add some color to this discussion, I was able get some feedback from Jeffrey Feldman and David Jaffin. Feldman was the founder of XShares (the firm that launched HealthShares) and served as CEO while Jaffin serviced as the COO. Both currently work for Poliwogg, a financial services firm providing ways for accredited investors to invest directly in innovative healthcare and life sciences companies. First and foremost, the recession was a huge factor as it caused XShares to not receive $25 million per fund of seed capital that it had expected to receive. This is hopefully not an issue that potential future ETFs based off of the LCINDX and other future biotech specialty indexes will have to worry about. In retrospect, given the funding issues, Feldman noted it certainly would have been better to start with less ETFs, suggesting that 6 would have been an optimal number. Given this experience with HealthShares, Loncar's method of simply starting the process by launching LCINDX as a trial balloon makes a lot of sense. In the event that Loncar does proceed with establishing an ETF, starting with a nice amount of seed capital would certainly seem to be a smart idea.
Investor interest in biotech present day is certainly higher now than it was back in 2007, which is a positive for the LCINDX. Investor interest in healthcare and specifically biotechnology continues to remain high given the constant national attention to the Affordable Care Act coupled with the aging population. Additionally, obesity rates continue to increase, leading the market size for the comorbidities of obesity to high projected future growth. Is there a secret sauce for an ETF gaining broad popularity? Feldman noted that news and performance are both important, citing the example of the Powershares Water ETF (NASDAQ:PHO), which rose from $30 million in assets in August 2005 to $1.2 billion by the end of 2005. Why you might ask? Hurricane Katrina. In terms of performance, based on back testing, the index was up 46% in 2014 and up approximately another 30% so far this year. Since inception on March 18th, 2015, the index is up 5.21%. Immunotherapy has been slowly gaining national attention with the Vice Special Report: Killing Cancer and Ken Burn's PBS Special called Cancer: The Emperor of all Maladies being good examples. To wrap up the discussion, I asked Feldman if there is a saturation point to ETFs. He noted that the AUM in mutual funds is $12 trillion, the world GDP is $60 trillion, and the notional value of all derivatives is $700 trillion, highlighting that it is very attainable for ETFs to grow to $10 trillion in AUM by 2025 (a number that sat at $1.98 trillion as of January 2015). In summary, continued development of demographic tailwinds, a growing biotech market sparked by new therapies and innovation, and positive trends for ETFs are all factors that I see as fostering interest in the LCINDX and Loncar's new endeavor.
-----
This past week signaled an important step forward for the biotechnology investment industry: the introduction of an index concentrating on a specific field within the broader biotech industry. On Tuesday, Brad Loncar (@bradloncar for the folks in the Twitterverse) announced the introduction of the Loncar Cancer Immunotherapy Index (LCINDX). As per the official announcement, "The LCINDX index seeks to track the performance of a basket of companies that develop therapies to treat cancer by harnessing the body's own immune system." If the idea is well received, Loncar hopes to launch an ETF that mirrors the index. Many industries already have funds to invest in to get exposure to a specific portion of the industry. Technology has been cited as a clear example of this. Financials is another example as you can invest in the SPDR KBW Regional Banking ETF (NYSEARCA:KRE), the SPDR S&P Insurance ETF (NYSEARCA:KIE), the Vanguard REIT ETF (NYSEARCA:VNQ), or even ETFs offering exposure to subsets of REITs such as the iShares Residential Real Estate Capped ETF (NYSEARCA:REZ) or the Market Vectors Mortgage REIT Income ETF (NYSEARCA:MORT) instead of having to buy the broad SPDR Financials Select Sector Fund (NYSEARCA:XLF).
Let's jump in to some of the major facts on the new cancer immunotherapy index (depictions have been gathered from the index website).
Inclusion criteria:

Exclusion criteria:

Index Breakdown:
The LCINDX includes 25 holdings that begin at weights of 4%. 6 of the holdings are large-cap pharmaceutical companies that are leading the charge against cancer through immunotherapy. The remaining 19 holdings are the top 19 growth biotechnology companies with a focus on immunotherapy based on market capitalization.
Current weightings: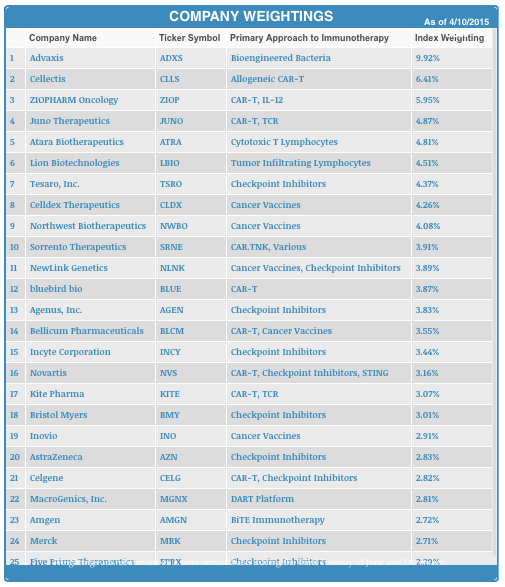 Rebalancing and Reconstitution:
Names are rebalanced back to the 4% weighting on a semiannual basis on the third Tuesday of June and December. Additionally, names are removed from the index if they no longer meet the index's inclusion requirements and are replaced by new names on the same semiannual time frame.
My Thoughts:
Providing investors with a way to track (and hopefully in the near future, a way to invest in) specific areas of the broader biotechnology industry that trade based on differentiated catalysts and news flow is a great idea, and Loncar has done a great job at taking the first step. The website is expertly designed in a way that allows investors to click on the names of the index constituents on the front page such that they are directly taken to the company page that explains the details of each potentially groundbreaking technology. Additionally, the rules are designed in such a way that the rules determine the index holdings as opposed to the opinions of an index manager, which is important aspect of making the index impartial and a true measure of overall progress in the field. Loncar put together a great piece on his Blog succinctly highlighting his reasons for creating the LCINDX, reasons I believe he shares with many in the biotech community (including myself) that have applauded his new endeavor:
"1. To Show that Biotech is not Just One Thing" = Many mainstream investors don't realize that the broader biotech industry is made up of unique areas of research with stocks that are driven by differentiated sets of news and catalysts. The development of the Loncar Cancer Immunotherapy Index is important step in bringing this fact to the mainstream investment community.
"2. To Highlight Cancer Immunotherapy" = Many may not understand the unique methodology of cancer immunotherapy, how it has brought new exciting treatments to market, and the further potential it has for future treatments. The September 2014 approval of Keytruda in advanced melanoma (a Merck (NYSE:MRK) drug) and prior approval of Yervoy (a Bristol Myers (NYSE:BMY) drug) in melanoma are two exciting examples of treatments already on the market. Many exciting immunotherapy treatments are currently making their way through the clinic.
"3. To Make Biotech More Approachable to More Investors" = Many have missed out on the amazing biotech rally of the past few years as they avoid the sector given that they believe they are not qualified to pick individual holdings and don't want to take on the risk. This step forward will look to highlight that biotech is split into numerous exciting groups of innovation and will allow these investors to understand that biotech is more than a broad index like the XBI or IBB might portray.
"4. To potentially Launch an ETF" = As a bit of an extension to the third point, if the LCINDX is well-received, there is the potential of launching an ETF (and potentially more than one ETF) so investors are not only able to acknowledge and understand that biotech can be broken into a number of exciting groups of technology and innovation, but also are able to invest in these differentiated groups within biotech.
One Aspect I Wanted to Learn More About:
The main thing I wanted to hear more about is the exclusion rule stating that a company will not be included in the index if "the company does not have a reputation of scientific excellence." This is something that at first glance does seem to require a bit of human judgment.
To learn a bit more about this, I reached out to Brad and was able to get some helpful feedback. As a main goal is for the LCINDX to be rules-based, this scientific excellence criteria is not a high barrier in itself that would be difficult for established growth biotechs in the field to attain. The main goal of this criterion is to weed out companies that promote starting an immunotherapy program, but have yet to reach human testing and have yet to make any significant scientific progress. As Loncar pointed out to me, the inclusion of only the top 19 companies based on market capitalization with a focus on immunotherapy in a sense acts as a gatekeeper requirement as it means companies need to be at a certain market cap to be included, a level that is determined based on the progress of competitors. For inclusion, a company needs to make enough progress to be valued at a respectable market cap compared to the other companies active in the field. Currently, the smallest company in terms of market cap in the index is Agenus Inc., with a healthy market cap of $383 million. No companies were excluded due to this scientific excellence criteria. Loncar expects the requirement to be valued within the top 19 companies by market cap with immunotherapy as strategic focus to continue to act as a great method of self-selection for the index going forward.
The introduction of this new cancer immunotherapy index is a great point in time to discuss potential areas for future indexes or ETFs.
Strides that Have Already Been Taken:
While the iShares NASDAQ Biotechnology ETF (NASDAQ:IBB) and SPDR S&P Biotech ETF (NYSEARCA:XBI) are most commonly cited points of reference for biotech investors, there are a few additional options out there. LifeSci Index Partners have recently come out with the BioShares Biotechnology Clinical Trials ETF (NASDAQ:BBC) that includes biotechnology companies with lead drugs in human clinical trials and the BioShares Biotechnology Products ETF (NASDAQ:BBP) that includes biotechnology companies with lead drugs already having received FDA approval. In my research for this piece, I also recently discovered the ALPS Medical Breakthrough ETF (NYSEARCA:SBIO), which primarily invests in companies with one or more drugs in phase II or phase III trials that have market caps between $200 million and $5 billion. The unique aspect of this fund that I very much like is that the investments need to have cash for 2 years at the normal burn rate. Does the qualifier remove too many promising companies? Is this the best way to handle the requirement for companies to have cash on hand to avoid dilution? While I am not convinced that this is necessarily the best way to handle it, I am impressed that this has been implemented as a qualification and applaud the fund for considering finances as an important aspect of the investment criteria. SBIO was recently launched at the end of 2014 and has returned an impressive 27.1% year-to-date, beating both the XBI and IBB. For those that want the most high-risk/high-reward ETF for biotech, look no further than the ProShares Ultra Nasdaq Biotechnology ETF (NASDAQ:BIB), which aims to provide twice (200%) of the daily performance of the NASDAQ Biotechnology Index. There was discussion in late Q1 2014 of Direxion putting out triple-levered bull and bear biotech ETFs, but it does not look like these index reached the marketplace as I see no evidence of them currently existing.
Additional Fields within Biotechnology:
The first potential area for index and fund expansion that naturally comes to mind is thinking about fields within the broader biotech sector in addition to cancer immunotherapy where an index and/or ETF would provide a value-add for investors. If the LCINDX is indeed well received like I expect it will be, given the revolutionary approach it takes to biotech investing, there will certainly be demand for indexes and ETF for additional fields within biotech that move based on a differentiated set of news and catalysts. Two that Loncar has already mentioned have potential include rare diseases (companies such as Shire (NASDAQ:SHPG) and Alexion (NASDAQ:ALXN)) or antibiotics (companies such as Cempra (NASDAQ:CEMP) or Tetraphase Pharmaceuticals (NASDAQ:TTPH)). Additional groups I think have potential to provide value-add include:
-RNAi Therapeutics = Per the National Center For Biotechnology Information, RNA interference ((RNAi)) "is a conserved biological response to double-stranded RNA that mediates resistance to both endogenous parasitic and exogenous pathogenic nucleic acids, and regulates the expression of protein-coding genes." Names like Alnylam Pharmaceuticals (NASDAQ:ALNY), Isis Pharmaceuticals (ISIS), Arrowhead Research Corp. (NASDAQ:ARWR), and my personal favorite, microcap Marina Biotech (NASDAQ:MRNA) would all be potential inclusions for an ETF or index following this area of research.
-Central Nervous System ("CNS") Diseases Treatments = According to the International Neuromodulation Society, CNS describes a broad group of treatments where the brain does not function properly, limiting health and the ability to function. Associate Professor in Neurobiology and biotech investor Alfredo Fontanini (@AF_biotech for the twitter folks) highlighted in the inaugural post of his CNS blog that the sector has the potential for significant progress thanks to strides being made in basic neuroscience helping to foster the emergence of new targets, new tools, new diagnostics, and new delivery methods. Names like SAGE Therapeutics (NASDAQ:SAGE), NeuroDerm Ltd. (NASDAQ:NDRM), Marinus Pharmaceuticals (NASDAQ:MRNS), and Cynapsus Therapeutics Inc. (CYNAF) would all be potential inclusions for an ETF or index following this area of research.
Binary Events Run-ups:
There are a number of biotech traders that have made a living off of trading run-ups into binary events. While this is not something where an index is needed, it would be an interesting topic for an ETF. To develop a viable ETF, a developer would want to backtest to identify the optimal time to buy and sell a stock in front of a phase 2 readout, phase 3 readout, or PDUFA date to generate the highest risk-adjusted return. The worst thing that can happen with this method of investing in biotech stocks is to be caught in a binary event that ends up being negative. I remember a particularly nasty drop in Oncothyreon (ONTY) in late 2012 triggered by a late-stage failure in a lung cancer treatment where the results came well before they were expected. These are the situations an ETF geared at binary event run-ups would want to avoid at all costs. Could you develop an ETF based on rigid rules for this? Certainly. Would this type of investment fund operate better as a mutual fund with an investment manager judging the potential for a run-up based on different catalysts? Potentially. Is their demand for this type of product if respectable returns can be generated? I think so. It's also fairly likely that a strategy of this nature would not be particularly correlated with the broader market or even the sector with sentiment into the binary event being the driver of the stock prices.
Outsized Risk/Reward Based on Solid Financials:
While this is again another idea that is probably most appropriate for a mutual fund and not an index, a fund that looks to minimize risk in biotech investing by taking positions in companies with assets in the pipeline, long cash runways, solid balance sheets, and depressed valuations is a strategy I believe could be very successful. I would place an asterisk on this idea currently as I think that there is not as much demand for this at this time given that we are in a raging biotech bull market where a large portion of investors are less concerned with risk management and more concerned with reaching for return through high beta plays. When the market turns more volatile and risk becomes evident through losses as we saw during the spring of 2014, this will be something that has the chance to see high demand from investors.
Best and Brightest Biotech Institutional Investors:
Biotech investors are always very interested in tracking the portfolios of the institutional investors with reputations of being the smart money of biotech. The quarterly ritual of checking out the 13-F filings of Baker Brothers Advisors, BVF, Sabby Management, and a few notable others is an exciting time for biotech investors. I am surprised that there isn't an ETF out there already. Performance-wise, these top-tier biotech investors perform well. Given the delay in knowing portfolio changes with most notable 13-F filings coming approximately forty-five days after quarter end, is it possible to mimic the portfolios of these institutional investors and generate outsized return? Given the lack of an ETF for this investment strategy, I would guess that the answer to this question is not a resounding yes.
Conclusion:
I am excited to utilize the Loncar Cancer Immunotherapy Index to track the progress of immunotherapy and the companies involved. I think that this is a great idea that will highlight a unique and exciting area within the broader biotech sector and believe there is potential to develop indices to track other areas of promising biotech research such as RNAi therapeutics. I think that this is an idea that has significant potential to gain major traction within the ETF industry by allowing investors to diversify away company-specific risk, yet still invest in specific field within biotechnology. I additionally think there are a number of other potential avenues of biotech investing strategies that would benefit investors by being available through an ETF or a mutual fund such as a fund that invests in opportunities with outsized risk-reward that have assets left in the pipeline and significant cash reserves on the balance sheet yet sport depressed price levels and low risk.
Disclosure: The author is long MRNA.
The author wrote this article themselves, and it expresses their own opinions. The author is not receiving compensation for it (other than from Seeking Alpha). The author has no business relationship with any company whose stock is mentioned in this article.