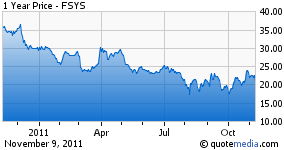 Fuel Systems Solutions (NASDAQ:FSYS) is having a rough morning, down 15% after reporting an EPS that was well below analyst expectations. After taking out the one time relocation cost of moving a portion of its business from the Netherlands to Italy, the company reported an EPS of .065/share which was well below the analyst estimate for a profit of .17/share. The company attributed the miss to higher taxes in the quarter. On the bright side, revenues came in a bit higher than what was forecasted by analysts at $99.8 million (vs. the estimate for $98 million).
Mariano Costamagna, Fuel Systems' CEO, said, "Our third quarter revenue grew 16% to $99.8 million and we reported gross margin of 24% as our industrial business delivered another solid quarter and our aftermarket business grew further. While our revenue mix continued to shift from prior year comparisons we continue to gain traction in newer markets. IMPCO Automotive's recently announced selection as the Tier-One supplier for General Motors' (NYSE:GM) new CNG bi-fuel commercial pickup truck that will begin late in 2012 as well as increasing volumes from our partnerships in Asia/Pacific and Latin America exemplify these new market opportunities. We have also made the decision to consolidate our automotive business in the Netherlands into our Italian facilities. 2011 remains an investment year as we focus on building our North American automotive operations while addressing our entry into developing markets with appropriate local strategies."
Looking ahead, the company expects to see positive demand in the auto business and stable trends in the IMPCO business, but will continue to make investments for growth in the U.S. which will impact profits this quarter. So, revenue estimates stay intact in the $390 – $410 million range, but 2011 gross margin expectations dip just a bit from a wider range of 23 – 25% to 23 – 24%. Operating margin estimates also dip a bit from 5 – 7% to 4 – 5%.
All in all, I don't think the quarter was as bad as the headlines would have you believe. Technically, the stock remains in a very large base and appears to be rounding out a bottom with a long term low put in Oct 5th. The stock ran up from that level into resistance of the 200 day moving average before falling back. In my opinion, this stock needs at least several more weeks of basing and there is no rush to get in to it.