Turkcell Iletisim Hizmetleri AS (NYSE:TKC) is a Turkey based Telecommunications Company operating in Turkey and regional states. Currently operating in 9 countries, through whole owned or partially owned subsidiaries. Turkcell is the only company from Turkey traded on the NYSE. TKC has mobile operations in markets like Kazakhstan, Ukraine, Azerbaijan, Moldova, Belarus, Georgia, Northern Cyprus and Germany. With 71.2 Million subscribers distributed as follows:
-Turkcell Turkey 34.6 million
-Kazakhstan 13 million
-Ukraine 13.6 million
-Azerbaijan 4.5 million
-Georgia 2 million
-Belarus 1.3 million
-Moldova 1.1 million
-Northern Cyprus 0.4 million
-Germany 0.4 million
Turkcell holds the largest market share in Turkey.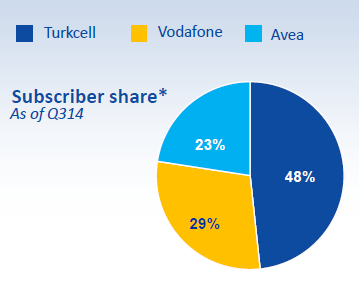 Source: Presentation
-Mkt cap: $ 9.5B , there are 2.2B ordinary shares; 1 ADR represent 2.5 ordinary shares. Current mkt. cap will be affected by the dividend payment of $1.5B declared in April.
-Cash: $3.890B that's before the dividend payment of $ 1.5B, new balance at $2.390B.
-Debt: $1.590B
-P/B: 1.3
-PE: 11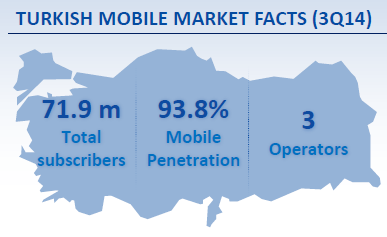 Source: Presentation
Dividends
On March 25th 2015 the board of directors made a decision to submit a proposal for the distribution of a dividend in the amount of $1.510B, at today's exchange rate, which is equivalent to a distribution rate of 42.5% of profit for the years 2010-2014. The dividend distribution date was set for 6th of April. This is the first payout after 5 years since the company ceased its dividend policy. I come to question the rational for distributing retroactive dividend payments for the past 5 years all at once, seems like a one-time event, more in favor of the few individuals in power. According to the new dividend plan TKC will payout at least 50% of distributable net income, with the actual dividend decision made for each year separately. I would question the possibility of future dividend payments getting disrupted, because of the still unresolved dispute for control of the company, which I will discuss later. Another important factor is the amount of FCF after capex especially since the company plans to keep heavily investing, and the $1.5B paid in retroactive dividends will lower the amount of finance gains affecting net income.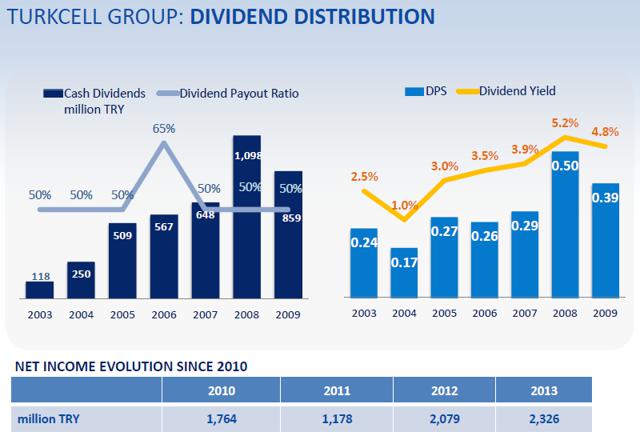 Source: Presentation
News
Currency depreciation is definitely affecting TKC, the Lira depreciated against the USD about 10% year-to-date. Aside from this current negative macro effect, Turkcell has been caught up in a decade long battle for control in between three of its largest stakeholders: Sweden's TeliaSonera, Cukurova Holding of Turkey and Alfa group from Russia.
Cukurova, because of financial difficulties in 2005, pledged shares of Turkcell or companies that have stakes in Turkcell to raise cash from TeliaSonera, a Nordic telecom group, and from Russia's Alfa group controlled by Mikhail Fridman. The entitlement to those shares was in dispute for years, Alfa and Sonera have sued Cukurva in order to receive the cash payment or control of the shares, but that would cause Cukurova to lose shareholdings in Cukurova Telecom Holdings, through which it maintains its control in Turkcell. This situation created a stalemate and debilitated most decision making, including paying dividends, since the court action began in 2007. Alfa claimed the pledged shares in 2007 on account of Cukurova being in default on their agreement. On the other side we have Sonera claiming damages in the amount of 932 million. In 2014 Curkova Holding Company managed to redeem its shares from Alfa for $1.6B, low on cash Cukurova financed the purchase with a loan. Now recently Alfa wanted to buy the shares with a 94 % premium, Alfa already owns 13.2% of Turkcell so with the additional 13.7% it would control it (due to a complex ownership structure), if the transaction was completed. It is highly unlikely that Turkish authorities would let any foreign investor take control in one of its largest companies. Actually there is a higher probability that Afla will sell its stake in the end, so the point of this current bid is probably to increase the premium it would demand. Turkcell Holding currently holds about 51% of Turkcell, TeliaSonera's holding in Turkcell is at about 38%.
Most recently Cukurova Holding announced that it wants to buy out Alfa's stake in Turkcell, this comes only weeks after Alfa's offer to buy part of Cukurova's stake. So it seems that the situation is moving from the stalemate inhibited for the past 10 years, but it's still hard to predict how it will unfold after these events.
Quote:"Tension between the Russian billionaire Mikhail Fridman and the Turkish government has burst into the open"
What's reasonable to expect, the government will take control of the company in the open or keep its influence through holdings of Curukova, which has received a loan from state-controlled Ziraat Bank for the earlier equity purchase.
Operating performance

Source: 10Q
TKC had a steady gross operating margin of 38% for 2013, increasing to 39% for 2014, and total network coverage with 2G of 99.62% and 88.09% with 3G.
In 2014 group revenues grew by 6% measured in TRY, EBITDA follows in same manner with about 6% growth. EBITDA margin stands at 31.2%, while the net income margin fell to 20%. In the 4th Q a loss of $115 million was attributed to the devaluation of Hryvnia and Belarusian Ruble, and another impairment charge related to BeST and Fintur, affecting net income. In conclusion after charges and currency devaluation, the Group net income fell 49% in the 4th Q .Excluding one offs, net income would have been about $150 million for the quarter. So for the year 2014 the total net income came in at $730 million, which in my opinion is still a decent figure considering all of the negative effects.
Overall the core business grew at about 3% measuring revenues and EBITDA. Fiber and mobile broadband are currently the fastest growing segments at 35-38% growth in revenues and EBITDA YoY, mobile broadband grew 44% YoY, the growth is definitely being supported by increase in penetration. For the past year Ukraine's currency devalued by 97% causing a fall in revenues, exchanged to TRY, also causing EBITDA margins to contract.
Due to increasing competition their subscriber base in Turkey decreased by 0.5 million ending at 34.6 million. The decline was mostly in the post-paid segments, the prepaid segment which contributes 70% of revenues saw an increase. Smartphone penetration is currently at about 40% with an increasing trend, contributing to an increase in mobile broadband revenue.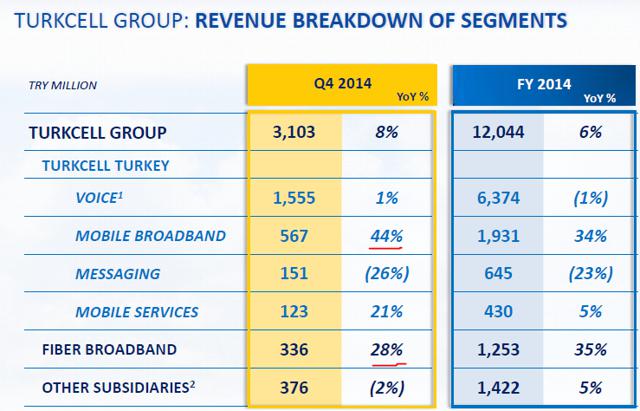 Source: Presentation
Because of the political situation in Ukraine part of Astelit's operations in Crimea has been discontinued, this segment constitutes about 3% of Astelit's revenue. I think it's reasonable to expect further devaluation of Hryvnia in 2015, affecting operating performance. Besides the currency effect, operations in Ukraine show positive trends on the top line when measured in local currency and a growing subscriber base. I think we can expect further growth from broadband, as the current fastest growing segment and a 4G network rollout, in Ukraine we can expect upgrades to 3G.
I would like to draw some attention to the current debt and cash positions and the currency effect.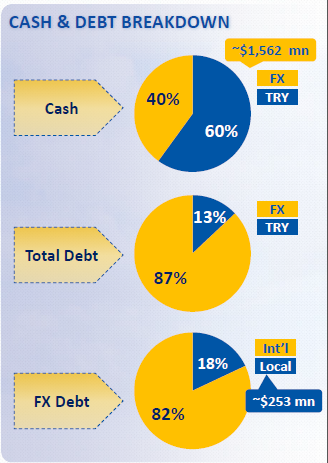 Source: Presentation
Their cash position seems to be more exposed but considering that most of TKC operations are local I think the effects are limited. We can see that currency depreciation is definitely affecting the company in many ways.
Debt breakdown by currency: of $1.590B in total of interest bearing debt they have $1.347B denominated in USD; this amount is set at a floating rate equal to libor+ 0.7-3.5%. About 153 million denominated in TRY, at a fixed rate of 8.3-10.5%. They also have some smaller amounts which I think we can omit for the sake of simplicity.
Cash: $1.595B is denominated in USD time deposit earning a 2.6% interest, and another $2.030B in TRY time deposit at 11.2%. Those are values as of December 2014 which means that part of these TRY deposits are worth less now in USD.
Intrinsic Valuation
Current price per share: $10.8 Estimate fair value: $10.8
I was curious as to what would be the fair value for this company, given the current macro conditions affecting operating performance. So for a base case scenario I would use the latest operating results, given the assumption that these are the new normal conditions, referring mostly to currency devaluation. I will set the Rf rate at 3%, usually I use the 10 year US government bond yield for the Rf rate, but recently I read this article that influenced my decision to move it up. I will use an ERP of 9%, reflecting the additional risk of invest in Turkey with the Country risk premium of 3.3%. Two of the most important elements influencing value would be the discount rate and the assumed growth rate. Because of the current capital structure, with a low level of debt in relation to equity at about 15%, and the ERP at 9%, the discount rate is pretty high. Current ROIC stands at about 16% in relation to WACC at about 11.5% reflect the value creating spread. In time I expect that increasing competition will cause ROIC to go lower, so I would anticipate an increasing in debt in order to lower their costs of capital, thus the assumption for the future debt ratio of 35%. Revenue growth for 2014 was at 6% in local currency with management projections for next year at about the same rate. So I used a 6% growth rate, assuming that it will gradually decrease to a stable terminal growth at 2% in 10 years.
One more thing that caught my attention is the interest earned on cash deposits, about 92% of cash is held in time deposits. In 2014 the net gain that Turkcell had from finance was affected by currency depreciation, lowering net income substantially for 2014. I would like to point this out as a non-operating part of the company's income stream, and the fact that after the latest dividend payment of $1.5B this number will get lower in years coming.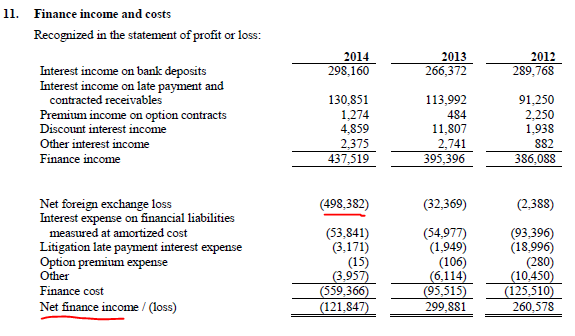 Source: 10Q
Another thing that caught my attention is the FCF that is not that high really, mostly because of high capex, but we will assume that this higher reinvestment rate will support higher growth in the future.
Average capex for the past 3 years stands at about 800-900 million including intangible investments for license and spectrum. Management announced expected capex at about 20% of sales.

Source: 10Q
We can expect future growth coming from 4G and broadband services, with a stable subscriber base In Turkey as the level of service quality increases. Also we have to consider that margins will be affected due to increased competition, which is common for the telecommunications industry. As far as increasing the subscriber base it would have to come from markets outside of Turkey. With higher reinvestment it's only reasonable to expect higher growth, as management projects for 2015 above 6%.

Source: 10Q

In this chart I want to present the effect of interest earned from deposits and its effect on FCF, that's a projection if all of the interest received was deducted from current FCF. After the large dividend payout, we can expect this figure to be lower next year. I would feel more confident in future dividend payments with a higher FCF coverage ratio.
DCF Model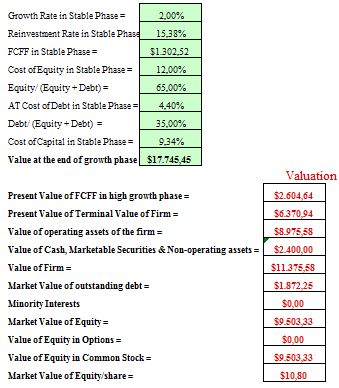 Conclusion
First time I analyzed Turkcell was about a year ago, then I had that impression of mixed feelings, and that's exactly how I feel now. I think my assumptions for intrinsic value are conservative, so there is room to support a higher valuation, especially for someone who anticipates more positive developments soon. I also think that there's room for this stock to fall further in the coming weeks, months. But you have to keep in mind that currently there's a lot of uncertainty surrounding this company, especially with the ownership battle still in effect, at the same time this could be a positive catalyst if they move in a positive direction. Some of my concerns regard involvement of the government in the ownership structure, I am afraid that they could use this company as a milking cow, increasing capex with little growth to justify spending. The latest, 5 year accumulated dividend payment, just doesn't make that much sense to me. Based on current cash flows and risk, TKC seems fairly valued with today's market price, and the uncertainty induced by involvement of the government makes me think that we can see another move down. If the company keeps paying dividends annually, this would definitely appeal to income oriented investors, and create a cash flow stream for a more realistic valuation with a direct benefit to shareholder. Also I would question the dividend coverage by FCF after the increase in capex for next years.
I can't say I feel strongly about shorting TKC at these levels, but I wouldn't be surprised to see another move down. For the short term I see more pressure to the down side.
Disclosure: The author has no positions in any stocks mentioned, and no plans to initiate any positions within the next 72 hours.
The author wrote this article themselves, and it expresses their own opinions. The author is not receiving compensation for it (other than from Seeking Alpha). The author has no business relationship with any company whose stock is mentioned in this article.