Biotechnology can be an industry of great rewards but it can also be an industry of great loss. Investors will sometimes purchase shares in a company with nothing more than an idea and then hold as that idea transforms into a company that saves lives. Below I have listed four companies in this industry that are much different and are in various stages of development, yet each company presents unprecedented levels of potential with the likelihood to post huge gains in the near future.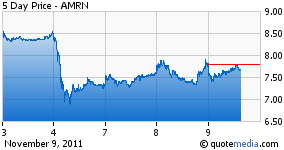 Amarin Corporation (NASDAQ:AMRN) is a biotech company whose lead drug AMR101 has led to a 150% one-year gain. The AMR101 candidate will be used to treat high triglycerides to prevent cardiovascular disease, among other preventable diseases. The large gains have been a result of the drug's incredible potential and it being the only drug with a single active ingredient used to treat multiple levels of high triglycerides. The company recently announced the successful completion of two phase three trials: ANCHOR & MARINE. Together the two trials will allow the drug to treat two ranges of high triglycerides with the potential for 40 million patients treated with the drug. The company is full of promise and because of its potentially high sales the stock has posted substantial gains over the last year.
Despite the stock's large gains it's trading with a loss of 65% since May 27. The loss has been a result of the company's patent being rejected by the U.S. Patent & Trademark Office along with increasing speculation regarding the manufacturing and marketing of the drug. Most investors are fully aware that this drug will result in high sales and that there is no reason that it wouldn't be awarded an approval by the FDA with such encouraging clinical trials. However investors were assuming that the company would obtain patents, which was a primary goal in the company's plan with AMR101. And while this is significant I believe it will have limited affect on the company's sales over the next five years. AMR101 is a difficult drug to develop, which is why there is only one drug similar despite its high sales potential, and the clinical trial is both long and challenging. I believe the company's larger issue is regarding the marketing and manufacturing of the drug once it's approved. The company is not large enough nor is it prepared for the demand that will be present once the drug is approved. There have been several rumors regarding a potential buyout of the company or a partnership with a larger biotech company to aid with these potential issues. I personally would prefer if the company would distribute and develop the drug by itself with sole profitability for the company. I find it distasteful when a small biotech company works hard and develops a breakthrough drug only to partner with a large company after all the hard work is complete. I believe this company has incredible value and that if this drug returns half of the patients that the company is expecting it could be an exceptional stock within a few years. The one-year price target for AMRN is $24.88 and although I believe it's a little too high I do expect for AMRN to post very large gains over the next year as optimism builds surrounding the AMR101 candidate.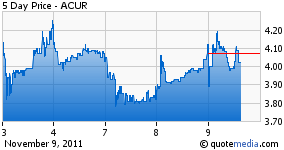 Acura Pharmaceuticals (NASDAQ:ACUR) has posted a gain of 56% over the last year and has a market cap of $184 million. Acura Pharmaceuticals has one drug FDA approved, Oxecta, and a partnership with Pfizer (NYSE:PFE) to market and develop the drug. Acura's patent protected AVERSION technology has been used with Oxycodone to create Oxecta, which is an abuse deterrent technology to discourage the common methods of abuse. Acura has received a $20 million payment from Pfizer after the drug was approved. However the company will also receive royalties at a rate between 5% & 25%, which will be determined according to the sales of Oxecta. I believe that Acura is a guaranteed large return over the next several years with a technology that I expect to be transcendent in the pain management market.
The pain medication oxycodone has 50 million prescriptions written annually and is one of the most highly addictive drugs in the market. Oxycodone has changed the way physicians treat pain with so many people believed to be seeking the drug. In 2010 Purdue Pharma's drug OxyContin was the fifth most profitable drug with more than $3.5 billion in revenue, an increase of 13% despite the known risks associated with this drug. It's estimated that 70% of all adults in the U.S. will experience at least one episode of acute pain and will need some form of opiate treatment. However, because of abuse, physicians have been more hesitant to prescribe the medication. As a result it's been suggested that patients in need of the medication will not receive adequate amounts in fear of abuse. With that being said, I believe that Acura and Pfizer have a product that can change the way that physicians prescribe opiates. And with such a large market, an estimated 50 million prescriptions annually, this product could result in very high profitability for both companies. But because of Acura's size, I believe the financial impact that Oxecta could have on the company is a once in a lifetime opportunity, that could easily result in ACUR trading with a multi-billion dollar market cap within a few short years. And if you consider the three candidates that Pfizer and Acura have in its pipeline then the story becomes much better.
Pfizer and Acura have a pipeline drug with the same Aversion technology used with hydrocodone, which is the most prescribed drug in America. In 2010 there were 131 million prescriptions written for hydrocodone, a drug with the same risk for abuse as oxycodone. Therefore with several drugs in the pipeline and one drug that is FDA approved, with a patent protected technology, I believe that 2012 will be massive for this small-cap company and that it will post gains much larger than its 56% gain over the last year.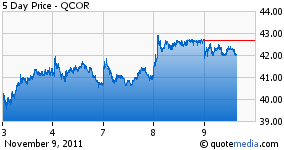 Questcor Pharmaceuticals (QCOR) has posted the same level of growth that I expect from AMRN and ACUR with a successful growing product. Questcor is a perfect example of what can happen to a small-cap biotechnology company that has a great product with high demand. In fact, if you would have invested $7,500 in this stock five years ago then your investment would be worth more than $250,000. This level of return shows the potential for investors who take advantage of speculative biotech companies with a promising candidate. The success of QCOR has been the result of its high priced Acthar drug which has returned high profits and high margins for the company. The drug can be used for several life-threatening medical issues such as: multiple sclerosis (MS), nephritic syndrome, and infant spasms. The drug's sales increased 174% year-over-year during its most recent quarter and doesn't appear to be slowing down anytime soon. The company's sales force, which increased from 5 to 28, has only tapped into this market with only 12% of neurologists having written a prescription for Acthar. Therefore the potential for this drug has incredible upside and with revenue and income that nearly doubled year-over-year the future appears bright for the stock. QCOR is currently trading at 52-week highs after its most recent quarter exceeded expectations, however I believe that gains are just getting warmed up, and because of the company's growth I expect the stock to post large gains over the next year, potentially doubling from its current price of $42.67.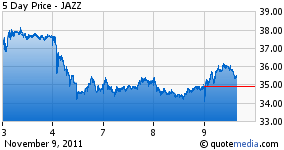 Jazz Pharmaceuticals (NASDAQ:JAZZ) has posted a one-year gain of 135% after losing 15% of its value over the last month. The gains have been a result of success from its drug Xyrem and the recent loss has been a result of volatility and a few discouraging developments. I believe that with JAZZ being $11 from its 52-week high that now is the time to purchase shares in this fast-growing company. During its most recent quarter net income and its EPS more than doubled year-over-year and its revenue increased 63% to $73.29 million. The large gains have been a result of its fast growing drug Xyrem, which increased 68% to $62.5 million and its other drug Luvox grew 46% to $9.7 million. The company also increased guidance to a range that is slightly above analyst expectations.
A company that is growing at Jazz's rate shouldn't be falling by such large margins yet it presents an opportunity to capitalize on value. Despite the company's great earnings it was short of analyst expectations and although the company increased guidance investors still sold on the news. I believe the recent loss can be traced back to its FDA warning for failing to report serious drug side effects. Before this warning the stock was trading in a solid uptrend and had been since 2009, when the stock was priced under $1.00. I believe the recent pullback has created value in the stock because much like QCOR its lead product doesn't appear to be slowing down. And since JAZZ has two products FDA approved and three additional drugs in its pipeline I believe this company is well positioned for the future as a great short and long-term stock.
Disclosure: I am long ACUR.
Disclaimer: As with any investment, due diligence is required. The opinions in this article are not intended to be used to make a particular investment or follow a particular strategy but rather informational purposes only.