Hold onto your hats. The markets may crash soon. The Italian 10-year bond yield just roared past 7.0%. It was up to 7.46% when I first looked today (Wed. Nov. 9). Now it has moved down a little to 7.31%. That's still far too high. Plus it still has momentum as seen in the chart below.
(Click chart to expand)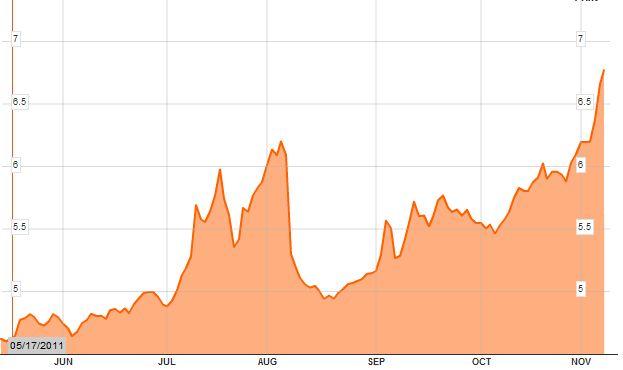 I note the chart only goes through yesterday. It does not include today's move.
I have heard no European plans that will cope with this yet. European leaders may have a week to a month or more to try to deal with this, but I am not sure they can do an effective job in that time. It will be interesting (and likely sad) to see what happens. I don't think I will enjoy it. This may be a signal to move into cash (or to short the market). It could well be the next big Black Swan event. 
Disclosure: I have no positions in any stocks mentioned, but may initiate a short position in FAZ, SPY over the next 72 hours.